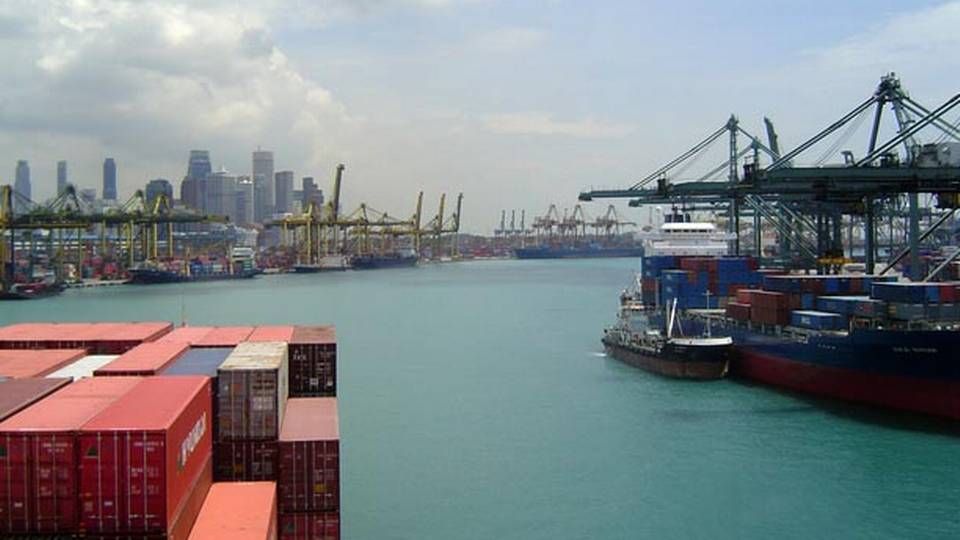 SINGAPORE/COPENHAGEN
With its clear footprint in Singapore and a number of key ports including Antwerp, PSA International not only reflects the ups and downs of the global economy, is also serves as a watertight indicator of trade volumes and the well-being of the container industry overall.
Right now, it seems, PSA shares the concerns of its peers, and there seems to be no immediate solution to the most pressing challenges – or, more precisely, mega-challenges, since much of it revolves around "mega." Mega alliances and mega-vessels pushing the ports and terminal operators to deliver results in a radically transformed business environment.
In an interview with ShippingWatch, PSA International states that the changes occurring in the container industry today have a huge impact on its stakeholders, and that this will continue for years going forward.
More TEUs, flat revenue
"The changes in the shipping industry will continue to have a significant impact over the next few years. Mega alliances, the mega vessels they operate and industry consolidation has led to unprecedented changes in the shipping industry. While trade growth has started to improve in tandem with global GDP, we are still seeing the impact of low freight rates and excess capacities," a company spokesman tells ShippingWatch.
"PSA has to ensure we are able to tackle the ensuing operational and commercial complexities. Technology, too, is changing the global market environment, not only in shipping but across other portions of the supply chain. People are changing the way they consume goods, and industries are changing the way they produce products. These will impact the evolution of PSA, both in Singapore and across the world."
Although global throughput has gone up from 60 to 68 million teu from 2012 to 2016, PSA's revenue is flat at around SGD 3.6 billion during the period. Group profit is dwindling and finished at the lowest level since 2016 last year with a profit of SGD 1,2 billion. Generally, 2016 was a tough year for the whole industry, and PSA has not posted its financial results for 2017 yet. However, the general market conditions are turning sour in a cocktail of too much port capacity for fewer and much bigger vessels.
"Just before the coming of dawn"
This development has been obvious at Maersk-owned competitor APM Terminals, which has been forced to impair asset values big-time so far this year. In the latest quarter, impairments totaled USD 347 million, which came in the wake of other impairments in the second quarter this year of USD 250 million. Both measures have been attributed to the same factor, namely that developments in a few ports in certain markets are not going as originally expected when projects were initiated.
"The impairments reflect the levels of volumes and rates which are well below what we expected when the projects were initiated a few years back. When you see the changes that have happened in the industry, this is not entirely surprising. Customers organize differently and the pricing power of the alliances has changed," APM Terminals CEO Morten Engelstoft told ShippingWatch recently.
The transformation of the industry has been similarly noted at PSA, though Group Chairman Fock Siew Wah at the begining of 2017, in his own words, noted that "the darkest hour in the night is just before the coming of dawn."
Partnership deals with a number of the huge container carriers have been one of the tools to address overcapacity of ports and lower utilization rates. These deals include COSCO-PSA Terminal with COSCO, and CMA-CGM PSA Lion Terminal (CPLT) with CMA-CGM. PSA also has joint venture terminals with MSC (MSC-PSA Asia Terminal) and PIL (PIL-PSA Terminal). To the benefit of PSA, the alliance reshuffling in April also left Singapore as a winner compared to its regional competitor, Malaysia's Tanjung Pelepas.
New partnership deals
"PSA has made efforts to secure long term partnerships with our customers in joint venture terminals, and PSA Singapore has been chosen by the major shipping alliances as their key Southeast Asian hub. We have well established partnerships with our customers in joint venture terminals. These facilities give us the opportunity to work even more closely with our customers for their specific and customized needs in container transshipment, as well as maximizing the utilization of our terminals," says the spokesman.
In terms of money invested in new port infrastructure, CAPEX, the latest facilities in Singapore at Pasir Panjang Terminals 4, 5 and 6 boast 6,000 meters of quay length, a draft depth of 18 meters and a capacity of 15 million teu, which lifts PSA's total annual capacity in Singapore to 50 million teu. Valued at USD 2.6 billion, this is the largest single terminal in Southeast Asia with a range of new technologies, including automated rail mounted gantry cranes and quay cranes able to handle the largest container ships in the world.
The next massive expansion is already planned for. PSA Singapore is developing a 65 million teu hub in Tuas, where all container port activities will be consolidated. According to the schedule, the first set of berths will be completed and operational in 2021 and the facility will boast full terminal automation, including automated cranes and vehicles.
With more than half of its business in South East Asia and one quarter in Europe, PSA International is clearly overweighted in the two regions. It participates in 40 terminals in 16 countries.
Asian ports offer shippers the most connectivity
China opens the world's largest automated container terminal
APM Terminals CEO ready to divest loss-making ports