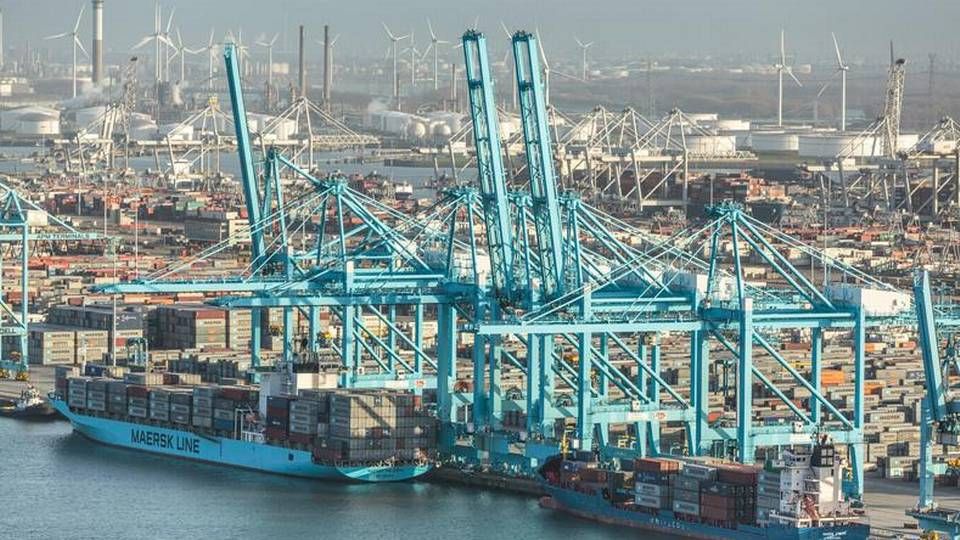 Maersk Line and APM Terminals have established a close partnership that gives the container carrier control over strategically important key ports on the east-west services between Asia and Europe, which is Maersk Line's biggest market. The partnership is so comprehensive that the carrier has taken over the financial risk at several of the ports, most recently in the ambitious expansion of the Tangier Med port at the mouth of the Mediterranean.
The cooperation between the two core companies in the Maersk Group is, according to shipping analysts, a delicate balance, especially for APM Terminals for which neutrality is crucial as an operator servicing about 60 carriers in 73 different ports across the globe.
A note included in recent years' annual reports published by the Maersk Group informs that: "APM Terminals and Maersk Line have entered into a commercial agreement whereby Maersk Line is secured dedicated capacity in certain strategically important terminals. Under the terms of the agreement, substantially all of the risks and benefits associated with ownership of these terminals are transferred to Maersk Line."
We do not usually publicly announce commercial agreements but this type of deal is mainly with Maersk Line, which constitutes a large part of the transshipment activities. As a related partner, we have to inform in the financial report that there is a commercial agreement with Maersk Line.
New contract at key port
The commercial agreement between the two Maersk-owned companies boosted APM Terminals' revenue in 2015 by USD 90 million compared to USD 97 million in the preceding year, while the agreement also contributed to the result (EBIT) with USD 31 million in 2015, up from USD 66 million in the year before. Maersk Line is likewise affected with the same amount in costs and in the result.
APM Terminals informs ShippingWatch that the deal with Maersk Line includes the three terminals in Algeciras, Spain and Tangier, Morocco as well as the new, fully automated container terminal in Rotterdam, Maasvlakte II, which was officially inaugurated in the spring of 2015.
APM Terminals CEO Kim Fejfer says that this type of commercial agreement only applies to the three ports, and that a corresponding commercial deal has been signed with Maersk Line for the new expansion of the terminal in Tangier, which will be operational in 2019. APM Terminals recently announced that the company will be investing EUR 758 million in Tangier.
"This is one of the only places in the world where we have this type of agreement, and it provides APM Terminals with security in volumes as well as some incentives in relation to efficiency," Kim Fejfer tells ShippingWatch:
"We do not usually publicly announce commercial agreements, but this type of deal is mainly with Maersk Line, which constitutes a large part of the transshipment activities. As a related partner, we have to inform in the financial report that there is a commercial agreement with Maersk Line," he says.
Maersk Line: Closer collaboration
Maersk Line writes in a comment that the carrier is a customer at several terminals around the world which are operated by APM Terminals.
"Just as with any other terminal operator, the extent of our cooperation depends on many factors, including the degree of utilization and freight volumes. For some terminals operated by APM Terminals in our east-west network, we have established a closer partnership with APM Terminals since 2013. This cooperation reflects the strategic importance of these terminals for Maersk Line and covers commercial agreements as well as specific measures to improve efficiency and increase productivity, including placing employees from both companies under one roof as well as IT solutions. These measures have contributed economic advantages for both parties in relation to elements such as operational savings and greater stability in our network," Maersk Line writes.
Tangier in Morocco and Algeciras, Spain, are two of Maersk Line's key European ports. Around 35 percent of Maersk Line's annual freight volumes pass through Algeciras alone and are thus pivotal for the carrier's entire network.
Up until a few years ago, APM Terminals had trouble handling the large container volumes at the two ports, and Maersk Line had to pay the neighboring port in Malaga EUR 30 million a year to handle some of the container volumes. For this reason, Maersk Line launched a so-called Hub Partnership Program back in 2013, which covers the ports Algeciras and Tangier, as well as Rotterdam, Singapore and the major southeast Asian transshipment port in Tanjung Pelepas, Malaysia from 2014.
Container analyst, Lars Jensen, CEO of Seaintelligence Consulting, sees the commercial agreements between the two Maersk companies as an expression of Maersk Line being an important customer for APM Terminals.
"As a major customer, Maersk Line will always be able to negotiate advantageous deals. In the case of APM Terminals, the company cannot afford to be viewed as anything but neutral. But giving preferential treatment to a customer which delivers a very large portion of the freight volume is probably not something anyone would begrudge them. Other carriers would try to do the same," says Lars Jensen.
The finances
Reputable analyst agency Alphaliner has previously noted that Maersk Line's control of the most important international container terminals through APM Terminals, along with the favorable economic conditions the carrier likely benefits from, contribute significantly to reducing costs and boosting the carrier's strong operating profit, which is historically far above the industry average.
Alphaliner's analysis was based on a comparison of APM Terminals' operating margin, which according to Alphaliner is lower than comparable terminal operators, and for which a majority can be attributed to the lower costs paid by Maersk Line.
Alphaliner: Maersk Line gains heavily from APM Terminals
APM Terminals at the time rejected the conclusion of the analysis and denied that Maersk Line pays less than other carriers. APM Terminals explained that the higher operating margins among the biggest competitors were caused by bigger volumes in so-called flagship terminals, such as Hong Kong, Singapore, and Jebel Ali. In comparison, APM Terminals has a significantly broader presence devoid of flagship operations.
The relationship between Maersk Line and APM Terminals has been subject to controversy several times in recent years because of the joint ownership.
Last year, the newly appointed chairman of the Port of Gothenburg, Ulrica Messing, mentioned a concern among customers in relation to delays at the largest port in the Nordic region. The concern was that APM Terminals was favoring its own vessels.
APM Terminals denies favorable Maersk Line prices
When APM Terminals presented a bid back in 2012 to operate the Port of Virginia on the US East Coast, skeptics of the acquisition, including several carriers, launched discussions about the joint ownership with Maersk Line in relation to the offer from APM Terminals.
APM Terminals invests huge sums in Morocco
Here is an overview of the Maersk Group annual report 2015
APM Terminals completes Spanish billion dollar acquisition