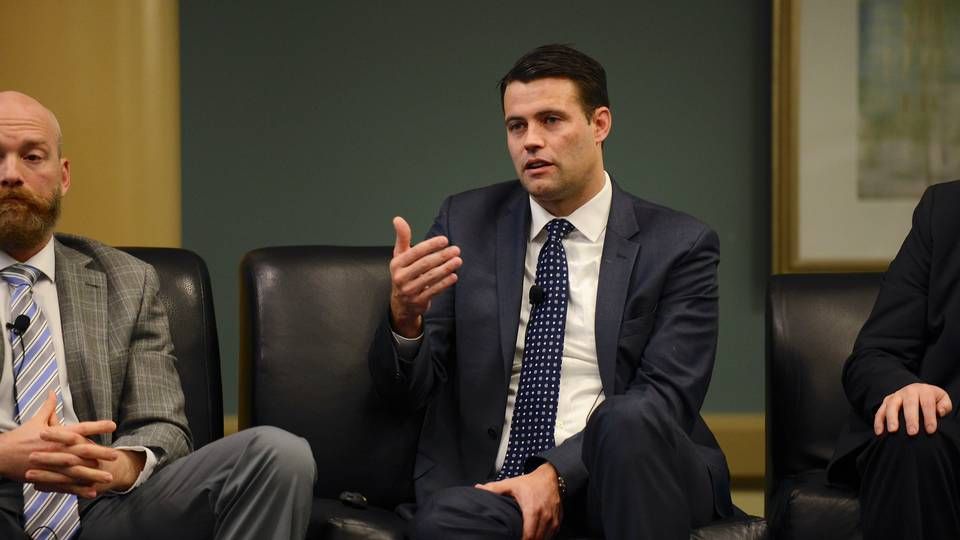 NEW YORK
As the hype around digitalization builds, one of the industry's front runners is warning shipping companies that technology can not solve all of their challenges.
In an interview with ShippingWatch, the CEO for New York Shipping Exchange (NYSHEX), Gordon Downes, says that carriers must be wary of getting swept away by the new possibilities.
He agrees that it is necessary to shake up the way things are done in the shipping industry. But to succeed it is critical to start with a concrete problem instead of being led by the technology and its illusive promises of widespread change.
Technology does not solve anything on its own. It is not a magic potion you pour over a problem to solve it"
"It is very easy to get caught up in the hype. But that is risky because it creates expectations that the technology cannot fulfill," says Gordon Downes, who believes that there are signs that some industry players are becoming over-excited.
"Technology does not solve anything on its own. It is not a magic potion you pour over a problem to solve it. Any shipping company that wants to make the most out of digital needs to make sure that it is practical and supported by a business plan," he says to ShippingWatch.
Delayed cargo and empty ships
The advice comes from a man who has spent the past five years building a business on precisely the idea that he now encourages others to follow.
When Downes founded the exchange NYSHEX, it was to resolve an issue that he had encountered frequently during his more than 12 years at the world largest container carrier, Maersk Line.
Time after time, he experienced that shippers either cancelled their bookings at the last minute or that the cargo did not show up in time, so the vessel had to sail without being full. A problem that still impacts the industry today.
To avoid empty space the carriers often overbook their vessels, leading to shippers lose the space they had otherwise booked. This creates an ufortunate situation where the parties end up losing trust in one another.
A lot of people in our industry are old school, they like to negotiate contracts over a long lunch with red wine"
"I always wondered why that was the industry norm in the shipping industry," says Gordon Downes, who has also sat at the opposite end of the table at the beverage company Sabmiller, which was acquired by AB Inbev in 2016.
NYSHEX tries to solve the problem by functioning as a digital referee which ensures that the contracts are reliable.
When a carrier and a shipper enter a contract via the exchange, it commits both parties to the terms. A carrier can be certain that the cargo will show up on time while a shipper is guaranteed the space on board and that the price will not change. If the terms are not met, the party that broke the contract must hand over a prepaid deposit as to the other party.
"The basic principle of the exchange is that it ensures that both parties of a contract deliver what they promised," says Gordon Downes to ShippingWatch.
That it actually works is borne outby the numbers. Adoptions have grown with over 2,500 TEU now contracted on the exchange monthly. Most importantly, according to NYSHEX, is that both parties live up to the contract in 99.8 percent of cases.
Carriers are on board
The major carriers and shippers also seem to see the potential.
Maersk Line, CMA CGM, Cosco, Hapag-Lloyd, MOL and OOCL are onboard. Furthermore, Maersk Line, CMA-CGM and Hapag Lloyd have invested in NYSHEX along with General Electric and Goldman Sachs.
Thus far, the company have raised approximately 13 mio. dollars, which gives it runway for the next two years.
Downes is particularly excited about getting the carriers on board.
"The carriers make or break it. There are effectively ten big carriers left in the world, five of which make up the lion share of the industry. There are hundreds of thousand of shippers, but there are very few carriers so getting them onboard was really critical," he says.
However, Downes stresses that the exchange benefits both carriers and shippers by creating an industry standard for contracts and their enforcement. When something goes wrong, the exchange can function as an impartial referee.
"One company cannot change the industry on its own. However, it does create a foundation for change when you have an industry standard that is fair to both carriers and shippers and makes contracts more reliable," he says, adding that he sees no immediate competitors who can deliver the same service.
Instead, he believes that the biggest challenge is the habitual thinking among shippers and carriers.
"A lot of people in our industry are old school, they like to negotiate contracts over a long lunch with red wine. But more young people are coming into the industry and they do not want to sit down and discuss rates for hours. They think that is crazy, they just want to see the rate offers and contract digitally," says Gordon Downes to ShippingWatch.
English Edit: Lena Rutkowski
Singapore debating big data: a savior for the shipping sector or just a fantasy?
Jeremy Nixon believes one particular technology can help shipping
Flexport looking to enter big league with DSV and Kuehne+Nagel