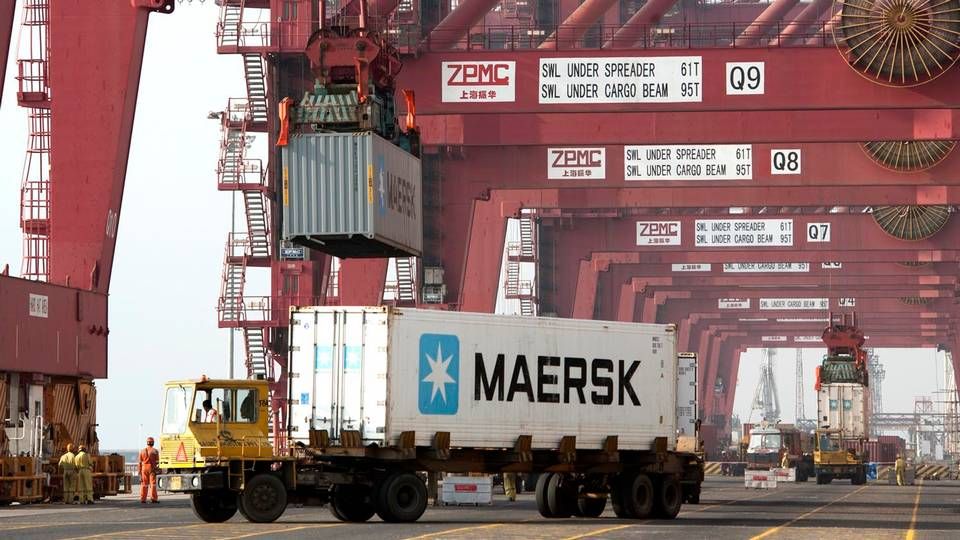 The Maersk Group's struggling logistics company Damco, based in The Hague, Netherlands, received cash injections for USD 451 million in 2014 from its owner in Copenhagen after the company has suffered major losses for years, according to the annual report for 2014 from Damco International A/S.
"Based on discussions with the A.P. Moeller-Maersk Group it is the management's perception that additional capital is available if necessary," says management in the annual report from Damco International, which held its General Assembly on May 20th this year.
Do you want to stay up to date on the latest developments in International shipping? Subscribe to our newsletter – the first 40 days are free
The company finished 2014 with a deficit of USD 373.8 million, of which financial items alone accounted for a deficit of USD 376 million. Net revenue in 2014 came to USD 110.3 million.
The major deficit last year is primarily attributed to impairments related to investments in subsidiaries.
Speculations about potential sale
Damco International has delivered deficits every year since 2010, and on this basis alone the company stands apart as the Maersk Group's most troublesome business unit - and numerous share and shipping analysts believe that the Maersk executive management is preparing to divest the company when the time is right.
The Maersk Group has rejected these sales speculations, and the management has instead highlighted Damco as a key business in the group, where Damco is part of the so-called fifth core business unit APM Shipping Services alongside Maersk Tankers, Maersk Supply Service and salvage and towage company Svitzer. Morten Engelstoft serves as CEO of APM Shipping Services.
Damco CEO Hanne B. Sørensen projected in an interview with ShippingWatch in October last year that the company could deliver a positive result on the bottom line for 2015, but these expectations have been abandoned, according to the management's review in the 2014 annual report as well as comments made in relation to publication of the Maersk Group interim report last month.
Do you want to stay up to date on the latest developments in International shipping? Subscribe to our newsletter – the first 40 days are free
"Management expects that the results before financial items for the next financial year will come out at the same level as for 2014. The total net results for 2015 are also expected to be negative due to financial expenses to the parent company but an improved result is expected. In 2015 it is expected that the company will acquire some logistics activities from the A.P. Moeller-Maersk and discontinue activities in selected countries," says Damco International's management about the company's expectations going forward.
Sea and air freight under pressure
Damco lost another USD nine million in the first quarter 2015, while revenue dropped nine percent. Things are looking worst for sea and air freight, where the company looks to have lost ground big-time compared to its major global competitors, with declines of two percent and 19 percent, respectively.
Damco International A/S has suffered combined losses for USD 433.4 million since 2010, slightly less than the capital injection the logistics company received from Maersk in 2014.
Nordea: Damco and Maersk Tankers potential divestments
In 2009 Maersk gathered its logistics activities under Maersk Logistics and changed the name to Damco, a more neutral brand in terms of collaborating with other companies. But the desired results have yet to emerge for Damco.
Hanne B. Sørensen, former CEO of Maersk Tankers, took over as CEO of Damco after Rolf Habben Jansen, who was appointed new Chief Executive of Germany's Hapag-Lloyd.
Rivals divesting
Numerous container carriers have in recent years divested their logistics businesses, for instance Cosco Logistics, Hyundai Logistics and Hanjin Logistics. Even though these divestments were mainly tied to efforts to raise liquidity for their struggling parent companies' shipping units, the divestments also, according to several shipping analysts, including Alphaliner, the lack of relevance for carriers to own logistics companies at al.
Do you want to stay up to date on the latest developments in International shipping? Subscribe to our newsletter – the first 40 days are free
"Historical experiences from, for instance, Maersk-owned and deficit-making Damco is the latest example in which the expected synergies between carriers and their own logistics companies have failed to emerge," noted Alphaliner in an analysis last fall.
Damco International has close to 11,000 employees and offices in around 300 countries.
ShippingWatch is trying to get a comment from the Maersk Group.
CEO: Damco back in black next year
The new strategy for Maersk's 5th core business unit
Alphaliner: Is Maersk looking to sell Damco?