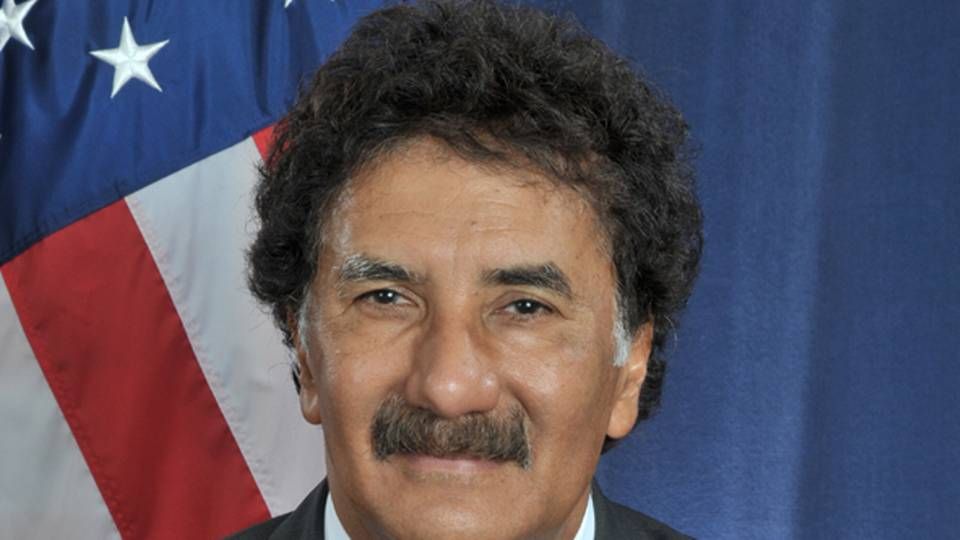 USA was frustrated and irritated as the P3 alliance progressed with its plans announcing that headquarters would be based in London and naming who should head den monstrous collaboration between Maersk Line, MSC and CAM CGM. The world´s number 1, 2 and 3 container carriers.
However, the chairman of Washington´s Federal Maritime Commission, Mario Cordero's, decision to call a summit between USA, China, and the EU is not based on emotion. He is deeply concerned about the impact of an alliance of these proportions on world trade and - above all - American business, and in the end consumers, he tells ShippingWatch in this interview.
Do you want to stay up to date on the latest developments in International shipping? Subscribe to our newsletter – first 40 days are free
Very unique in size
But he also points to the benefits he believes a collaboration between the three liners can have and how he expects the process to develop from here.
"My concerns lie in the fact that this agreement is very unique both in size and scope. The world´s largest container carriers are joining forces and that raises regulatory concerns. Our objective is to analyze if this agreement will reduce competition or limit services and in the end impose unreasonable increases in costs to customers, " Mario Cordero explains.
Here is the P3 collaborative agreement
Cordero, who was appointed FCM chairman by Obama in September 2010, was already contacted by the carriers several months ago, when the three alliance parties were seeking a preliminary indication with officials. Not until October was the draft Vessel Sharing Agreement behind P3 filed with the American authorities, which is also the reason why FMC members felt the alliance was "moving forward as if it had already met regulatory approval." Now, FMC has initiated its work to review the impact of the alliance and how competition can be affected. This work is completed by December 8.
No predetermination
"FMC is reviewing the agreement and can ask informal questions to the parties untill December 8. Following this, the Commission can issue a formal request for additional information it deems is needed to assess the competitive impact of the agreement," Mario Cordero says.
The P3 alliance: Here is an overview
He underlines that FMC staff is not predetermined as to if the alliance has positive or negative implications on competition and ultimately the American economy. "I am confident that our staff will look on pros and cons openly. I have my concerns, however, I can absolutely see the benefits also. These could be how this alliance can achieve better efficiency and reduce costs which can be transferred to the end user. I can also see environmental benefits by deploying lager vessels. Now, the pros and cons must be balanced," says Mario Cordero.
Summit in December
He tells ShippingWatch that FMC is already in contact with competition authorities in the EU and China concerning the summit he called for in mid-October. The response is positive. As ShippingWatch could report, the EU Competition Office is ready to accept the invitation. However, nothing formal has been settled yet, but according to Cordero it is likely that the summit will be held in December in Washington.
Sources involved in the process have previously told ShippingWatch that Q2 2014, expected launching time for P3, may seem optimistic. At least if Q2 means March 1 next year. According to the American rules a review takes 3 x 45 days before a decision can be made public.
Possible time line could be:
2013:
October 24, agreement was filed
December 8, FMC review ends
2014:
January 23, parties reply to FMC (at the latest)
March 6, final decision
Talk of the town
However, the FMC chairman does not want to comment on this. The final decision must - according to the FMC agenda - ensure "efficiency and transparency" and in the end protect consumers from non-competition. Mario Cordero is dealing with something big:
"There has not been an alliance before like this in its legal construction. Everybody talks about it. The market. The industry and other carriers."
Do you want to stay up to date on the latest developments in International shipping? Subscribe to our newsletter – first 40 days are free
Drewry: P3 forces rivals to increase fuel consumption
P3 beats rivals on reliability as well
P3 CEO denies disqualifying ties
Maersk Line downplays US concerns about P3 alliance