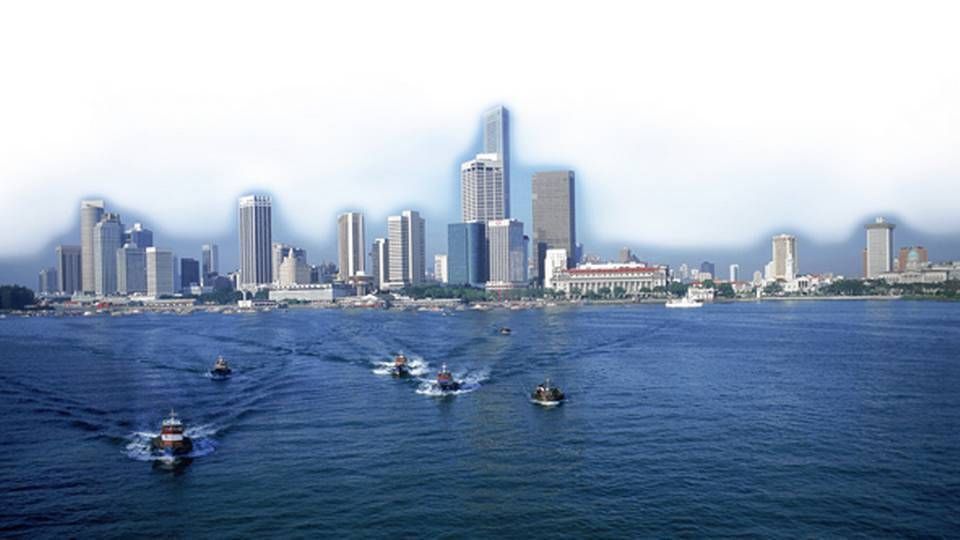 "Every time we earn 100,000 US-dollars, we lose 5,000 US-dollars."
Albert Loh, CEO of PTS Technologies, a radio equipment company based in Singapore, spoke clearly when, in August last year, he explained the consequences of the powerful Sing-dollar versus the weaker American currency. The strength of the Sing-dollar is felt mercilessly in the international capital of the shipping industry, where ship owners, brokers and ship managers with expenses in Sing-dollars and revenues in US-dollars are increasingly considering growth in other, more currency-neutral locations as the crisis in the shipping industry gains in strength. That is why the government in Singapore is facing a dilemma. On the one hand, the government is maintaining its year-old official policy of using currency as a weapon in order to strengthen its currency whenever inflation is showing signs of rising. On the other hand, Singapore is continuously and increasingly unfolding its efforts to attract foreign businesses and, not least, expanding its undisputable leading position as Asia's administrative "Capital of Shipping."
Thome Ship
One of Singapore's largest ship management companies, Thome Ship Management, has learned the lesson and decided that future growth will have to happen in more dollar-neutral locations. Thome has a total of 225 employees in Singapore. Approximately 170 of these are working in Thome Ship Management.
"The sad story of shipping companies with revenues in US-dollars and expenses in Singapore-dollars has been going on for a long time now. Right now we're close to 1.20. It helps a little, but change is far away, and it's hard to do anything about it," says Carsten Brix Ostenfeldt, CEO, Thome Ship Management, who has several Danish and Scnadinavian customers, such as Maersk, Torm and Evergas:
"The ship owners are paying us in US-dollars and they are not ready to pay more, especially not in a market such as the one we are in now. That is why we are increasing our capacity, which is of course a way to move ahead that would make us less vulnerable to the exchange rate. But we won't expand in Singapore. That is too volatile, and we would prefer to expand in other places."
Thome has an equivalent organization in Manila in the Philippines with more than 200 employees, which is increasingly performing backup functions. Add to that Thome's independent staffing office in Manila and the main supplier of crews for Thome's ships.
Increased Capacity
"I don't think it will go so far as to make us move our headquarters out of Singapore, but one might consider moving out more functions. And by increasing our capacity we expect to be able to handle a decreasing exchange rate in the future. Unlike Thome, which is headquartered in Singapore, many companies within ship management in Singapore have a bigger presence in dollar-neutral locations, such as Hong Kong, Mumbai or Europe. Some have been trying out the waters of Kuala Lumpur, Malaysia, where you still have the proximity to Singapore. Hong Kong might be an alternative, where you don't have the problem with the exchange rate, as the currency is tied to the US-dollar, but it is an expensive location in terms of rent.
But Singapore still has everything. You meet a lot of people, things can happen here, and you live close to everything. And even the rent here is decreasing too much. That's another thing that's slowed down," says Carsten Brix Ostenfeldt.
At the end of 2011, Thome Ship Management was managing 160 ships, including 110 and 50 in bulk, in other words, 30 ships more than the year before.
The Pain Threshold
Also the Singapore-based company Pacific International Lines (PIL) has been airing plans within the last six months for reconsidering its staffing in Singapore at a time when the Sing-dollar was less than 1.15 to the US-dollar. The shipping company employs 500 in Singapore and 150 more in offices in Chennai and Shanghai. "We began feeling the pain when the Sing-dollar went below 1.4. When we convert Sing-dollars to US-dollars, our operational expenses in US-dollars have increased with 25 million US-dollars (30 million Sing-dollars) compared to last year," stated the CEO of the company, S. S. Teo (Strait Times, Aug. 2011), adding:
"Today an employee in Singapore costs the same as 6 or 7 employees in India."
J. Lauritzen was established in Singapore in 2005 and today has an organization with 28 employees:
"We do feel the increases on the expense side in Singapore and we are of course watching them closely. It is a bit troubling in the long run, but for now we do feel we've done what we need to do in order to keep our expenses under control," says Ejner Bonderup, President, lauritzen Bulkers A/S.
In the financial center of Singapore the concerns about the shipping companies' growing exchange rate problems are less pronounced. In addition, the importance of Singapore as the capital of global shipping is still huge.
"But it is something the government here is watching closely and is very aware of," says sources Shippingwatch has spoken to.