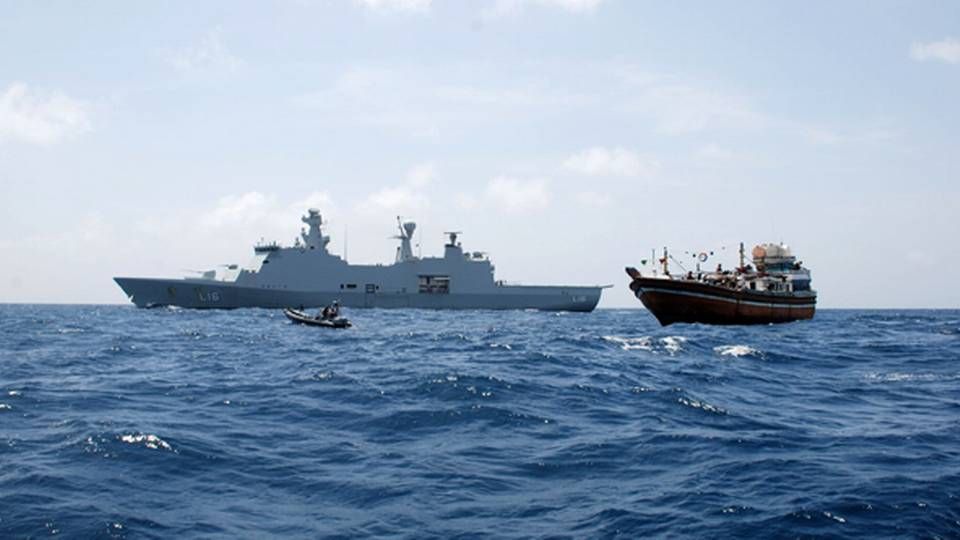 The international community has been withdrawing ships from the area around Somalia, estimates Stephen Askins, partner at international law firm Ince & Co. He advises clients about piracy, among other things.
"My general impression is that there has been a reduction in the number of naval ships operating in the region," Stephen Askins says to ShippingWatch on Wednesday, after speaking at the Skuld Forum in Copenhagen on Tuesday.
"The governments can see that people are no longer dying on a large scale, and that the insurance companies are paying to get the ships back. They don't like to see these ransoms being paid out, but one does get the impression that the international community is happy to slide a big part of the responsibility over on the shipping industry and its insurance companies."
Weapon on ships
Stephen Askins believes that the world's current economic climate is making countries cut down on the efforts to fight pirates, who have seen a decreasing success rate as of late. But he believes that the consequences of a smaller naval presence will be costly for the shipping companies.
"The consequence will be the further institutionalization of weapons on board the ships, something I know a lot of people would rather see didn't happen – including BIMCO. It looks like the maritime security industry will be around for a long time, and I think that ship owners will see increased costs due to higher insurance premiums and armed guards for many years to come," Stephen Askins says.
Under constant pressure
For the Danish Shipowners' Association, the subject of naval forces around Somalia is a top priority, and they fear that countries are going to withdraw from, for instance, NAVFOR, the EU fleet that fights piracy.
"There is no doubt that this is something which is under constant pressure, and we have to admit that governments are having a hard time finding the resources to fight piracy," says Jan Fritz Hansen, vice president of the Danish Shipowners' Association.
The Shipowners' Association does stress that, even though there have been rumors of countries pulling out of, it has not happened yet, as far as anyone knows. But it is essential that NAVFOR continue its work, and that the naval force, and others like it, are not split up at this point, says Jan Fritz Hansen, who is also the chairman of the EU's piracy committee.
"We told EU Navfor that they have to hang in there. Because it is now that the effort seems to be paying off. It would be a shame to sneak out, only to see the whole thing blow up again. For the piracy numbers are extremely low at the moment, there are hardly any successful attacks right now, so hopefully this is the beginning of the end. That's why its extra important that we keep the pirates and their investors under massive pressure, to ensure a really poor return on their investments," says Jan Fritz Hansen.
There are three international fleets dedicated to fighting piracy. Those are Navfor's Atalanta mission, Combined Taskforce 151, and the NATO operation Ocean Shield. Press Officer of the Danish Fleet, Kenneth Nielsen, estimates that the three fleets have 14-15 battleships in total. He does point out that there are other naval fleets in the region, both national forces fighting piracy, and international fleets that are also helping ships that get into trouble. Including those fleets, he estimates that there is a total of 30-35 battleships in the region. He does not agree that there has been a reduction of the international naval forces in the region.