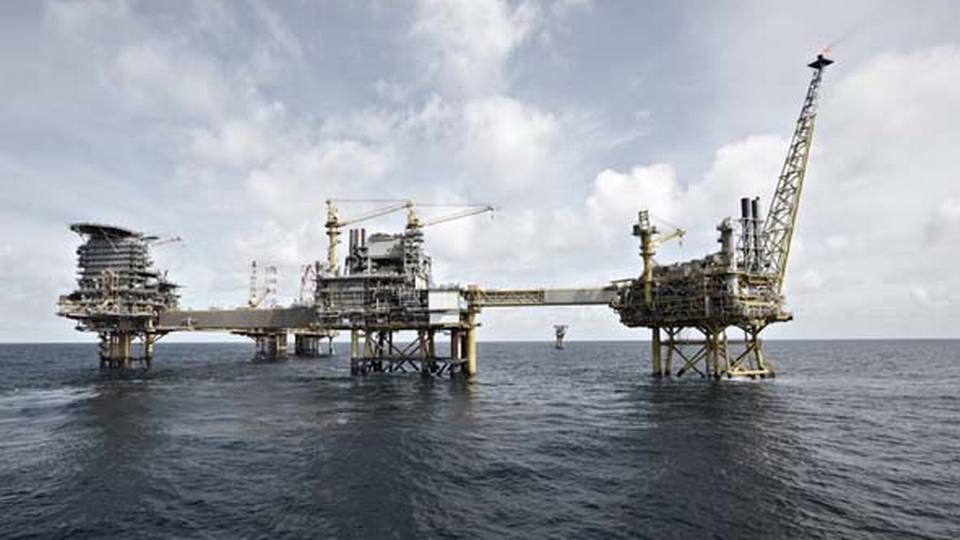 The next two major oil fields in the A. P. Moeller – Maersk portfolio will raise the production to a level where the company will reach its target of 400,000 barrels of oil and gas per day with "relative ease," says Berenberg Bank analysts, who have made a forecast of Maersk Oil's production potential for the next eight years.
Production has been moving in the wrong direction for the past three years, from 427,400 barrels per day in 2009 to an estimated production of 265,000 barrels per day this year. But from 2013, new oil fields in Great Britain and Algeria will turn the development around, and the coming years will also see the addition of new oil.
Growth in production
According to Berenberg's estimates, 2013-2016 will see an annual growth of 4-9 percent, putting the portfolio in 2016 at 355,000 barrels per day. The following year will see a small drop, before the target will be met in 2018, as a result of the additional oil from the two giant prospects, Chissonga, in Angola, and Johan Sverdrup in Norway.
The two prospects, according to Berenberg estimates, will put Maersk Oil at 419,000 barrels/day by 2018, thus meeting the current target. That prognosis was updated following Maersk's financial statements for the first six months, where CEO Nils Smedegaard predicted that Chissonga and Johan Sverdrup would each contribute 100,000 barrels per day when they start to deliver. However, the CEO declined to set a date.
"We don't think it will be difficult for Maersk to reach their goal in the medium-long term, following the new guidance for Johan Sverdrup and Chissonga," say the Berenberg Bank analysts.
A.P. Moeller-Maersk worth more
The new estimates also increase the worth of Maersk Oil – and thus A.P. Moeller-Maersk – say the analysts.
"In conclusion, the new production estimates for Chissonga and Johan Sverdrup could add USD 925 to the "fair value" of the Maersk stock price. That's 13 percent of the current rate. As of now, we don't believe the stock price has changed enough to reflect this additional value," writes Berenberg.
The A.P. Moeller-Maersk B stock went up by 3.2 percent on Tuesday, August 14th, when the company published its financial statements for the second quarter, but has since gone down a bit. On noon Monday, the price was USD 6,830.
Maersk Oil: Sverdrup discovery is great news