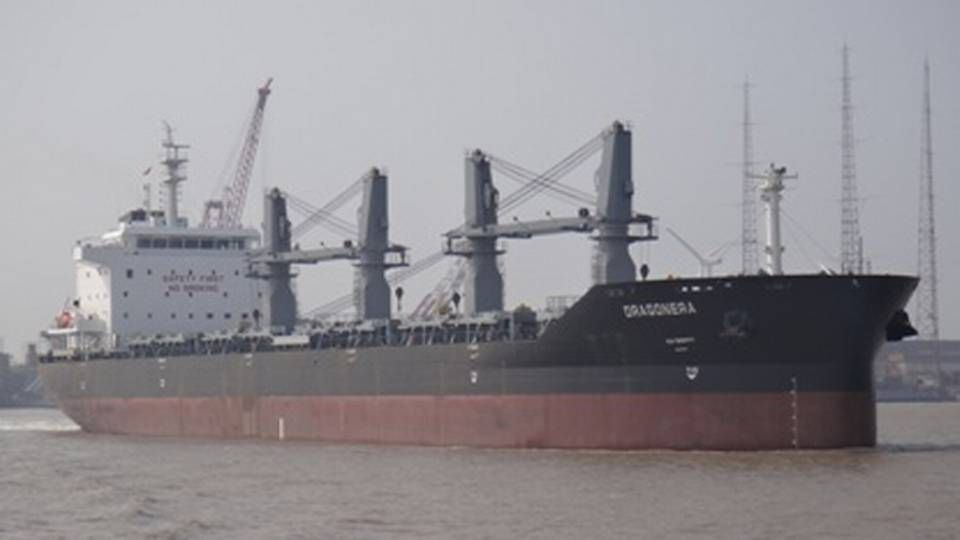 Order activity has been slow at Grontmij during the first half of 2012, and it will be even slower next year at the many shipyards to which Grontmij sells their designs, says general manager Jan Kærgaard Lang of Grontmij (China) Co. ltd. to ShippingWatch, at the SMM Trade Fair in Hamburg.
"Right now, things are incredibly difficult for the shipbuilding market. We are busy with pre-ordered projects, but things have been very slow this year. Lucky for us, we sell designs, not just small parts, so we won't be hit hard when the shipyards are suffering. On the other hand, we don't benefit much when things are going the other way. We're not geared for rebounds," says Jan Kærgaard Lang.
The Seahorse bulk model
Grontmij sells designs of bulk carriers, offshore supply- and container ships. They are built in the East, but are primarily sold to the German and Greek markets. Grontmij has offices in Copenhagen and Odense, and since 2008, Shanghai, in order to be where the customers are. Grontmij has been especially successful with their Seahorse bulk model, which is sold in several sizes and with environmentally friendly equipment.
"Seahorse is one of our strengths. It has become a brand, and it's a standard design that we can keep selling with various changes, so that it fits with new requirements for ballast water, environmental concerns, and scrubber solutions, and so forth. Our options are much bigger here, because when customers come to us with their needs, we can offer them the ship they want," says Jan Kærgaard Lang.
European strength
He points out that Grontmij considers it a strong point to be European in a market where the shipyards are struggling and the shipping companies are free to choose.
"It's a buyer's market, and in our experience, shipowners prefer European designs now that the prices are down. With the enormous capacity that has been built in China, it will be 10 to 20 years before it becomes a seller's market again, and that is to our benefit," says Jan Kærgaard Lang.
He can afford to be hopeful, as he believes there is still money in the German, Greek, and the North Sea markets that Grontmij services.
"The customers are interested. One of the big hurdles is that they can't get financing," says Jan Kærgaard Lang.
Leif Jacobsen, Department Director of Grontmij Marine, adds:
"Many of the shipowners who sold out in 2007 have some money in their pockets. They can see that the rates are low, but they also see that the prices at the shipyards are down. They are looking to see if the prices will drop further. Many of the Greek shipowners have a lot of cash in their books, and I think we'll see them make a move," says Leif Jacobsen.
Grontmij expects that 2012 will be a bit worse than 2011. The company has been working with existing orders, but the amount of deliveries next year will be low, and there will be few new projects at the shipyards.