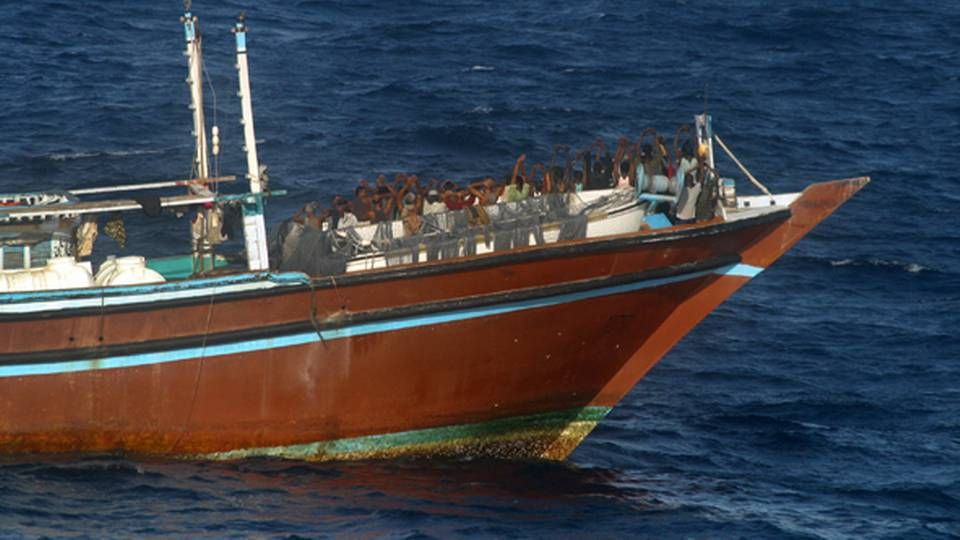 Environmental requirements and financial desires do not appear immediately reconcilable with the deterring of pirate attacks. In a new study, Risk Intelligence has examined what it takes to keep piracy from being a hindrance for slow steaming.
"The impact of speed on piracy is not news. The slower you're sailing, the bigger your exposure to pirate attacks becomes," says Dirk Steffen, head of consulting at Risk Intelligence, at an anti-piracy conference at the SMM Convention in Hamburg.
The purpose of the study was to examine the ways in which slow steaming affects the attempts at preventing piracy, depending on the size of the ships.
"The smaller container ships have more difficulty getting up to speed again, and thus have more trouble avoiding the pirates, whereas the bigger ships can increase their speed faster, and so they have a better chance to dodge attacks," says Dirk Steffen.
The difference between the ships necessitates different strategies for preventing pirate attacks. The study shows that, for all ship types, the most important factors of piracy fighting are early warnings, and the distance from which the attack is discovered. From here, the process varies from ship to ship.
"The risks of slow steaming can be efficiently deterred through the combined use of various means. Safety solutions that depend on single points of failure, such as complete trust in armed guards and a watered down implementation of Best Management Practices will likely not be enough to make up for the many ways slow speed impacts safety. This, in particular, is because armed guards do not, initially, play a part in preventing the attack, or avoiding it by staying out of reach of the enemy's weapons," writes Risk Intelligence about the study.
As a result, the attacks must not only be dealt with differently - they must also be dealt with at different points in the process of the attack.
"A focused risk management strategy will impact the safety issues of slow steaming where they occur: by not becoming the target of an attack when vulnerability is high, by spotting the danger early and thus leaving enough time to get back up to speed, and by increasing the depth of defense and reaction time through maneuvering enough to implement all anti-piracy means before the attackers get within striking distance," the study says.
Container, tank, and dry bulk ships are widely employing the use of slow steaming, or even super-slow steaming, in an effort to save money and live up to environmental requirements. But the ships are sometimes sailing so slow that it affects their maneuverability, not just in relation to pirate attacks, but in general. As previously reported by ShippingWatch, the Technical University of Denmark (DTU) is working on a study that will determine how slowly ships can sail using slow steaming, without the risk of danger in the form of, for example, storms.
Piracy researcher: Many similarities between Somalia and Afghanistan
Risk Intelligence sees less pirate activity in 2012 and 2013
Risk Intelligence: West African piracy threat likely to escalate