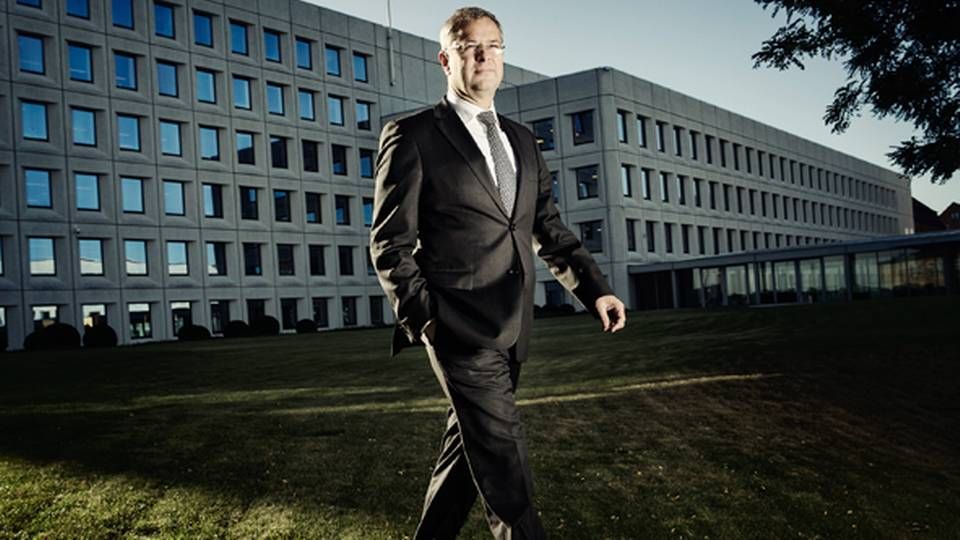 Numbers mean a lot to Søren Skou. Not just any kind of numbers, but those that make up the difference between success and failure in business. The top leader of the Maersk Group's largest business area, Maersk Line, has enough numbers to keep track of, such as the many new ships with a total of 1.8 million containers which will set sail through to 2014. Other numbers include the company's own new Triple-E fleet which can carry 18,000 containers. Skou must also deal with the numbers pertaining to China's growth, whether it will stay above 8 percent, and the numbers of the weekly rate index on Asia-Europe.
"I have to admit, I am very focused on numbers. As a leader, I place an emphasis on being analytically skilled and knowing the numbers. When you run a business, the way you keep track of how things are doing - that is of course the accounts. Everything we do has an impact, positive or negative, on how our final report will look at the end of year. To me, it is important that all employees understand what role they play and how they can contribute to securing a better financial result," says Søren Skou.
Try out ShippingWatch for free
Old-fashioned values
Søren Skou's leadership values may sound a little old-fashioned, but they fit well with Skou's career, a traditional Maersk career in which you start out as an apprentice and work your way up the ranks before receiving the title which only a select few gain: ship owner. In Skou's case, he had his first day of work for Maersk Line when he was 20 years old. In 1983, the container company was significantly smaller.
Those who know 48-year-old Søren Skou as a colleague or friend generally use words like "analytical", "well-prepared", and "capable of decisive action". Some believe he can seem a bit "reserved", but most refer to him as a leader for whom the business, rather than his own person, always comes first.
"He listens and familiarizes himself with whatever's at hand. He can quickly analyze complicated material and make it simple. He thinks before providing an answer, but he acts decisively, also under pressure," says a source.
25,000 employees
For almost a year, Søren Skou has headed Maersk Line and its 25,000 employees worldwide. Within this short period of time, Skou learned how the money poured out of both Maersk Line and its global competitors. At the beginning of 2012, the industry gathered in agreement to raise rates and produce positive results for the bottom line. Skou also experienced how the slipperiness of the consensus and saw rates decrease again during the summer.
The move from the significantly smaller Maersk Tankers to Maersk Line was been much more than simply a change from one area of business to another. Whereas Tankers' non-stop negative development went relatively unnoticed in the media, the new CEO has had to adapt to a colossal amount of international attention from competitors, media, politicians, and colleagues. Every move made by Maersk Line is interpreted by various agents, because the company presides over 15 – 16 percent of the global market and is thereby the largest container company. If Maersk Line is doing well, the global trade is probably also doing well.
The challenge of a central role
Some commentators believe that the biggest challenge for Søren Skou could be the central role he has been given in relation to the external environment and other players within the industry. His predecessor, Eivind Kolding, was characterized as a charismatic and colorful man with a clear profile, yet Søren Skou has a more discreet manner to him.
"Søren is not necessarily the person who demands the attention of the room when he enters. Some believe he seems a bit reserved. He is a genial guy but he does not have the same charisma as his predecessor," says a source. The same source adds that in the interplay between Maersk Group CEO, Nils Smedegaard, "it is best for all parties involved" that it is Søren Skou and no longer Eiving Kolding who is the head of the container company today.
Guiding the way
In addition to heading the Maersk Line business, a significant part of the job is to guide a global industry, the price of which is followed closely, through ups and downs, in vocal or unspoken cooperation between players who, though they are official competitors, depend just as much on being able to march in tune. This could, for instance, be in the Pacific forum, TSA, where the shipping companies are still allowed to discuss the proper price levels. It could be at the secretive and exclusive Box Club, where a small crowd of CEOs – at Søren Skou's level – meet every six months. Or it could be in the media or at conferences, from which clues are continually sent out concerning the market, and about the best way for the market to act in unison – or how not to act.
No matter where, Søren Skou has to be communicative and guide the way.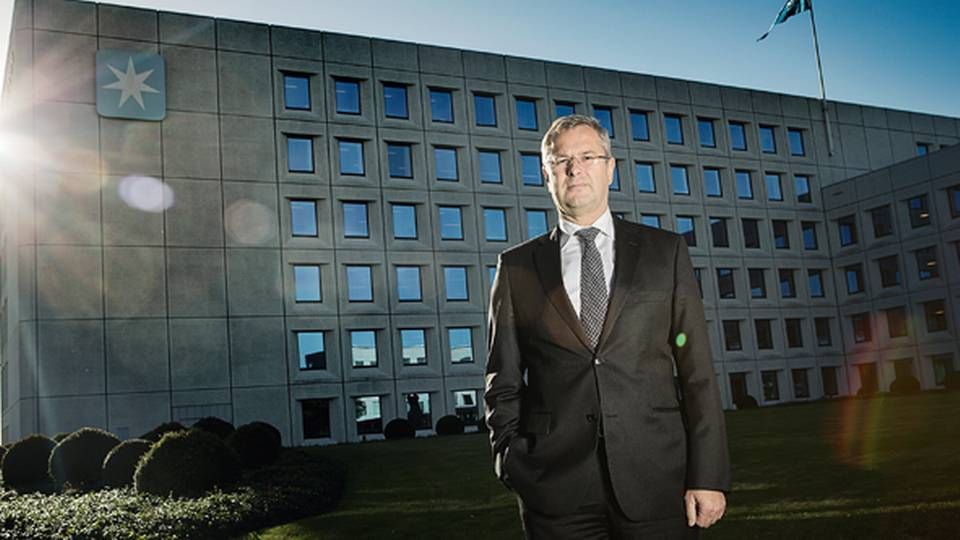 Maersk Line must lead
"He needs to go out and lead. We have seen a little of this recently, that he has been signaling the industry, about the need for reductions. The challenge for him will be to get in the game some more, to have a bigger presence," says one of his close collaborators.
For Søren Skou himself, the communicative part of the challenge is to bring the entire organization on board the project, to turn Maersk Line into a solid business in the long run.
Read more about Søren Skou, Maersk Line and the problems in the industry - try ShippingWatch for free
"Of course, in a company as big as Maersk Line, with employees and representation in 130 countries, communication will be an incredibly important part of my job, and my time will probably be spent on that. I come from a smaller organization, where reaching all corners of the business was somewhat easier. That is why communication is an extremely important management tool to me, and perhaps even an aspect of the job where I have had to learn some things for my new position. To keep articulating desired goals, and how the individual employee can contribute in reaching those goals; it takes time, and it is important to do it right," he says, adding:
Call a thing by its name
"It is important to me to call a thing by its name, to say things as they are, instead of sweeping something under the rug. I would rather hear the bad news up front, where we might still have time to do something about it, instead of not hearing about until later, or only hearing part of the story – that is, the one that is very positive. It is incredibly important in a company of this size to maintain a mindset that keeps us thinking about continuous improvement, that is, how we can keep improving. Because it never stops, and the moment we stop thinking about, we will become arrogant and self-indulgent, and after some time, we stop being competitive, and then it is all downhill from there."
Søren Skou has no doubts about what he, as CEO, considers the company's biggest asset: The ability to act, to carry out decisions. That's why he has no doubts as to whether Maersk Line can deliver the goods, which means a minimum of achieving a growing profit from 2012 to 2013.
"If I have to highlight something that I really like about Maersk Line, something I have seen demonstrated in full since taking over as CEO, it is that global organization really knows how to act. If we at management have a clear plan of what we want, this organization will deliver," he says.
Cuts in Copenhagen
He mentions as an example the fact that the shipping company managed to, from the first to the second quarter of 2012, to go from a deficit of 104 million USD to a surplus of 39 million USD: "That is a difference of more than 135 million USD. That can only happen if you know how to execute a plan, and we did that, and we did it fast."
He also displayed his own ability to analyze first and then act, when the Maersk Line staff was cut by 400 employees at headquarters last spring, 250 of these in Copenhagen.
"It is an incredibly sad and difficult thing to do, but we looked at places to improve upon, and one of those places was the main offices, where we had become too heavy, with too many employees, who were getting in each other's way and removing the focus from our global organization. My reading of this was that we had to take something out of the main offices in order to even out the scales. We had performed massive cuts at the regional offices organizations, gone from 33,000 employees to 25,000 by 2008, but all those cuts had been made abroad, while the main offices continued to grow. And that is what we had to do something about," explains Søren Skou.
Where does the energy come from?
Ambitions and the desire to operate a big machine are part of what provides the energy:
"My ambition is to create something, and to make all these people come together to deliver a complete product, a complete result, and a complete service for our customers. That is really what drives me as a business manager, to see things become successful because we can act as a team to make things happen," as he says.
It is still huge, to Søren Skou as well, who cannot imagine a more attractive position than the one he currently occupies.
"If you are in shipping, there is probably no bigger job than Maersk Line, and I have been in shipping my whole life. Of course, I was very pleased and proud to be given this opportunity."
Maersk wants to raise reefer container price "considerably"
Daily Maersk to be copied to other parts of the world
Søren Skou: 2013 could become very difficult
Read more - try the daily newsletter from ShippingWatch for free