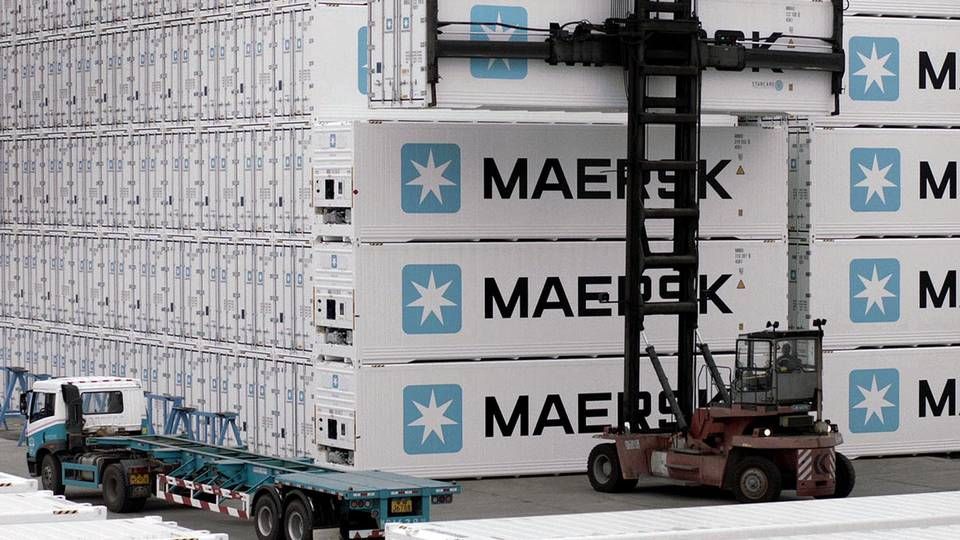 Maersk Container Industry (MCI) is currently experiencing a market characterized by a halt in purchases from the shipping companies. How long this will continue remains uncertain, but the underlying market for reefer containers is healthy, says CEO of Maersk Container Industries, Peter Krogh Nymand, to Shipping Watch.
"Things were looking very good up until the third quarter. Things were going especially well in the first half of the year, and prices have been good. But things started to go downhill in the third quarter, and they're not really looking too well here in the fourth quarter," says Peter Krogh Nymand.
About a month ago, Maersk Line announced a desired rate increase of USD 1500 on reefer transport, which is the most important market for MCI's profits. According to the company, the majority of the big shipping companies that transport reefer containers have announced intentions to increase the rates.
"Alongside this, they've also somewhat stopped their spending. We feel that the shipping companies are in a "wait-and-see position," because there's going to be a bit of a power struggle in the time to come. The shipping companies want higher prices for their reefer containers, and the shippers, of course, are not interested in higher prices. So there's going to be a period where things will move around, before a new balance is reached. And I don't think the shipping companies will want to spend too much in that period, something that will have a direct impact on us," says Peter Krogh Nymand.
Lower ROIC
MCI has previously been notable by being one of the Maersk subsidiaries with the highest ROIC (return on invested capital), an important key figure in the group. ROIC was 20.6 percent in 2010, and 33.1 percent in 2011. In the A.P. Moeller-Maersk financial statements for the second quarter, MCI had a ROIC of 23.5 percent, a number that is significantly higher than the Group's 8.9 percent, or Maersk Line's 4.6 percent. Only Damco and Maersk Oil achieved a higher ROIC in that quarter. But the halt in spending, and investment in a factory in Chile, will make it drop.
"When we enter this period, where the market drops a bit, our ROIC will drop with it. And when we go out and invest in building a factory in Chile, then of course, in a period where you invest without making money, it affects your ROIC. It's going to drop because we get more invested capital and less revenue, but it will come back when we get Chile up and running, and when the shipping companies start buying reefers again," says Peter Krogh Nymand.
Healthy market
In spite of the current conditions, the market for selling reefer containers is fundamentally healthy, he says. The need for new reefers is driven by three factors. The amount of refrigerated and frozen food that needs to be transported increases as developing countries export increasing amounts of food. Additionally, many goods are normally transported on reefer ships, which are increasingly phased out, something that also contributes to growth in the market. Finally, demand is also created by the phasing out of old reefer containers.
"You can discuss whether the need for containers goes up by six or eight percent a year. But there is reasonable consensus that the underlying market should provide an annual increase in that range for many years to come," says peter Krogh Nymand.
"That we are currently seeing a period of halted spending, because some things have to be settled in relation to rates, is less concerning. This game will only last a relatively short time, though I won't say whether it'll be three, six, or eight months. But I'm guessing it'll be something like that. And then I believe the market will bounce back, and what hasn't been ordered yet will simply come a bit later."
There are several reasons for the stability of the market. The most basic one is that people need to eat. Even thought there is a recession, and people are buying fewer flat screen TVs, they still need chicken for dinner, and the chicken needs to be transported in the right container.
"As a result, the graph for the sale of reefer containers will be growing steadily by six to eight percent for the next twenty years. There could be a drop one year, if the shipping companies don't have any money, but it will just bounce back again," he says.
Intelligent growth
Maersk Container Industry has approximately 30 percent of the market for selling reefer containers, and about the same for cooling units that can be attached to reefer containers. MCI's market share has grown significantly in recent years. The company had approximately 25 percent of the market in 2011.
"We would like to grow a bit faster than the market, as we've done for a few years. But it's always a balance, because of course we'd like to grow more, but we don't want to buy that growth. We don't want to do it by ruining our market. In reefer containers, we're up against a large Chinese company, CIMC, which has approximately 50 percent of the market, and as for the cooling units, we're facing Carrier and their 60 percent. Of course they'll counteract us if we just start moving ahead full throttle, so there's a certain balance there," says Peter Krogh Nymand.
And he can well imagine the response of the two market leaders. They will compete on prices, which is not in MCI's interest.
"So the growth has to happen intelligently, so to speak. We are trying to grow with rate that we can convince customers to buy our products. Instead of going out trying to win market shares by delivering the same products as everyone else, knowing that it will cause a price war, we're holding back, instead selling our products after customers have had the chance to try and approve them."
Maersk wants to raise reefer container price "considerably"
MCI sells first reefer to major European company