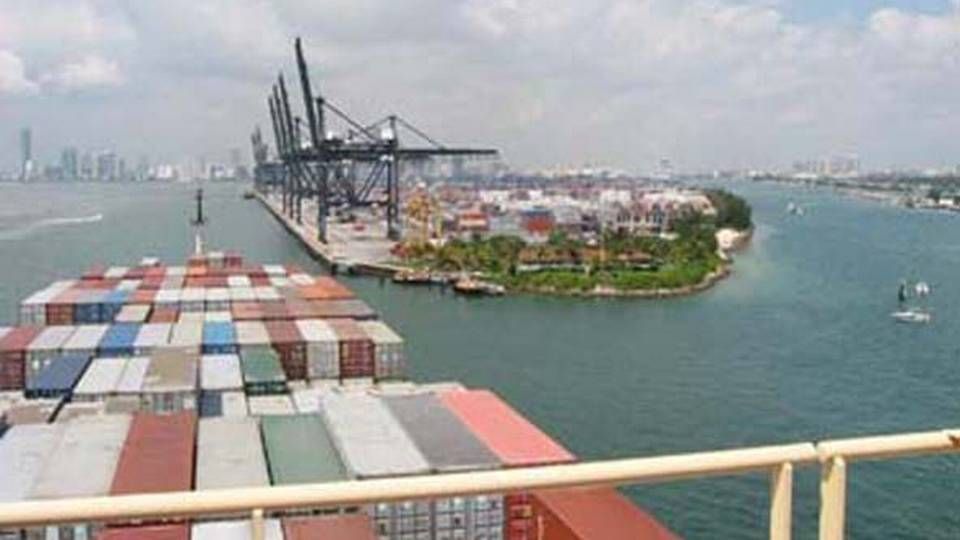 The latest dive in the spot rates – the largest one so far this year – on the container routes between Asia and Europe, eliminating the last remains of the increase introduced by the carriers on 1 november, is surprisingly big. So thinks several Danish shipping analysts. Furthermore, Alm. Brand Markets' Maersk Analyst, Jesper Christensen, does not think that the carriers' announced rate increases of USD 500-600 per teu by the middle of December will be much of a success.
"In general, I have been pretty negative concerning the rate increases but this latest drop in spot rates is actually bigger than I expected. However, it is definitely an expression of a long-term pattern starting in the end of June 2012. Seeing the spot rates drop this fast again shows that there is no discipline in the market", says Jesper Christensen who expects that the price of having one 20-feet container transported from Asia to Europe by the end of the year will amount to USD 1,200.
"I see no immediate reasons to change this estimate. Maybe I am even a bit optimistic", says Jesper Christensen. He expects a Maersk Line loss in most of 2013, perhaps even in all four quarters.
Dive surprisingly fast
"It came by really fast. It means that the 1 November rate increase has been eliminated. I had expected the increase to bring Maersk Line in profits until February or March and I had expected a gradual rate erosion as a result of overcapacity compared to demand. This shows that the development has been much faster than what could have been expected and for Maersk Line the drop means that the company is again below break-even", Nykredit Senior Analyst, Ricky Steen Rasmussen, tells ShippingWatch.
Do you want to be kept up to date with the latest developments in Danish and International shipping? Subscribe to our newsletter – first 40 days are free
However, he thinks that the major rate drop may back the upcoming rate increase meant to come into effect on 15 December.
"This drop prepares the ground for the December increase to become a success. Now this drop shows the necessity of increasing rates in order to improve results. If rates were increased by USD 600 when they were on a level of USD 1,300-1,400 and already resulting in profits, customers might consider the move strange", say Ricky Steen Rasmussen.
In spite of the fluctuations on the Asia-Europe rates, the average rate is still at a level which is profitable for e.g. Maersk Line, Ricky Steen Rasmussen points out.
"Considering the time passed from 1 November to now, there is no doubt that the rates for the first weeks were very profitable, the second week was also profitable and now we are moving into something which is not profitable. If the development will continue through December and we take a look at the entire period, it appears that we will have profitable rates in that period as well", says Ricky Steen Rasmussen.
2013 uncertain
The rate dive strengthens his expectations that 2013 will become a difficult year for the rates on Asia-Europe.
"This is a clear expression that there is still a considerable price competition in the market. However, as long as it stays at this level, it is okay. If rates drop a couple of hundred dollars or will go through the same negative development in the off-season as it did last year, the carriers' results will be devastated in general. Then the shipping companies will have to do as they did in 2012 and raise rates from 1 March of 2013. However, it is a big question if the industry will continue being successful in doing so", says Ricky Steen Rasmussen.
Predicting how the container market will look in 2013 is everything but simple. E.g., Ricky Steen Rasmussen accentuates analysts' estimates of the Maersk Line 2013 net results.
"The spread of the Maersk Line estimates is absurd. They range from a net loss of USD 1.434 billion to a net profit of USD 1.501 billion in 2013. This shows the uncertainty in the market very well. Within the last three weeks, Maersk Line has gone from generating a significant profit on the most important route to being near a loss", Ricky Steen Rasmussen says.
Do you want to be kept up to date with the latest developments in Danish and International shipping? Subscribe to our newsletter – first 40 days are free
Alphaliner: Container market imbalance will not end before 2014
SeaIntel: Container rates disastrous for the shipping companies