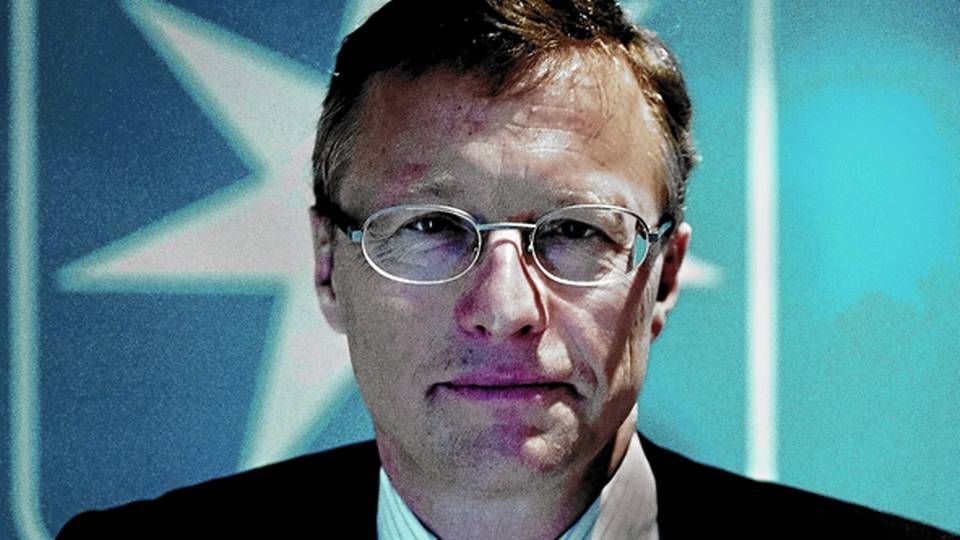 Things have changed around the Maersk headquarters.
Even though the blue windows still cannot be opened from the inside and have always been hermetically sealed, Maersk is opening up to the public to a greater degree, resulting in investors and the public being able to follow the activities of the company. Making Maersk open up to the outside world was one of several tasks which Nils Smedegaard was hired to carry out when he joined the company in 2007.
Transparency
Maersk has succeeded in implementing its transparency strategy, says Martin Jes Iversen, Associate Professor of Copenhagen Business School, who has kept abreast of the development in Maersk.
"I think he has done a great job. They are communicating very differently compared to before, and they are much more professional and purposeful in their communication", says Iversen.
Transparency inwardly and outwardly
The work on creating more transparency was crucial for Smedegaard, writes Niels Lunde in the book "Hr. Møllers nye mand – Nils Smedegaards revolution på Esplanaden - og på Carlsberg" from 2008. And this was not just the case with external and internal communication, but an ethos which extended to Maersk's entire "culture, self-image, and education". According to Lunde, the new focus became apparent in 2008 when Nils Smedegaard presented the most important goals for the company.
1. Maersk Line – the completion of the streamLINE
2. Simplify & Clarify – the debureaucratization and simplification of processes
3. The creation of a performance culture – a new HR strategy
4. More transparency both externally and internally
5. A new environmental profile
This strategy could solve several of the Maersk Group's issues. Prior to Nils Smedegaard's hiring, the company had grown in an inexpedient fashion due to several acquisitions throughout the 1990s and early 2000s. Consequently, the company faced great challenges in integrating the various businesses. Maersk had become difficult to assess, Martin Jes Iversen explains.
"They needed someone who could cut through the business and optimize the processes internally, but also modernize the image of the company externally", says Martin Jes Iversen.
Relevant information
"Transparency is not about sending out information just to do it. It must be relevant information about the company, which provides targeted points in relation to being an attractive company to partners. In this regard, Nils Smedegaard is very systematic. It is very important for him that the customer is in focus".
The increased transparency toward the outside world is apparent in, among other things, very detailed reportings to investors, the Maersk Group's first capital markets day, as well as interviews with large international media and not least the company's presence on social media. If you choose to be open, you also chose to be honest.
Maersk on Facebook: A balance between openness and trust
In an article, the editor of Kommunikationsforum, Timme Bisgaard Munk, dubs Maersk's move an effort to "strip down to the naked truth". According to Munk, transparency requires companies such as Maersk to proudly and honestly present its business, even when it is hurting. Today, it is virtually impossible to hide as a company so why not assume ownership of one's own story, asks Timme Bisgaard Munk. Maersk Line managed to do this when a container ship torpedoed a whale in the summer of 2012. Instead of trying to divert attention from the accident, the story was posted on Facebook.
Maersk Line is a pioneering company
Opting for increased transparency is significant, says Martin Jes Iversen.
"It has had a positive effect on parameters such as investors, the political agenda, and recruitment. Particularly the investors have been very pleased that there is now more transparency in relation to processes and performances, where previously, the company was considered extremely reserved", says Iversen, who elaborates:
"In reality, Maersk Line is now a pioneering company and an industry trendsetter in relation to transparency. They are setting the agenda when it comes to investor relations so this has been really positive for them. They have also gained an advantage in that talents around the world can see that this is a visible company taking new steps in relation to new products such as Maersk Daily and Triple E".
Alm.Brand: Maersk uses new openness to attract investors
Maersk receives transparency award
Why Maersk Line likes Facebook