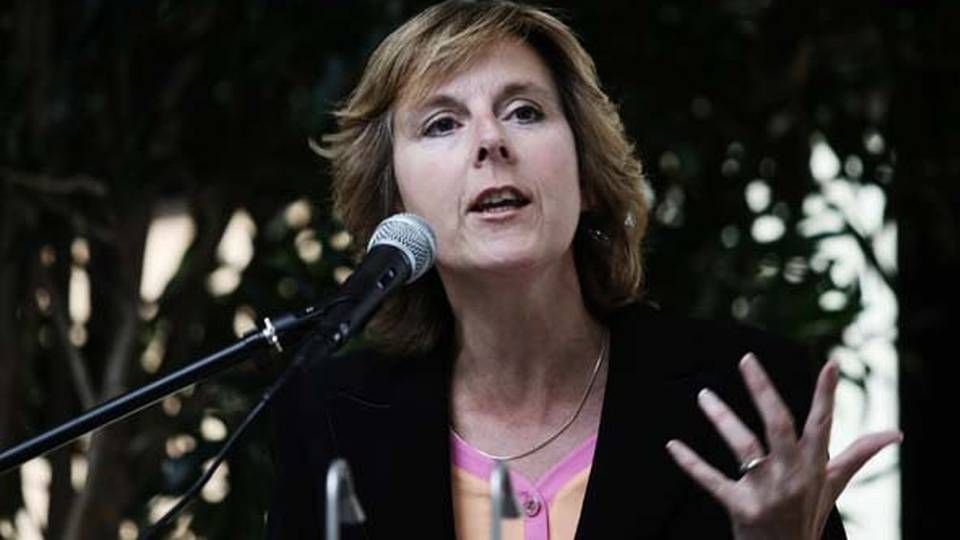 Global regulation on climate will always be preferred over regional regulation. Therefore, the present efforts to establish a monitoring, reporting and verification period (MRV) in the IMO over the EU implementing own CO2 regulations for shipping makes more sense and has more of an effect.
So the European Commissioner for Climate Action, Connie Hedegaard, states in an interview with ShippingWatch and she adds that the decision to implement this system will, contrary to the claims of critics, lead to more action on climate issues.
Do you want to be kept up to date with the latest developments in Danish and International shipping? Subscribe to our newsletter – first 40 days are free
Momentum for global regulation
ShippingWatch: What kind of development - from your point of view - did the shift in the Commission position in October signal, from plans for introduction of market-based measures to MRV process?
Connie Hedegaard: The shift it signals relates to an increasing momentum for global rules regarding to energy efficiency in the sector. Maritime transport is a global industry. Therefore, global measures are the most effective ones and have always been the EU's clear preference. In July 2011 The International Maritime Organisation made a significant step forward with the Energy Efficiency Design Index. This measure is applied only to new ships. But in recent months our international partners have started to work more and more closely with us on interim regulatory measures focussing on the efficiency of existing ships. The aim is to launch a formal debate in the IMO in May this year. But such measures require a robust system for monitoring and reporting of emissions which should be set up at international level as soon as possible. Based on analytical work carried out by the Commission, we are just about to propose a system for monitoring, reporting and verification (MRV) at EU level which could be easily transformed into a global system.
MRV necessary
ShippingWatch: Environmental groups criticise that this was yet another postponement of the requirements for shipping CO2 emissions, and that future requirements can be substantially delayed due to elections for a new European Parliament and the MRV process. How do you see this criticism - and when is it realistic that there will be EU requirements for CO2 emissions from shipping?
Connie Hedegaard: MRV is a necessary foundation for any market-based instrument so it is wrong to say that it delays further action. To the contrary, it is a prerequisite for further action. But our analytical work shows that several market based measures have very similar benefits. Therefore, we need more time to discuss with stakeholders.
Global solutions preferable
ShippingWatch: How likely do you think it is that EU requirements for CO2 emissions will be the same as the internationally applicable and adopted by the IMO, when monitoring and reporting is examined in both bodies?
Connie Hedegaard: Given our preference for global solutions, we will of course continue to work closely together with our international partners in the IMO. In case of decisions in the IMO to introduce a global MRV system, the European system would be adjusted accordingly. We will also share the knowledge on MRV gained during the preparation for our proposal with our international partners.
ShippingWatch: And do you think that it will be possible to adopt internationally binding obligations within the next three years or are we talking about a much longer time frame?
Connie Hedegaard: Getting an agreement on efficiency standards which cover all ships – including the existing fleet and operational measures – could be achieved in the short term. The United States made an interesting proposal to the IMO last year and is expected to provide additional information on their concept in the coming weeks. I see a range of very interesting elements in their proposal, starting with a staged approach and the setting up of MRV as the first step before minimum efficiency standards are established. The discussion on market based measures very much depends on the other parties internationally. But it needs to be kept on IMO's agenda. We remain convinced that MBMs are a cost-effective way to achieve the necessary emission reductions.
No retreat
ShippingWatch: Several sources have emphasised that the change in the political attitude to CO2 emissions from shipping and also in relation to the other transport sectors - including postponement of the requirement for aviation - can be seen as a retreat for you as Commissioner for Climate Action?
Connie Hedegaard: No, I always preferred – if possible –a global solution for shipping, because it is a global sector. For aviation we've actually achieved to have the important parties now for the first time in many years to sit together and try and agree on a global solution. They hated the EU scheme so much that they claimed that they then preferred a global solution. Now we take them on their words and have set this fall as the deadline for substantial progress to be made in I.C.A.O.
Constant dialogue
ShippingWatch: Do the postponements and changes reflect industry interests and issues that were bigger than you and the Commission had foreseen?
Connie Hedegaard: No, we are in constant dialogue with industry and other stakeholders and taking action to reduce emissions is also in industry's interest as this reduces their fuel bills. We see a wide agreement within the sector that starting with MRV implementation as first step makes sense. This is supported by today's reality in the sector: Several ship owners already put systems in place to monitor, report and verify their fuel consumption, emissions and ships efficiency. Having said this it is clear that industry representatives often try to avoid regulation that forces them to do more. As politicians however, we know, that the burden on others grow the more some avoid being included in the effort to tackle climate change.
Do you want to be kept up to date with the latest developments in Danish and International shipping? Subscribe to our newsletter – first 40 days are free
EU: Global CO2 agreement will take time
Environmental NGO dissapointed by Danish shipping
Shipowners: Environmental criticism completely misses the point