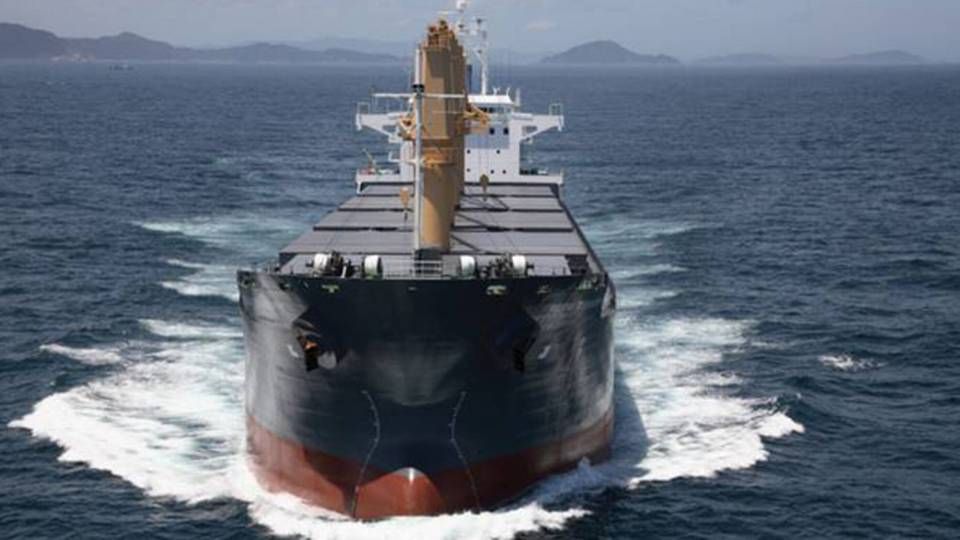 LÜBECK
In a shipping industry where even mid-size competitors battle with surprising losses in 2014, one could assume that one of the larger players is faced with even bigger deficits.
However, Germany's Oldendorff Carriers, headquartered in Lübeck, stays afloat and can present black figures again this year and expects to land another surplus in 2015.
In an interview with ShippingWatch, Henning Oldendorff, son of founder Egon Oldendorff, explains how he and his colleagues manage to remain profitable, also under tough market conditions.
Critical mass and flexibility
"An important reason is that having more than 500 vessels under operation at any one time, gives us the critical mass which provides us with flexibility in the market. Adding to this, we invest at reasonable prices and operate efficiently. And with 18 offices we are close to our customers which is essential," says Henning Oldendorff.
Do you want to stay up to date on the latest developments in International shipping? Subscribe to our newsletter – the first 40 days are free
In-depth research is cruciall to be able to understand and forecast supply and demand. To this aim, Oldendorff Carrier's research team in Singapore s allocating a considerable amount of resources to study the market trends, a discipline which according to Henning Oldendorff is getting more complex.
"In general the markets are much more volatile today, and this will continue. There are always new surprises around the corner, and you ask yourself: Is it a white swan or a black swan? The world is much bigger in a sense than it was in the decades before China added so much incremental cargo. Seaborne steam coal trade amounted to only 30 million tons in 1975, today it is more than a billion tons, while the iron ore volumes have exploded. Changes occur much quicker today: Congestions in ports, unpredictable bunker prices. Things can be hard to judge. If bunker prices fall a lot, then ships will speed up, increasing fleet productivity, but also adding capacity to the trades," he explains.
Expanding the fleet again
Oldendorff Carriers is in the midst of building up its fleet of owned ships once again, including Newcastlemax, Panamax, Handymax and Handysize, totaling more than around 60 fuel efficient newbuildings. Newcastlemax constitutes the largest investment with 24 new ships on order, of which 5 were resold with charter back. Long term contracts are lined up for many of them, but they will also be engaged in spot trading, primarily for mining companies and energy companies.
Norden hit by Atlantic nightmare
Depending on the segment competitors to the carrier are found in different fields, geographically and commercially. Danish Norden is one of them, operating in the same size segments, but after years of cautiousness in its investment policy, results have been under pressure from the dismal spot market recently. Capesize is a different and bigger story, where Oldendorff Carriers with an operated fleet of around 110 vessels is going to compete with John Fredriksens 39 newbuildings, among other things known for a comfortable break even at 15.700 USD per day according to Frontline 2012.
Bottom-up management
Oldendorff Carriers introduced bottom-up management, delegating a lot of authority to its managers.
Do you want to stay up to date on the latest developments in International shipping? Subscribe to our newsletter – the first 40 days are free
"Our staff consists of ambitious and creative people who are given responsibility and the authority to act on their own. For most of the day-to-day decisions, they do not have to consult superiors. If their decisions prove wrong, they will learn from that."
Stable results are enabling Oldendorff Carriers to finance most of its investments via its operational cash flow. The two main offices in Lübeck, Northern Germany, and in Singapore, constitute the hubs in the network, which after the establishment of the new Hamburg office in November 2014, counts 19 offices. After founding the company in Hamburg, Egon Oldendorff later on opted for pitoresque Lübeck, close to the Baltic Sea, where the shipping company will maintain its headquarter. 20 percent of the Lübeck staff will move into the new Hamburg office. With the growing importance of Hamburg as a shipping hub, Oldendorff Carrier's commercial employees need to be right in the middle of the mingling and daily business environment of Germany´s main port city.
Henning Oldendorff does not want reveal plans for the future. But overall, he expects expansion and more investments. "I definitely hope so," he says.
Today, more than 2100 people work for Oldendorff Carriers, 250 of them in Lübeck. Since 2007, the Singapore office has grown from seven persons to 110 today. The company is still 100 percent family-owned.
Activity boom pushes Oldendorff fleet to new record
Oldendorff and Scorpio keep the yards busy
Oldendorff opts for gas oil ahead of 2015