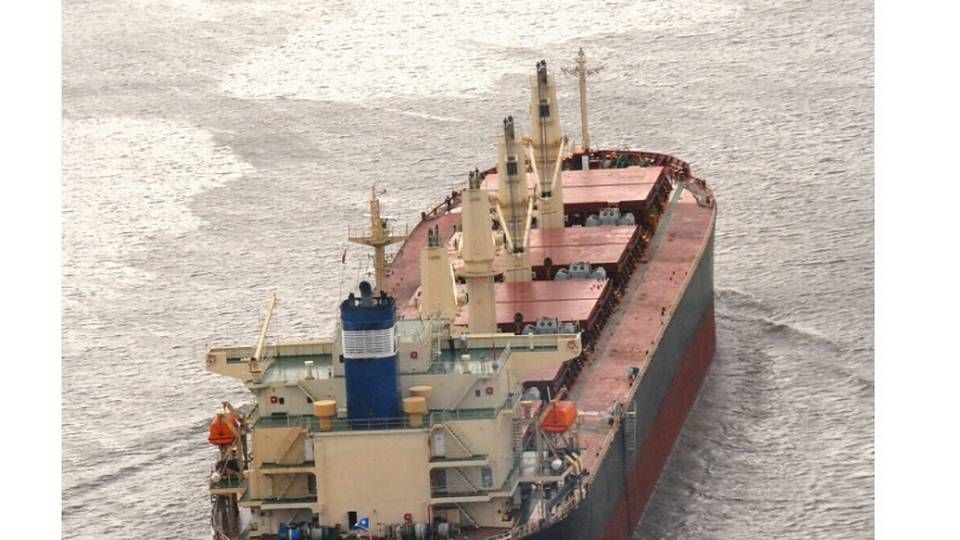 Impairments for a combined USD 522 million from three pace-setting dry bulk carriers within just a few weeks - D/S Norden, J. Lauritzen and Pacific Basin - look like a fright show precursor ahead of the dry bulk reporting season set to begin in February.
On Wednesday, Hong Kong-based Pacific Basin followed Norden and J. Lauritzen when the carrier issued a profit warning for USD 132 million, a majority of which is attributed to an adjustment of forward rates, i.e. losses, on older time-charter contracts to the extremely weak market development with zero prospects of - or expectations for - significant improvements in 2015, and the same will likely apply into 2016.
Do you want to stay up to date on the latest developments in International shipping? Subscribe to our newsletter – the first 40 days are free
A few hours later, dry bulk carrier Jinhui Shipping - listed in Oslo and controlling a significant fleet of Supramax vessels - also issued a profit warning ahead of the carrier's annual report 2014, to be published next month.
The company does not put a figure on its projected net deficit, but warns of a future impairment on the carrier's fleet value, which stands at some 40 vessels, primarily Supramax, and this impairment will send the carrier into the red.
Weak contracts
When Norden performed a USD 230 million impairment approximately one months ago, on December 10th, to a projected full-year 2014 deficit of USD 230 to 290 million, the carrier's executive management similarly explained that it is no longer likely that certain time-charter contracts, on tonnage chartered mainly 3 to 6 years ago, will become profitable.
Do you want to stay up to date on the latest developments in International shipping? Subscribe to our newsletter – the first 40 days are free
"At the beginning of 2014 the carrier was much more optimistic that we can be now. Numerous market details have changed since then and the dry bulk market has surprised as well as disappointed on many factors, and we have to deal with this. One could say that, looking back, we're holding contracts now that shouldn't have been made. The contracts were signed with expectations that the market would support this, which it has done historically, but unfortunately the market developed far worse than has been the case historically - which is why we're now being brutally honest with this downgrade," said Klaus Nyborg, interim CEO and vice chairman of Norden, in an interview with ShippingWatch in relation to the impairment.
"It's not looking pretty"
Of the combined USD 160 million impairment at J. Lauritzen, announced some three weeks ago, USD 90 million represent impairments on asset values while USD 70 million relate to older long-term charter contracts. This figure is also expected to correspond with the size of the carrier's net deficit for 2014.
"We have to admit that when we look at the geopolitical landscape, things are not looking pretty. We depend a great deal on what happens in Europe and in the East, where things have slowed down significantly. China has been a disappointment in dry bulk and certain things have happened which mean that we have to revise our view, and we're not alone in this," said Lauritzen CEO Jan Kastrup-Nielsen in a comment on the impairment.
These are the dry bulk losers entering 2015
A long line of dry bulk carriers are listed on the Oslo and New York stock exchanges and these carriers are also set to publish annual reports for 2014 in the coming months. Market adjustments here have so far happened through the massive correction of share prices, with numerous bulk carriers' share prices plummeting, mainly in the second half of 2014 and especially toward the end of the year.
The market value of companies such as the two Fredriksen-controlled carriers Golden Ocean and Knightsbridge have dropped 65 and 56 percent, respectively, in 2014, while Norwegian Western Bulk has dived 70 percent.
Several major New York-listed dry bulk carriers, including equity fund financed Star Bulk and Scorpio Bulkers, finished the year in virtual free fall, while the descent of a company such as DryShips, where a share cost one USD on Wednesday, is almost outside of category.
Pacific Basin performs USD 132 million impairment
Weak share prices could send carriers off Nasdaq
Deep bulk crisis forces Lauritzen to impair USD 160 million
Major dry bulk carriers finish 2014 at standstill