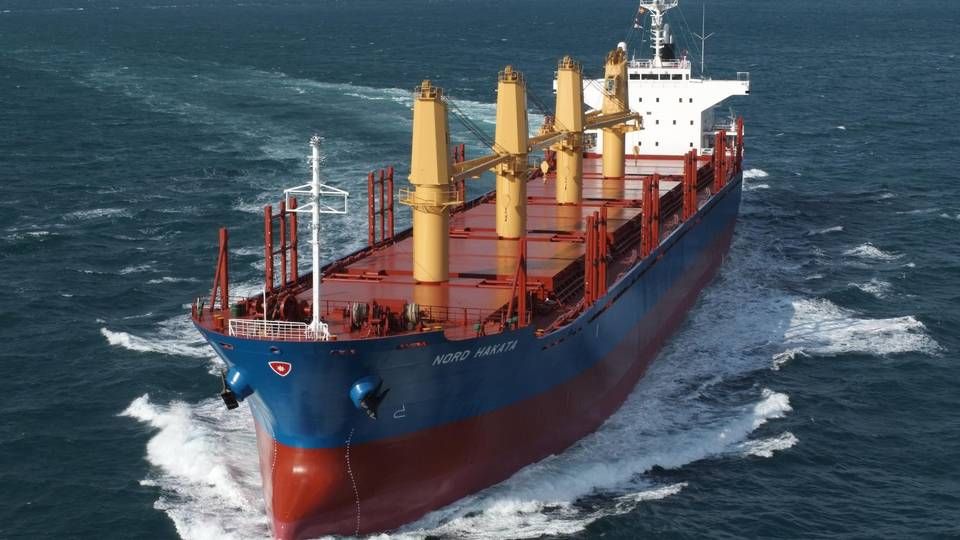 Norden has used its financial position to achieve significant savings on nine long-term contracts, according to the carrier, which is currently sailing in a failing dry bulk market at record-low rates, and everything points to things carrying on this way for some time.
"I don't know how much the agreement says about the poor market we're in right now, but I think that our deal shows that people are thinking a little differently in these times. And that's proof that even though we, like our competitors, are hit by the rough market, we have a financial strength that ensures that we can enter into such a deal," Martin Badsted, Executive Vice President of Norden, tells ShippingWatch.
In talks with several Japanese shipowners, Norden has entered into an agreement to reduce future time-charter payments on nine vessels on long-term charter, and the carrier has as part of the agreement prepaid USD 51.1 million as a one-off payment, in return for a reduction on time-charter payments over the next four years. The payments will be reduced by USD 62 million which is the equivalent of a total reduction of the hire of USD 10.5 million. The agreement has been underway for several months.
"The art of the possible"
"Overall, the change in the time charter agreements does not affect operations in the period from 2015-2018. After the one-off payment of USD 51.5 million, Norden's cash and securities amount to USD 220 million while undrawn credit facilities amount to USD 419 million," says the carrier in the statement.
Martin Badsted adds that it was a random development that the deal involves nine ships, and he describes the outcome of the agreement as "the art of the possible." The ships include various types of dry bulk vessels, such as Supramax and Panamax, though Martin Badsted declines to name the Japanese shipowners.
"We're not at this time actively pursuing similar agreements, but we do feel that this is a very good agreement, so if we get a chance to do it again we'd be very positive toward doing so," he says.
Analyst: Norden playing on its financial strength
Norden's strong financial position opens the door to a value-creating cleanup deal for the carrier, which can draw on the fact that other carriers and counter-parties are in bigger need of cash than Norden, says senior analyst at Sydbank Jacob Petersen in a comment on the announcement.
"We believe that the carrier's strong financial position is a solid argument that the company will be among the winners in the sector. Among other things, this enables Norden to invest i tough markets, and for instance to complete transactions as the one announced today," says Jacob Petersen, describing the transaction as good news for Norden shareholders, who can at this time also find comfort in a significantly improved product tanker market.
Extremely tough market
Norden - like rest of the dry bulk industry - is hit hard by the extremely tough bulk market, and the carrier expects to publish a massive full-year 2014 deficit next month.
In December Norden downgraded its full-year forecast to a deficit of USD 230 - 290 million.
"Following an updated market evaluation, Norden has concluded that it is no longer likely that certain time charter contracts predominantly entered into 3-6 years ago on vessels chartered in will become profitable," said the carrier.
The benchmark Baltic Dry Index is currently setting new record-lows for each passing day, and the massive and unexpected downturn is expected to result in numerous collapses in the industry.
Klaus Nyborg: Norden has been too optimistic
Norden initiates billion dollar newbuilding investment
Norden changes its dry bulk organization