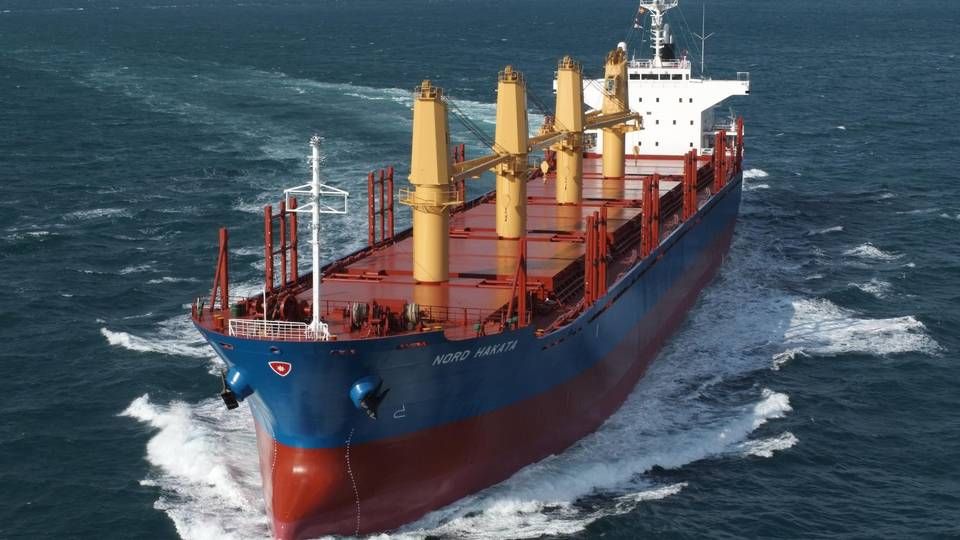 With very few exceptions, the share prices of listed dry bulk shipping companies collapsed definitively in the last months of 2015, while brokerage firms such as Norwegian Pareto Securities are downgrading the already record-low rate expectations for 2016 and 2017. This could send ship values down to hitherto unseen low prices.
As the only listed dry bulk carrier, Denmark's Norden is given a buy recommendation and an upgrade due to its robust balance sheet and strong exposure in the product tanker segment, which compensates for the miserable international dry bulk market.
Major listed carriers such as John Fredriksen-controlled Golden Ocean on the Oslo Stock Exchange and New York-listed carriers Star Bulk and Diana Shipping have been downgraded, while the first two are burdened by their large and capital-intense newbuilding programs.
Following a large price drop in dry bulk carriers in 2014, the scenario has not changed this year. In 2015, share prices across the five major listed bulk carriers Scorpio Bulkers, Star Bulk, Golden Ocean, Western Bulk and Diana Shipping have dropped by 55 percent, 86 percent, 62 percent, 61 percent and 30 percent, in that order. Meanwhile, Norden's share has increased two percent.
Investors have turned their back on shipping
The first half of 2016 looks set to be extremely tough for the dry bulk sector in a period that is typically a low season due to the reduced iron ore output in Australia and Brazil, while China typically draws on its stockpiles in this period.
"Most of the listed dry bulk names have already collapsed and decoupled from their underlying NAVs. Current NAVs are however less relevant due to the severe cash burn and high leverage, a toxic cocktail which will is likely to lead to dilutive equity issues for several companies. Asset sales are preferred over equity issues, and we will see sellers continue to pile up in the S&P market putting further downward pressure on values (...) with an overhang of sellers it could in fact fall another 5-10 percent next year – to previously unseen levels," notes Pareto Securities.
The brokerage firm paints D/S Norden as the only safe listed dry bulk carrier, which over the past year has also upgraded its full-year expectations several times.
Although Norden's earnings will come under pressure over the next two years when the carrier has more dry bulk newbuildings delivered, the carrier looks like the dry bulk industry's most robust player by far.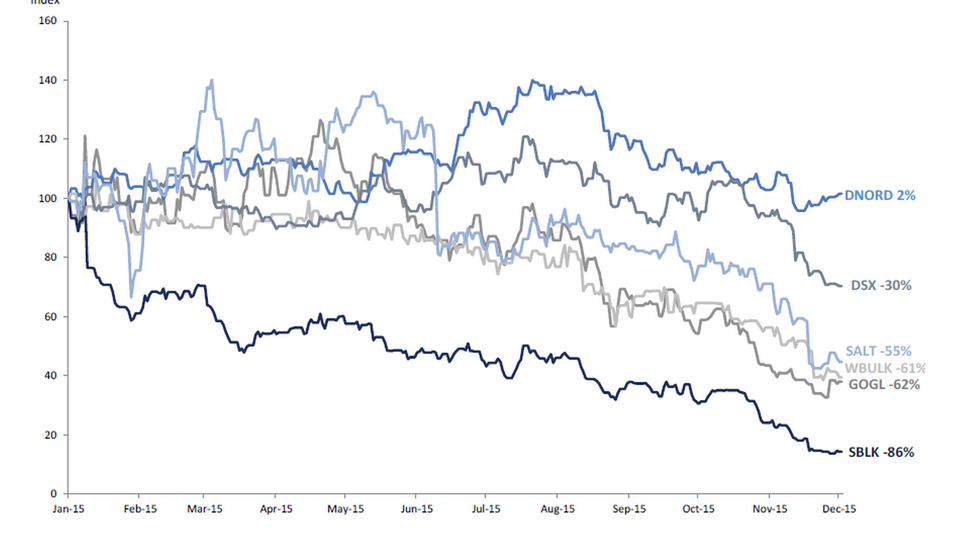 Source: Pareto
Share price development of DNORD (D/S Norden), Diana Shipping (DSX), Scorpio Bulkers (SALT), Western Bulk (WBulk), Golden Ocean (GOGL) and SBLK (Star Bulk)
Find a bigger version here
At the end of the third quarter Norden held cash holdings of USD 321 million and virtually no debt. The rock-solid balance sheet allows the carrier to take advantage of the low ship prices when opportunities arise, says Pareto, which changed its recommendation from Hold to Buy and reduced its price target from USD 27.82 to USD 24.56m, which reflects the growing uncertainty surrounding the entire dry bulk industry.
British firm Drewry writs Wednesday in the analyst firm's Dry Bulk Forecaster that the dry bulk industry shows no signs of improving before 2017.
Norden CEO sees challenges in lower bulk coverage
A veritable flood of Capesizes scrapped this year
Shipping crisis weakens investor interest
Pacific Basin projects significantly better 2015 result