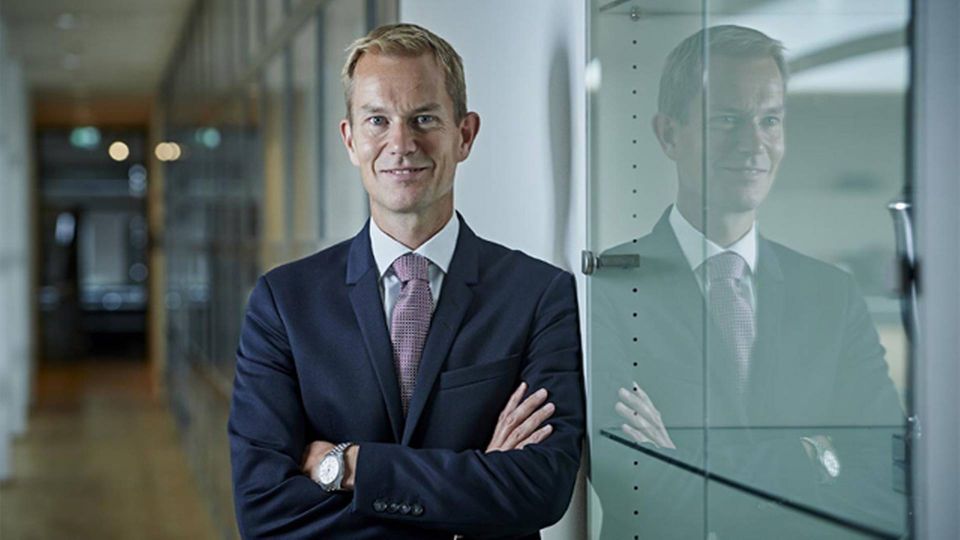 On the one hand, this a completely new job for 47-year-old Mads Zacho. He is now the Chief Executive of a carrier which transports grains and lumber, and which operates in a dry bulk market currently experiencing its largest downturn ever in 2016, for which very few people expect recovery anytime before 2018. And this is if everything goes according to the carriers' plan.
On the other hand, being CEO of J. Lauritzen is not entirely foreign to him. It is not a far stretch from his old workplace at Torm just on the other side of the Copenhagen street called Tuborg Havnevej, north of the city. Some of his former colleagues even sent text messages to Mads Zacho telling him to wave at them from the glass front of one building to the windows of the other.
The top priority is creating financial flexibility. I've started this job with the four banks and I am putting time and energy into it.
Furthermore, the job at 130-year-old carrier J. Lauritzen is not that different from the battles he fought at 125-year-old Torm, which Zacho managed to save in the nick of time along with Torm CEO Jacob Meldgaard in 2015.
Debt had to be substantially restructured, and in the case of Torm, it almost ended the old tanker carrier during the many months of the battle between the carrier's senior management and the eclectic bank consortium. In the case of J. Lauritzen, the task concerns renegotiating bank debt worth a total of USD 250 million set to mature in the upcoming years, although the majority not until 2019-2021. Bond debt worth USD 80 million will mature in late 2017.
Mads Zacho has no doubts that his first priority is to secure a deal with J. Lauritzen's four banks, Danske Bank, Nordea, Enskilda, and Danish Ship Finance. The carrier will not have regained its necessary freedom to act until this deal is settled.
"The top priority is to create financial flexibility. I've started on this process with the four banks, and I'm putting time and energy into it. I hope it will be settled in the first quarter of 2017," Mads Zacho says in an interview with ShippingWatch three weeks after taking over the reins of J. Lauritzen.
Transparency is crucial
He is not the type to sugarcoat things. On the contrary, he points to the value of putting all cards on the table, even for the banks that could ultimately cut off the cash flow. But during dramatic negotiations with Torm's bank consortium, he learned a great deal about facing owners, equity funds, bondholders, and banks, which he can now use on the other side of the street.
"It's crucial to have a relationship built on trust with banks. In this context, there is no point in taking cover. One of the most important things I brought with me from the process at Torm is that a solution is best reached by putting your cards on the table and communicating with the outside world," he explains.
This is also why he volunteered to do an interview so quickly after taking on the new job, at a time where most CEOs would "rather get comfortable before making statements to the public."
Zacho has started work at a carrier which is not necessarily closed off, but likewise is not known for communicating enthusiastically, and where the special ownership with a single foundation owner, Lauritzen Fonden, which holds 100 percent of the shares, is not exactly symbolic of proactive communication and an outgoing approach. If there was criticism, it was given in private.
Problems in dry bulk
With a degree in economics and a professional past as CFO of Torm, Zacho is the type who wants to bring the books in order as quicklu as possible. Especially with a dry bulk market like the current one, which hit an all-time low in February this year and bumbled on at a slow pace with little to no progress.
This impacted the entire industry as hard as it hit J. Lauritzen. The Danish carrier has been in the midst of a dramatic decline in recent years, and has accumulated losses of more than one billion dollars.
Lauritzen CEO Kastrup-Nielsen to step down
This made Lauritzen's Board of Directors, headed by new chairman Jesper Lok, former CEO of Svitzer, lay off then-CEO Jan Kastrup-Nielsen and hire Zacho to replace him, tasking him with restoring the financial power and then strengthening the carrier's core business and daily operations. And ultimately generate the profits which the carrier has been unable to achieve in the past five years.
Apart from the relatively reasonable gas carrier Lauritzen Kosan, the development of the major bulk business will decide whether J. Lauritzen gets its bottom line back in the black, and also when the owner can bring home a profit.
2017 will be difficult
Zacho is not exactly optimistic about the next few years.
"In broad strokes, 2017 will be another difficult year. We probably have to look to 2018 before things turn around. Today, it's a fact that in dry bulk, nobody's making money," Zacho says.
The dry bulk carrier has approximately 100 vessels on the water on any given day, ten of which are owned, and this setup will not be changed. Maybe the short freights need to be strengthened because the market needs it to be, but otherwise it's basically about being "sharper than everyone else."
These were pretty much the same words used by your predecessor and by the competition as well?
"I don't know. It's how I plan to do it. J. Lauritzen has been an amazing organization, so it's a question of narrowing the focus in some places. I also think that we need to concentrate the business efforts on the areas, where we have special abilities and which the customers appreciate. For example in complicated project cargo, and the fact that we have a better safety culture than others. We don't necessarily have to be the carrier one uses if it's just a standard transport from A to B," as he puts it.
Apart from letting CEO Jan Kastrup-Nielsen go, CFO Birgit Aagaard opted to step down as well. Mads Zacho has taken over responsibilities from both positions.
On the surface he looks most of all like a banker
J. Lauritzen CEO could face additional capital needs