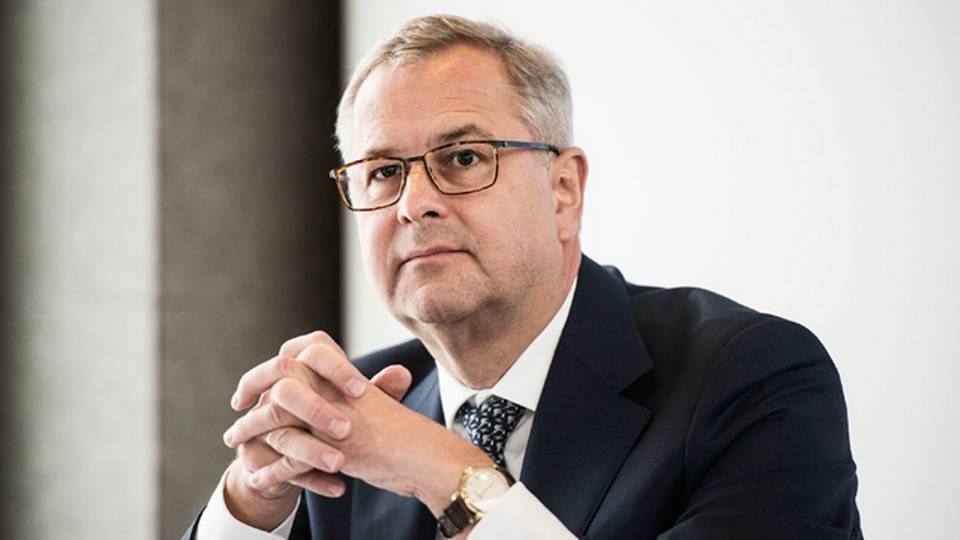 At first glance, Peder Søndergaard's recent departure from APM Terminals might seem like a natural move for an employee who has been with the same firm for many years.
But speaking with people who know Maersk well – external observers as well as longtime internal members of the organization – they say his departure was not an uncomplicated breakup for the Hague-based port operator.
Søndergaard was part of the original foundation of APM Terminals, and it would have been preferable for the management to keep the information inhouse untill public interest had dampned – especially because Søndergaard himself made the decision on account of disagreement with the new strategy, and he is thus leaving behind a company that he once helped build up from the ground.
Key executive in APM Terminals leaves Maersk
Søndergaard was also the last member of the team which followed CEO Kim Fejfer through a cheerful decade of expansion until 2015, along with the company's head of investments Joe Niclaus Nielsen who – like Fejfer – is now employed by A.P. Møller Capital.
Clearing the decks
In itself, it is not strange that APM Terminals CEO Morten Engelstoft has as such cleared the decks after setting his own team.
Along with COO Keith Svendsen, Engelstoft makes up the port company's senior executive team. In partnership with Maersk Line CEO Søren Skou and the carrier's COO Søren Toft, these four executives are ultimately responsible for whether the new Maersk becomes a success story.
They were all hand-picked by Skou, who took the reins of the entire Maersk Group in the summer 2016 from Nils Smedegaard Andersen, who wanted to maintain the conglomerate structure which is now coming to an end.
(Article continues below the picture)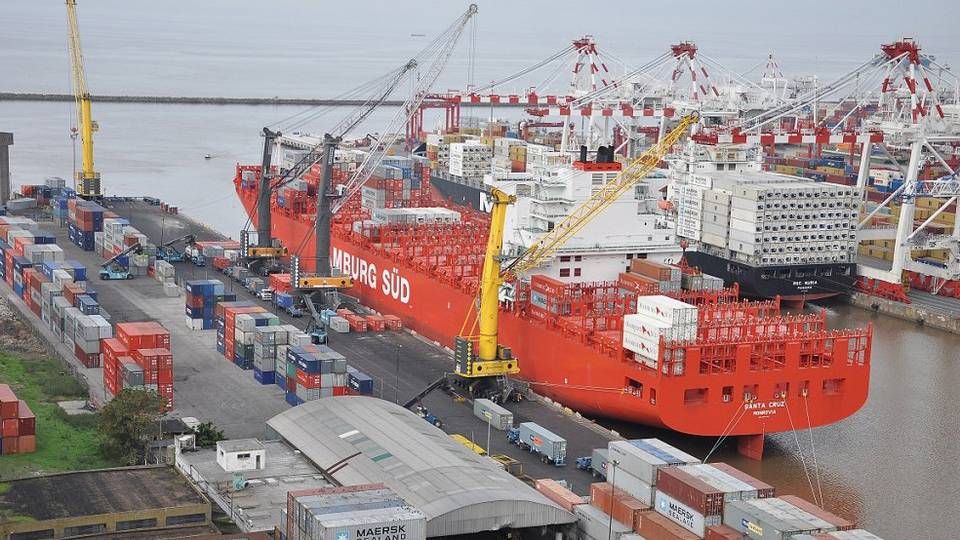 They are "liner people", as they say of those with roots at Maersk Line, and the four executives have a close-knit professional bond, according to people familiar with Maersk.
The first task ahead of Skou when he took office will soon be complete. This concerns the divestment of the energy companies in Maersk Group. Maersk Oil and Maersk Tankers have already been sold, and there is no longer any doubt that a solution will be found for Maersk Drilling, whether this is a joint venture with the Maersk family's investment company or a different solution. In any case, the impairments at Drilling were so big in 2017 that the unit's future significance has virtually been eliminated.
Skou to deliver cold numbers
Skou's next major task begins now. One could say that 2018 marks a new square one for Maersk, and Skou will need to use cold numbers to prove that he has chosen the right path, and that shareholders must eventually accept the sole focus on the container industry in Transport & Logistics.
Synergies and a closer relationship between Maersk Line and Hamburg Süd paired with APM Terminals will make up the driving force in the new business.
With respective shares of 76 and 18 percent of the revenue, these units are the pillars of the financial recovery that Skou is aiming for. The goal is to make 2 percent more on invested capital (ROIC), and this will be done by Maersk Line and now Hamburg Süd utilizing Maersk's own ports in APM Terminals to a greater extent.
Various analysts all say that the 2 percent ROIC increase is not impossible. Simply taking over Hamburg Süd for EUR 3.7 billion, a transaction that was finalized late last year, will trigger synergy effects totaling USD 400 million a year. In light of the experiences made by Hapag-Lloyd in mergers with South American CSAV and, more recently, Arab UASC, it would be very disappointing if Maersk failed to mimic this success.
Drewry is positive
Among the positive analysts is UK-based Drewry, which expects that the operating result at Maersk Line will rise from USD 2.6 billion in 2017 to USD 3.5 billion this year.
The variable continues to be Hamburg Süd, which is only included in Maersk's annual report in the last month of 2017, as accounting figures have never before been released for the Oetker family's privately held carrier.
Maersk is underway with a project that everyone has attempted in the container industry and which no one has done successfully,
According to ShippingWatch's sources, some of the financial figures for the German carrier will be published Friday, Feb. 9, when Maersk presents its annual report for 2017. And more figures will be published when Maersk hosts its Capital Markets Day on Feb. 20 at the Royal Danish Opera in Copenhagen.
There is no doubt that Maersk's executive team will do everything possible on the day, which is usually tightly scheduled, to convince the many stock market analysts flying in from around the world that T&L is the right direction, that the Maersk share is a solid investment and that Maersk's digitalization effort will make a difference.
No one has succeeded before
"Maersk is underway with a project that everyone has attempted in the container industry and which no one has done successfully," says one of the world's leading analysts in the sector, who also has intimate knowledge of Maersk Line, CEO of SeaIntelligence, Lars Jensen.
He worked for a decade at the liner carrier, and he has written several books on the transition that Maersk already went through, including the financial and cultural sacrifices that the shift entailed. His insight and history is undisputed.
He notes that Maersk's streamlining to become a "pure player" in container will at best be a very difficult process.
There are several reasons why:
Lost market shares
In both the second and third quarters 2017, Maersk Line lost market shares while a blossoming container market roared ahead on the coattails of global economic growth at around 3.5 percent. It is entirely intentional, said Maersk after a second quarter, adding that this would change in the third quarter, which did not happen. Subsequently, Maersk Line stressed that it would now defend its market share.
Record-low reliability
Only a few years ago, Maersk Line, often closely followed by Hamburg Süd, was almost automatically logged as the world's most reliable container carrier that shippers could count on to meticulously deliver their cargo on time.
And not many years ago, Skou was convinced that the new alliance partner MSC would be able to improve its notoriously low ranking and reach the top level of Maersk Line.
In 2017, Maersk Line was the 10th most reliable carrier, while MSC was number 8 on the list.
China's dominance
China's political vision in the Belt & Road project to create a container industry that will dominate global trade with the largest fleet and extensive network of ports, now seems to be causing a shift in the power balance. Cosco Shipping is the fulcrum of the strategy. The development is cause for such concern that last year ShippingWatch reported that European shipping interests had notified the EU of the situation.
(Article continues below the picture)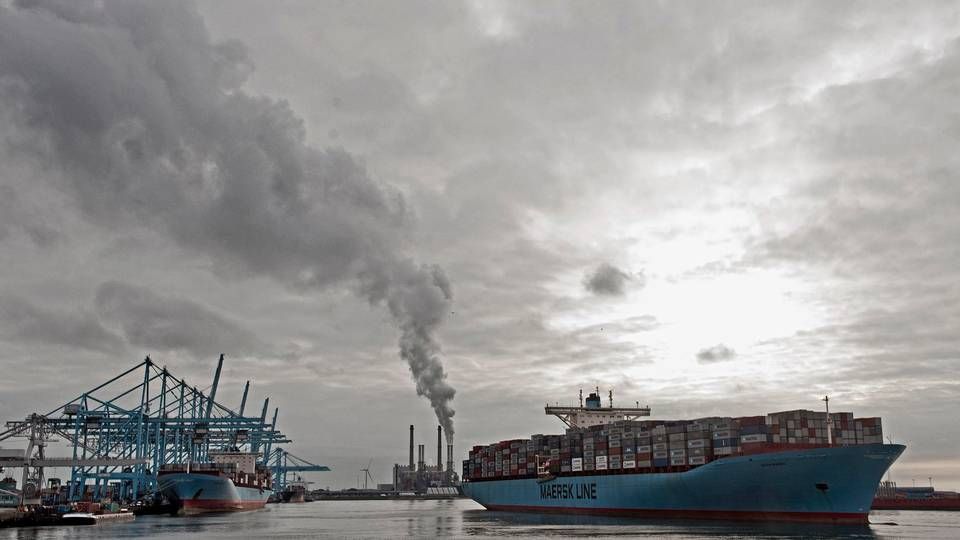 The concern is that China's national expansion plans in the maritime sector could be a threat to the primarily European container carriers. Right now, APM Terminals plans to get rid of ports which cannot help fulfill the new ambition for every single investment to be profitable. Meanwhile, China, as seen with Zeebrügge, is buying up at a fast pace.
Rates
Ultimately, rates will decide the level of success in the container industry. As Moody's stated last month with the graph below, rates increased in 2017, mostly in the first half of the year, after which they declined. But rates are still far from the golden days of 2014 and 2015.
On the positive side of things, growth in the global economy seems to be continuing this year and is set to carry on in 2019, possibly even more, judging by the latest estimate from the World Bank, which raised its estimate two weeks ago for both 2018 and 2019 to 3.9 percent.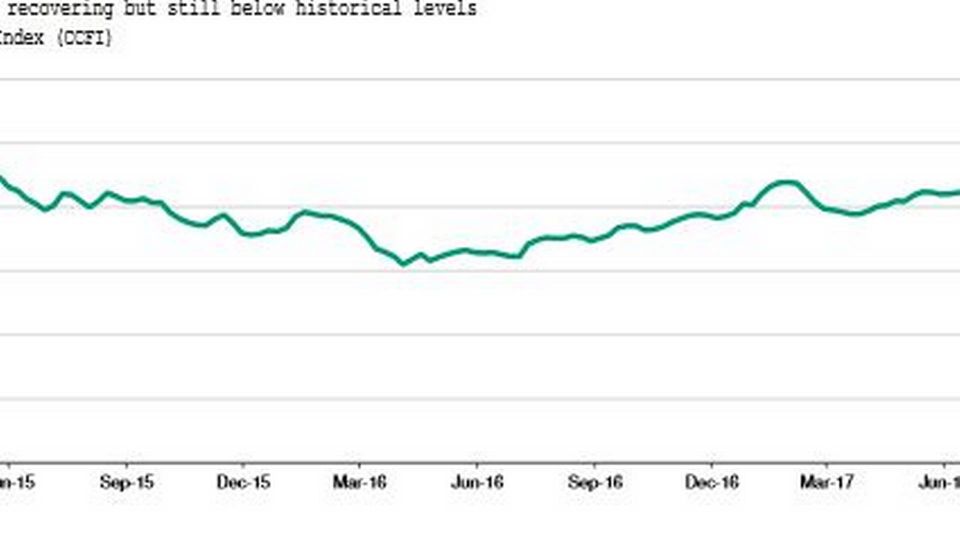 Too many ports
While container carriers have been struggling with overcapacity and an excess of vessels on the water for too little cargo, the same problem is now starting to emerge in the port industry, where talk has similarly turned to consolidation and alliances.
In the case of APM Terminals, utilization rate has dropped back down and now clocks in at 64 percent. According to Engelstoft, utilization should be above 75 percent. And this should preferably take place in the balancing act which entails more nursing of Maersk Line without making important third party carriers feel that that they are second-rate customers.
Share price
Some would say that Maersk is bidding farewell to the oil business at the very moment when things are picking back up, a fact partly confirmed by financial reports from BP and Statoil. On Wednesday it emerged that major field Johan Sverdrup can produce oil for just USD 15 per barrel. Maersk Oil is still listed as owner of 8 percent of the field, but this is only a formality until Total's acquisition is finalized.
The focus on container, however, was the strategic choice made by the board and the main shareholder, the Maersk family, along with Skou in 2016, based on the fact that shipping is the very foundation of the company, and that Maersk Line was already at the time the world's largest container carrier. The share price below shows how Maersk's B share has developed since Jan. 1 2017, and that the strategic decision is still not pushing the price up.
2018 and the subsequent years will show whether Maersk will pull it off, as no other carrier has done before, including Maersk itself as the liner carrier, the ports and the logistics business were all part of the same business previously.
English Edit: Gretchen Deverell Pedersen
Key executive in APM Terminals leaves Maersk
Damco hires new CFO from Maersk Supply Service
Maersk Line and Hamburg Süd launch new services after merger