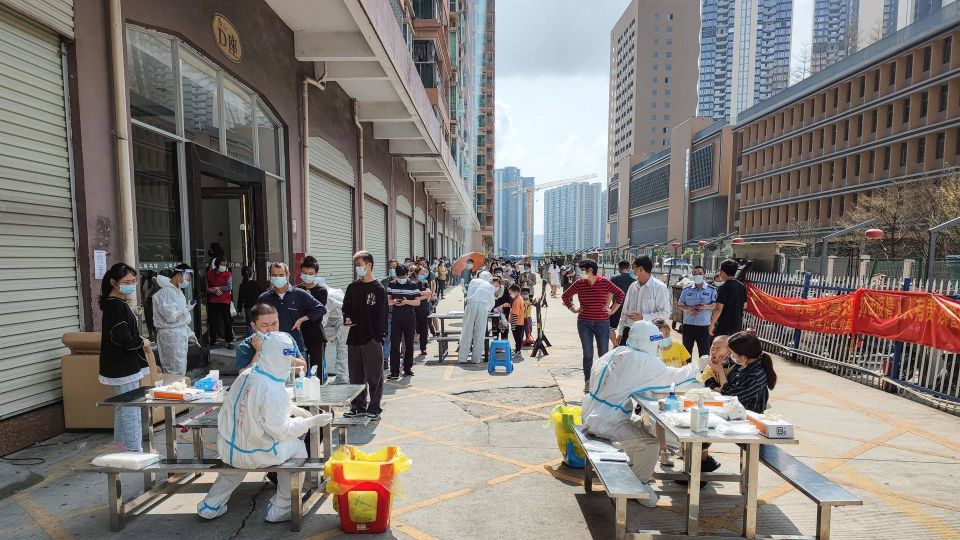 Outbreaks of the Omicron variant in China now risk causing increased turmoil in global supply chains, which are already severely plagued by massive demand, delayed ships and congestion at ports.
The tightening of regulation in the major cities of Shanghai, Shenzhen and in the Jilin province may stir new difficulties in supply chains, increase delays and busyness at ports and thus lead to increasing pressure on container carriers' freight rates, which are already at a high level, says Danish bank Sydbank.
Maersk is already preparing customers for the event that the restrictions and test demands of, for instance, truck drivers will cause problems in the domestic transport to and from Chinese container ports.
We foresee the overall trucking operational efficiency will be reduced significantly
"We foresee the overall trucking operational efficiency will be reduced significantly due to the frequent NATs, (tests, -ed.) especially in Hong Kong, Shenzhen, West Pearl River Delta, Shanghai, Yangtze inland ports, Qingdao and Tianjin," writes Maersk in a customer update Monday night.
Due to the restrictions, Maersk's warehouse facilities in Shenzhen will be shut down until March 20, however, the Chinese port terminals still operate normally, informs the carrier.
The Chinese authorities, which have a zero-tolerance approach to Covid-19, have due to 3,400 incidents of contamination introduced a lockdown of the city for at least a week.
The authorities require mass testing in the city, which has a population of 17.5 millions. Bus transportation and subway lines have been temporarily closed. The same goes for companies except those that perform so-called indispensable services. Employees are asked to work from their homes.
Skip the port
US logistics firm Seko, which has 120 offices spread across 40 countries, warns that the new restrictions in Shenzhen may make it impossible to load vessels at Shenzhen Yantian Port, and that ships will be likely to skip the harbor.
So far, no tightening of regulation has been launched at Yantian Port, which was shut down last year due to coronavirus outbreaks. But the authorities have upscaled Covid controls at the port.
"All vessels already loaded and departing this week will depart as planned. No cargo will be able to load in Yantian from next week and vessels [will] most likely omit the port," writes Seko in an update on the company website.
In Shanghai, outbreaks have occurred again as well.
This has caused restrictions on transports to the city, bus routes from other cities to Shanghai have been halted, and authorities demand that all international flight arrivals to the financial center of Shanghai be directed somewhere else.
A whole Chinese province, Jilin, has been put under severe regulation due to new outbreaks.
Negative effect
The Chinese restrictions, which may end with shutdowns of ports, arrive as the Ukraine crisis unfolds.
Russia's invasion on Feb. 24 has caused a wave of western sanctions against the country but has also lead to closures of Ukrainian ports. Furthermore, several carriers have announced a halt of Russian port callings.
"Both the Ukraine-Russia crisis and the new lockdowns in China affect the already strained supply chains in a negative way," writes Peter Sand, chief analyst with analysis firm Xeneta, in an email to ShippingWatch.
The crisis has caused freight that was supposed to go to Russia or Ukraine via the Black Sea in many cases to now have ended up at European ports, prompting further congestion and delays at these ports.
"It can also make rates go up and down on regional routes. While lockdowns in China has a more global effect and the potential to redirect international routes. Both with lacking containers out of a key area such as the Pearl River Delta, but also because the time schedule of the carriers will have to be changed once again," says Sand.
"Ships will be held up in the area, while those that can will sail around. Shippers will see that goods are being trapped due to the lockdowns, and shipowners will not have their ships filled up as planned."
Port company HHLA, which, for instance, owns three container terminals in Hamburg, has previously stated that it will no longer carry freight to and from Russia.
At the Port of Rotterdam, which is Europe's largest container terminal, the port authorities have informed that several terminals and companies have decided not to handle containers going to Russia for the time being.
Normalization further away
Mikkel Emil Jensen, senior analyst at Sydbank, asserts that the Chinese situation may very well increase tensions in the supply chains and push a normalization of the container market further into the future.
"The conditions are already chaotic, and if one of the largest ports shuts down, there is not enough maneuvering room to adapt to the situation. And then, it will spread to other ports and stir even more friction in the bottlenecks," states Jensen to MarketWire.
"It's a good thing for Maersk. We knew that 2022 would be another year with high rates, but this only prolongs the situation indefinitely. The investors also signal this in advance today [Monday, -ed.]."
Monday, the Maersk stock closed at a price 6.21 percent above the recent trade day.
English edit: Kristoffer Grønbæk
Chinese and US ports increased container volumes significantly in 2021