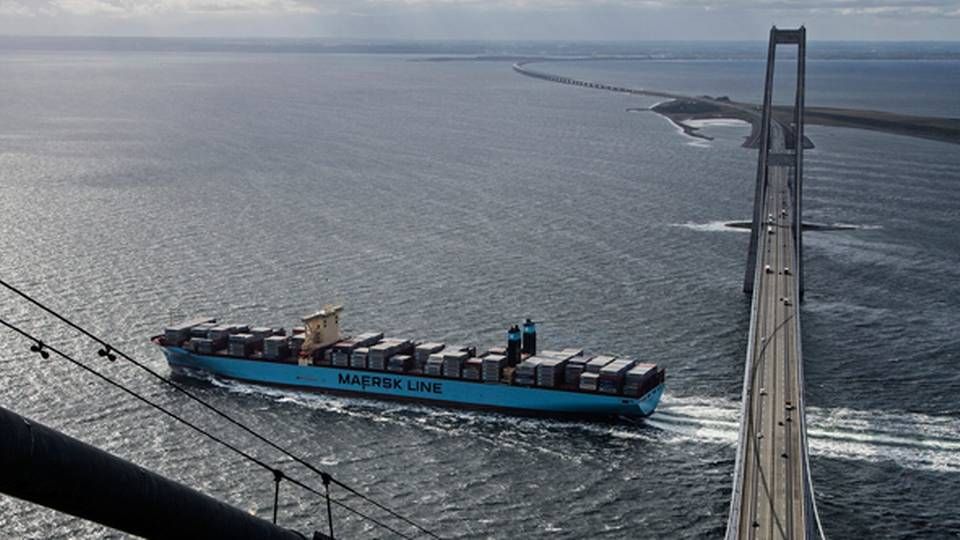 Maersk's container businesses - Maersk Line, Seago Line, and Safmarine - will have an additional combined cost of around USD 200 million per year from January 1st 2015, when the new sulphur requirements for ships' fuel in the Baltic Sea, the North Sea, and the English Channel come into force. But Maersk plans to wait until later in 2014 - unlike carriers such as German Hapag-Lloyd - before deciding upon the coming bunker surcharge, Jacob Sterling, Head of Sustainability at Maersk Line, tells ShippingWatch in an email.
"We estimate that the total cost for Maersk Liner Business (Maersk Line, Seago Line, and Safmarine) will amount to around USD 200 million. This estimate is based on a projected additional purchase of low sulphur fuel for 650,000 tons and an expected extra price of USD 300 per ton," says Jacob Sterling:
"We expect to change our bunker surcharge, so that the additional cost for low sulphur fuel is incorporated into cargo transported in the affected regions where the sulphur regulations are set to come into force. We expect to say more about the level of the bunker surcharge later in 2014, but the final levels will depend on the actual price difference once the new regulations come into effect."
Sulphur regulations cost carriers USD 120 per container
The price on Marine Gas Oil with just 0.1 percent sulphur - which the carriers will have to use in the ECA zones (Emission Control Areas) from January 1 2015 - is expected by bunker companies to be approximately 50 percent higher than the price of the fuel used by ships today. The tightened requirements are already in effect in the United States and Canada, and in California the regulations will be tightened even further from January 2015.
Do you want to stay up to date on the latest developments in International shipping? Subscribe to our newsletter – the first 40 days are free
Hapag-Lloyd has made several announcements to its customers since 2013 in which the carrier has informed of significant additional fuel costs on services to the US West Coast, just as Hapag-Lloyd has announced that the company expects additional costs totaling EUR 150-200 million annually, or up to EUR 270 million based on the current oil price - a much greater figure than the one estimated by Maersk Line, though the latter carrier is far bigger than its German rival.
Hamburg Süd has informed that the sulphur that the sulphur regulations will cost the carrier an extra USD 40 million per year, a bill that is also sent directly on to the customers.
Analysts Drewry recently estimated that the cost of complying with the sulphur regulations amounts to an additional expense of USD 120 per teu.
Do you want to stay up to date on the latest developments in International shipping? Subscribe to our newsletter – the first 40 days are free
Sulphur regulations cost Hapag-Lloyd up to USD 270 million
Fuel in SECA zone will be 50 percent more expensive
Danish organizations call for massive EU sulphur control