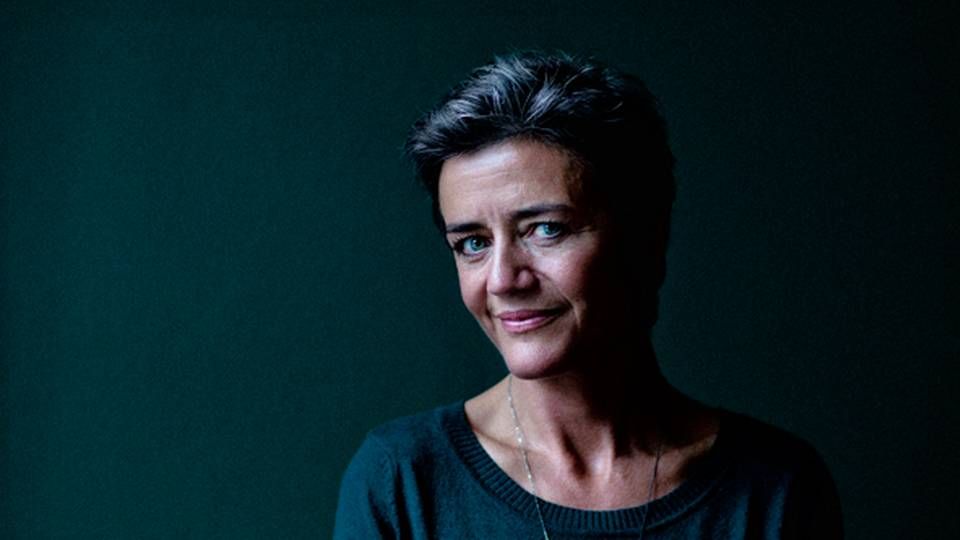 Even though the EU was not required to formally approve the new 2M alliance between the two biggest container carriers in the world, Maersk Line and MSC, there should be no doubt that the EU Commission is prepared to strike if 2M or one of the other major alliances interfere with free competition, says the EU's new Commissioner for Competition, Margrethe Vestager, in an interview with ShippingWatch. She calls on shippers and other industry players to pay attention and notify the EU if they suspect something is amiss.
Do you want to stay up to date on the latest developments in International shipping? Subscribe to our newsletter – the first 40 days are free
The former leader of the Danish Social-Liberal Party (Radikale, B) has been appointed to the key EU job at a time when a vast majority of global container transport has concentrated its activities into four large-scale alliances, of which 2M is the biggest, not least on the main trade between Asia and Europe. 2M will be launched around one week from now, on January 1st, and the alliance will be fully implemented during the first quarter.
Scrutinizing every concern
"The Commission will continue to monitor developments in the container industry and will scrutinize every concern relating to interference with competition that the Commission discovers on its own or which is reported. It goes without saying that the Commission is in frequent contact with players - carriers, customers, ports, etc., - and I'm sure that they won't hesitate to notify us about cases that interfere with competition which they feel need to be investigated further," she says.
SeaIntel: Two alliances to compete on ULCCs in 2015
As opposed to well-known high profile cases such as the dispute with US-based Google, Margrethe Vestager's role as watchdog in the container market will very much be a balancing act between, on the one hand, having to plead for the free market forces while on the other hand approving substantial financial schemes benefiting the industry.
As such, the EU Commissioner for Competition is also responsible for frequently approving the tax benefits that the industry enjoys. These include the tonnage tax scheme which has been adopted by a majority of EU member states in order to provide carriers with tax benefits, and it includes the net wage scheme, which ensures that carriers only have to pay net wages to employees on ships, and thus avoid having to pay public tax for employees.
No alternatives
But there are arguably no alternatives if EU countries such as Denmark want to maintain their own registered fleet while still employing local seafarers on the ships, as there is quite simply too much competition from countries offering flags of convenience, just as it is too difficult to compete with wages from Asian countries in particular. As such, Vestager does to intend to change the possibility of securing tonnage tax and net wages, she says.
Swedish tonnage tax fades in political chaos
"The purpose of these schemes is to support EU countries' competitiveness in the global shipping industry. EU-registered ships have been looking toward flags of convenience, which provide more favorable conditions to shipowners than they would get with EU-registration in terms of taxes, costs, control of social legislation, safety and environmental regulations. In order to stop this out-flagging, ensure employment for EU seafarers and to strengthen the fleet's competitiveness, the EU Commission has adopted concrete state aid schemes such as tonnage tax and net wages to help reduce employment costs. Seeing as there's still fierce competition in the industry, the EU has no plans to eliminate rules concerning tonnage tax and employment of EU seafarers," says Margrethe Vestager.
Chinese stat aid for scrapping
The European container industry's competitors include state-owned Chinese carriers such as Cosco, and state involvement in the transport chain as a whole represents a general concern for EU carriers.
Recent criticism has been directed at China's decision to support Chinese carriers' scrapping of ships on Chinese yards. The Chinese government itself has also started to increasingly flex its muscles toward the international container industry.
One example of this was six months ago when China rejected the P3 alliance and definitively derailed the collaboration between the three biggest - and European - container carriers in the world: Maersk Line, MSC and CMA CGM. And there is thus no way to avoid China in the efforts to ensure an efficient as well as competitive container industry.
Do you want to stay up to date on the latest developments in International shipping? Subscribe to our newsletter – the first 40 days are free
"The Commission is aware of this and is in frequent contact with the Chinese authorities concerning shipbuilding, including state aid schemes, though it goes without saying that these kind of negotiations take time. But if it becomes necessary, there are international tools for trade conflicts at our disposal," says Vestager.
Investigations take time
When it comes to making carriers behave, the EU Commission has shown in the past that it is not afraid to strike. The last time this happened on a large-scale was when officials from the Commission performed a dawn raid at 14 container carriers, including Maersk Line, in May 2011.
The case against the carriers was launched formally last year, in November 2013, and the investigation has been underway since then. The point of contention concerns the container carriers' announcements of general rate increases (GRI), which usually lead competitors to make similar announcements to customers once one carrier has decided to raise its prices.
Do you want to stay up to date on the latest developments in International shipping? Subscribe to our newsletter – the first 40 days are free
A carrier such as Maersk Line is cooperating but, according to ShippingWatch's sources, the carrier - along with several of the other carriers involved - is also somewhat displeased with the fact there is still no analysis of the dispute at this time, three and a half years after the raid. But there is really no other way to do it while also ensuring a thorough review of the seized documents, explains Margrethe Vestager.
"Even though there are many parties involved, and that this represents a significant challenge for the Commission's investigation, we are doing the best we can to investigate this matter as quickly as possible while also ensuring a quality investigation, as well as making sure that the various parties' rights are respected."
Denmark wants to regain Top 5 on gross tonnage
Maersk Line gets 78 ports in East-West network in 2015
Skou: Maersk Line and MSC must be equally reliable