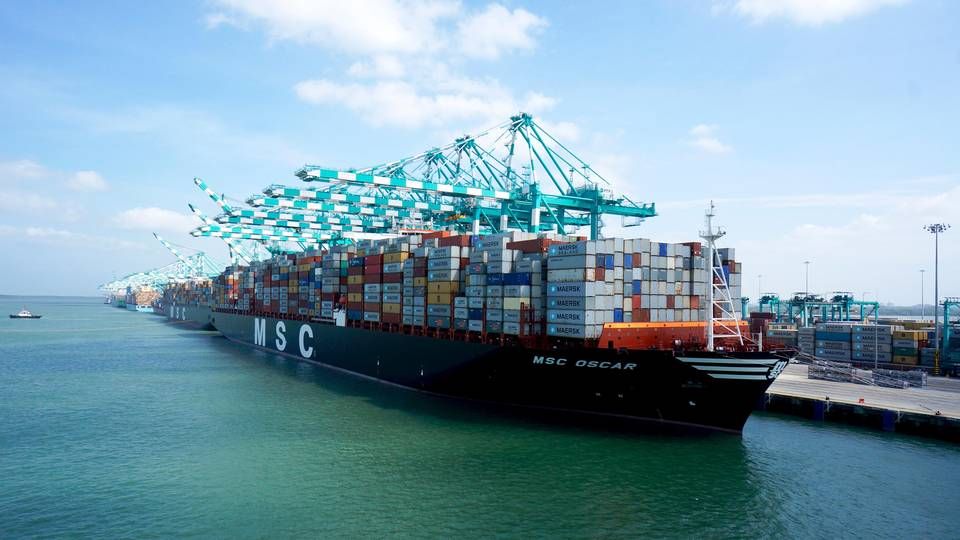 There is probably little doubt that the new container giants that have joined the global fleet in recent years, and with more set for delivery in the years to come, puts a significant and increased pressure on the transport network. Just as ports, terminals and not least the hinterland, which will be forced to handle many more containers, will be affected, says the International Transport Forum (ITF), which falls under the OECD, in the report 'Mega-Ships: Trends and Rationale', published last week.
In the report, the OECD questions, among other things, the benefits of the new vessels, which reach upwards of 21,000, not least in terms of the challenges faced by the rest of the supply chain following deployment of the ultra-large ships. And this development should make the countries' political systems consider additional efforts, according to the report.
OECD questions benefits of new ultra-large vessels
For instance, recommendations concerning the new mega-ships should be more balanced. Countries and ports often make a choice that might seem positive for the individual party, but which could have a detrimental effect on a larger scope.
"Countries and ports need to consider the costs of accommodating bigger ships in comparison to the overall economic benefits, including port income, savings to local shippers/importers/exporters, and whether such savings will be sufficient to pay for such costs," says OECD in the report.
Kim Fejfer: Mega-ships force ports to more investments
Furthermore, countries should take a hard look at subsidies and their policies in terms of container carriers. Are there for instance rules encouraging carriers to increase the size of their vessels, or that might support containers carriers without properly covering the costs? One way to go about this could be:
Design port dues in such a way that they do not provide incentives for the largest ships. In addition, introduce mechanisms to recover dredging costs on users, for example via fairway dues and harbor maintenance fees related to ship size, as the Port of Hamburg, for instance, is about to do.
Clarify application of state aid rules to the ports sector and increase financial transparency of the ports sector, to avoid that the public sector picks up the bill imposed by shipping lines.
Do you want to stay up to date on the latest developments in International shipping? Subscribe to our newsletter – the first 40 days are free
Political support to the ports' efforts to increase productivity, by for instance upsizing hinterland transport modes, such as allowing for larger trains, double stacking and larger trucks.
Increased cooperation
Just as the container carriers are increasingly forming collaborations to draw on each others' networks and capacity, countries, port authorities and other authorities in general could also cooperate even more than they do today, according to the report.
"Regulation of competition and policy options, which could include whether or how to regulate ship size. More coordination between port authorities on future port development and investment, which could include port mergers in fragmented port systems to increase bargaining power, where this is possible without compromising competition," says the OECD, also recommending more direct investments in a limited number of ports, which could help reduce the number of key ports in the European TEN-T transport network.
Do you want to stay up to date on the latest developments in International shipping? Subscribe to our newsletter – the first 40 days are free
As a final point, the organization recommends creating a forum where investments in new mega-ships can be discussed by the relevant parties in the transport network, namely governments, port authorities, and not least the carriers themselves.
"The objective could be to facilitate an exchange of views, an understanding of objectives and plans, and ultimately better coordination to ensure optimum supply chain configurations, including optimized use of mega-ships."
Maersk Line does not agree with the issues raised by the OECD in the report, Amdi Krogh, vice president for Head of Assets & Deployment at Maersk Line, told ShippingWatch recently.
"When we look at our own numbers and calculations of the savings, we have numbers that are somewhat bigger than the results from OECD. The difference in savings on a twenty foot container on a new mega-vessel and an older 14,000 teu container ship can reach up to USD 500 in our calculations, which is somewhat higher than at OECD. So here, there is no doubt that the large ships provide real savings and are more cost efficient than older generations of vessels," he said.
Maersk order for new mega-vessels draws near
Maersk Line does not recognize criticism of mega-vessels
SeaIntel Consulting: Asia-Europe infecting the whole world