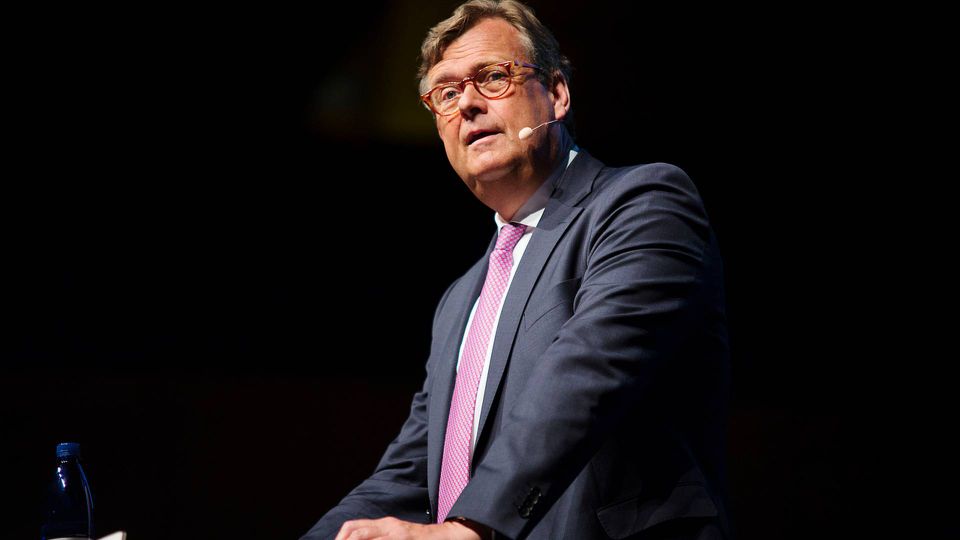 Group CEO Nils Smedegaard Andersen is out. The conglomerate as we know it today could be headed toward a split. And the job as Chief Executive of A.P. Moeller-Maersk, which will be filled by Maersk Line CEO Søren Skou, could turn out to be temporary.
These are the main takeaways after the Maersk Group, headed by Chairman Michael Pram Rasmussen, on Thursday announced several big changes at Denmark's by far and one of the world's biggest shipping conglomerates.
"We need to look into whether we should to break from the way we're structured as one group with numerous business units under one parent company, or whether we should, for instance, look at whether it makes sense to split the company into several smaller units," Michael Pram Rasmussen tells Danish news agency Ritzau Finans, adding:
"We do not have an answer for this right now, but this is what we now need to find out."
Maersk Line CEO replaces Smedegaard as Group CEO
The ball is in the air after the Maersk Group on Thursday announced that 51-year-old Søren Skou will replace Nils Smedegaard Andersen, who has headed A.P. Moeller-Maersk for close to a decade. Søren Skou has been with Maersk since 1983, he has served on the A.P. Moeller-Maersk Executive Board since 2006, and he was appointed CEO of Maersk Line in 2012. He has received widespread recognition for guiding Maersk Line through one of the worst crises in recent memory for the international container industry – a crisis triggered by a massive oversupply of vessels in the face of dwindling demand at a time of low global growth.
Try a free 40-day trial subscription to ShippingWatch
Double CEO Søren Skou
Søren Skou will going forward serve as CEO of Maersk Line as well as Chief Executive of A.P. Moeller-Maersk. Even though the group's Chairman on Thursday confirmed that this role as dual CEO will be maintained going forward, he also casts doubts on whether there will even in the future be a job as CEO of the Maersk Group as we know it today.
"In the efforts that we're in the midst of now, we don't yet know the outcome, but it could be the case that the Group CEO role won't exist going forward, which also means that it makes sense for Søren Skou from Maersk Line, or biggest business unit, to head the group," Michael Pram Rasmussen tells Ritzau Finans.
Positive investor reaction
Nils Smedegaard Andersen will continue to serve as Maersk Group CEO until July 1st. And the fact that investors have received the news of his departure so positively that the share price of both Maersk shares have soared by more than ten percent on Thursday afternoon, is not something he should take personally, according to several analysts.
Søren Skou is the Maersk Group's new super CEO
"This has nothing to do with performance. Smedegaard has delivered a very strong performance. It doesn't show from the share development, but when looking at his achievement in light of the market conditions Maersk has operated under, his performance in recent years has been very, very strong," says Michael Friis Jørgensen, chief analyst at Alm. Brand Markets.
More focused than before
Nils Smedegaard Andersen is renowned for trimming off all superfluous parts of a business with a steady hand. This means that A.P. Moeller-Maersk is today a more focused conglomerate with its main activities in shipping and energy. And shipping and energy are two markets currently under severe pressure, which places the main responsibility for the fact that Maersk is currently mired into extremely challenging segments square on Nils Smedegaard Andersen's shoulders. While divestments of stakes in, among other businesses, Danske Bank and retailer Dansk Supermarked have been in focus, doubts have been raised as to whether Smedegaard was in fact the right man to spearhead the conglomerate into a more uncertain future.
Søren Skou now faces a task that is bigger than it appears at first glance, reports Danish business daily Finans following the announcement. At Maersk Line he has proven that he can be "best in class." Now he has to prove that he can handle an entire conglomerate – while also continuing to serve as CEO of Maersk Line. This factor is perhaps the most surprising, if not downright sensational, aspect of the entire change: that the Board of Directors believes that Søren Skou will be able to do his current job while simultaneously taking over the job Nils Smedegaard Andersen has held up until now.
Maersk Line CEO sees advantage in alliance commotion
Maersk Line CEO saw no way around the price war