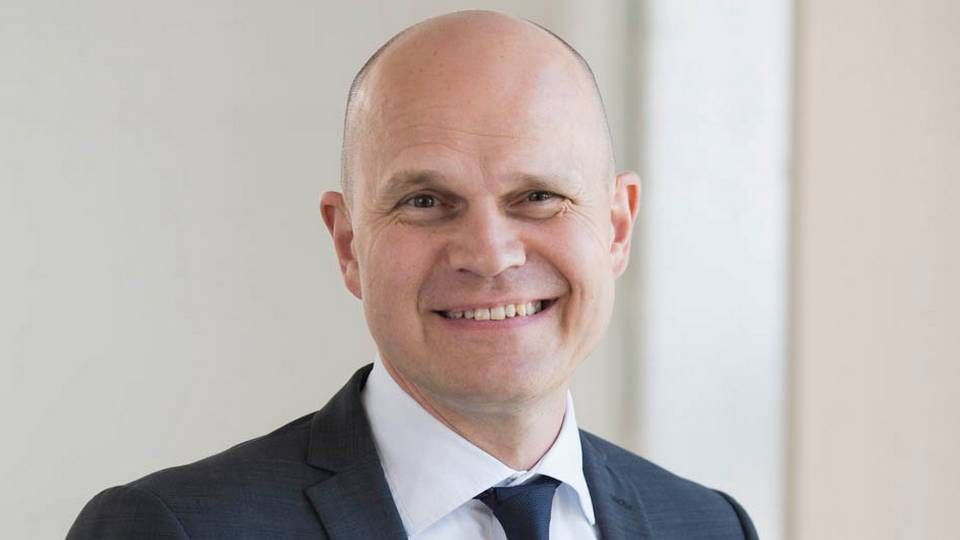 The decision at major deep-sea carriers to add extra port calls in Europe on their deep-sea services, in order to put more containers on their vessels and also snatch short sea transports between European ports, is putting a big burden on small European operators in the transports to and from the Mediterranean and the Baltic. Especially when growth in freight volumes is incredibly modest and when imports in a country like Russia, otherwise typically driven by large container volumes, have declined dramatically due to the Western sanctions against the country and the economic slowdown.
This is the assessment of the European feeder- and short sea market from Søren Castbak, CEO of Maersk Line's shortsea- and feeder company Seago Line.
The carrier was founded in 2011 as Maersk Line's intra-European carrier with a network that has since been developed to connect the Black Sea, the Mediterranean, the North Sea, and the Baltic. The carrier operates 62 vessels and covers 70 ports, and precisely Maersk Line contributes with significant volumes for Seago Line, which with a result of USD 140 million seems to have made a surprisingly positive exit out of 2015.
Tough price competition
Søren Castbak, who took the position of CEO at Seago Line on January 1, 2016, expects a lower result this year because of the challenging market conditions and tough competition in prices from other operators, not least the opportunistic deep-sea carriers. On the other hand, he thinks that the operators will win back a significant portion of the freight volumes from the deep-sea players.
"I don't think that their attempt to snatch up short sea traffic will be particularly successful in the long term. When we talk to customers, they prefer smaller and dedicated operators. And that's actually pretty logical because the deep-sea vessels are huge. The priority at deep-sea carriers is the big volumes either entering Europe from the Far East or the other way around."
"It's another world on the smaller intra-European distances, where there is a demand for quicker documentation, flexible service, and execution of customer inquiries within hours. You have to remember that short sea carriers operate short distances where the alternative is often flexible truck companies. For this reason, I'm not that nervous about the development we've seen in recent years. When the global container market corrects itself at one point, the focus of deep-sea vessels will return to the major volumes between Asia and Europe, and then it will stop making sense for them to sail feeder volumes on a vessels of 10,000 teu for instance. And when the huge puzzle of four container alliances is settled, I can't imagine that their priority will be feeder activities," says Søren Castbak.
According to the CEO, Seago Line experienced above average growth in the European short sea market, as well as greater growth in 2016 than in the same period in 2015, but the growing freight volumes are being eroded by incredibly low rate levels. Meanwhile, the amount of strikes at ports in Scandinavia, including in Gothenburg, as well as in the Mediterranean, has been greater than last year.
Maersk Line keeps Seago on its toes
Although Seago Line is 100 percent owned by Maersk Line and was an integrated part of the world's largest container carrier just five years ago, Seago Line does not have all of Maersk Line's feeder business.
"Maersk Line is our biggest customer but we need to be competitive to win the projects. Naturally, they also ask other feeder operators about prices and work with several of our competitors. This keeps us on our toes, but of course, it's an advantage to have the experience as the biggest feeder supplier for Maersk Line in Europe," says Søren Castbak, who became CEO of Seago Line after many years at Maersk Line:
"We have a large portion of Maersk Line's volumes which probably gives us an advantage in the building of our network. And then we have access to the world's biggest container pool and vessel fleet as part of Maersk Liner Business. It is an advantage to be part of the group."
Boost in the Black Sea
The Black Sea has become a vital part of Seago Line's European network, which according to Søren Castbak will grow more than the rest of the European feeder market.
Seago Line recently expanded its network in the Black Sea and the eastern part of the Mediterranean significantly with a new VSA or Vessel Sharing Agreement with Turkey's largest carrier Arkas Line. The partnership involves a fleet of four large container vessels of between 5,500 and 6,000 teu, where Seago supplies three vessels and Arkas supplies one. The vessels will be the biggest that exclusively sail on services in the Mediterranean. The first sailings took place in July.
With significant production in Turkey of items such as TV sets, household appliances, clothes and furniture, huge volumes are freighted every year form the country to Western Europe, Scandinavia, and Russia.
"With this agreement where we won Maersk Line's feeder activity from other operators in the region, we have obtained an abundance of volume, which means that we can employ the largest vessels possible for sailing in the Black Sea."
Seago Line's revenue comes from two sources. One is the feeder services for Maersk Line and other deep-sea container carriers, while the second source is Seago's own short sea business with Seago offices in Europe, North Africa, and the Mediterranean.
"We use the foundation of feeder services to grow and develop our own volumes in the short sea business, which we then build from," says Søren Castbak.
Seago Line deploys record-size vessels in the Mediterranean
Seago Line surprises with major profit in 2015
Seago Line appoints new CEO after 8 months