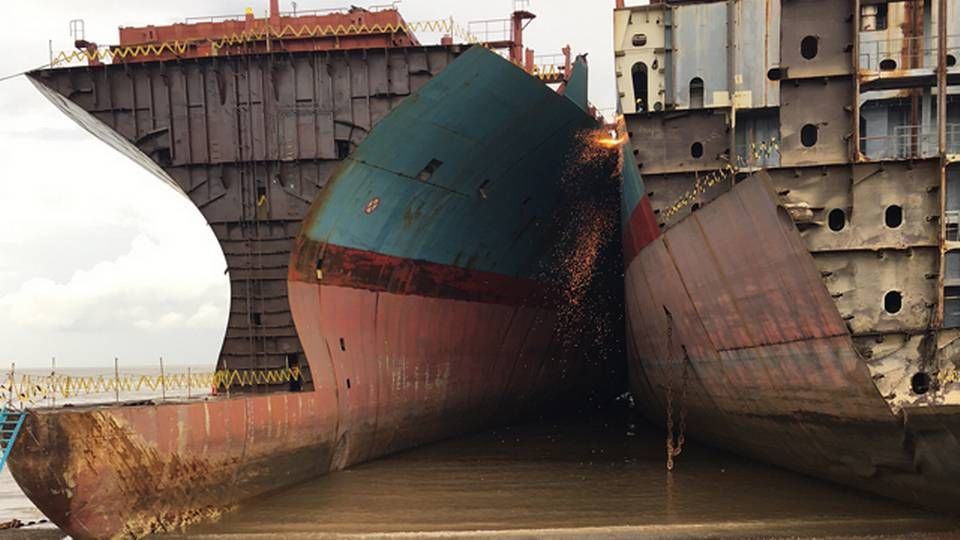 Maersk Line's rejection of EU regulations for responsible ship recycling came as such a surprise to one of the carrier group's major shareholders that an explanation is now being demanded from Maersk.
On Thursday afternoon, Maersk held an orientation for several critical shareholders who wanted to know why some of Maersk's vessels ended up on the beaches of Bangladesh a few years ago, at a time when the Danish carrier was otherwise publicly against the controversial beaching method of shipbreaking.
We would like more information about the out-flagging of vessels due to EU regulations
Nordea Wealth Management was among the critics along with Danish pension funds PFA and ATP. But one thing is how Maersk has handled scrapping policy thus far, and another thing is how the world's largest container carrier will handle it going forward, now that the global fleet is in serious need of scrapping due to the crisis in the industry.
The European Union is preparing regulations that mean all vessels flagged in Europe must use shipbreaking facilities approved by Brussels. The rules take effect in 2017, but Maersk Line has already stated to ShippingWatch that the carrier will re-flag vessels if necessary, referring to the possibility that EU regulations will block Maersk from using scrapping yards in Alang in India where the carrier is now having its first two vessels dismantled.
Shortly after major shareholders attended Maersk's orientation yesterday, Sasija Beslik, Head of Sustainable Finance at Nordea Wealth Management, said to ShippingWatch:
"We understand that the company evaluates the situations ship by ship and in relation to the value of each ship. Our stance is that companies must follow the laws and regulations applicable in the countries of operation, and that companies must continuously try to maintain minimum requirements within environmental and social issues. We would like more information about the out-flagging of vessels due to EU regulations."
On top of Nordea Wealth Management's criticism yesterday, Norwegian asset manager KLP Kapitalforvaltning is now voicing its opinion on the matter as well.
"I'm surprised about this stance from Maersk. It seems unduly aggressive when the EU list of approved yards and shipbreaking facilities has not even been presented yet. The question is whether the facilities used by the company in Alang will meet the EU requirements for responsible ship recycling and thus gain a spot on the list. This is what Maersk should focus on, instead of preemptively threatening to re-flag. This was not something we discussed yesterday, when Maersk presented its explanation for the scrapping that has taken place in Bangladesh and India, but I'm curious to hear what Maersk has to say about it," says Annie Bersagel, consultant on responsible investing at KLP, to ShippingWatch.
Individual decision for each vessel
Already at the end of May, Maersk Group's Head of CSR, Annette Stube, told ShippingWatch that Maersk would not acknowledge the EU regulations if they were an obstacle to the carrier's scrapping plans:
"This is something we will consider from case to case, but it is clear that if it is a flag from Denmark or another EU country which hinders our ability to use the yards in Alang, which we believe deliver a responsible shipbreaking service, then we will consider changing the flag," as she said.
This was one week after the 20-year-old container ship Maersk Wyoming arrived at the mudbanks of Alang to be dismantled and ultimately sold as scrap steel, for better prices than Maersk could earn at its previously used yards in Turkey and China. This was just the first in a long line of vessels that Maersk Group will now send to Indian shipbreaking facilities after having banned Alang for many years.
Maersk considers flagging out ships in response to EU rules
The four yards that Maersk now deems to be sufficiently up-to-par also include the yard Shree Ram, which is the scrapping facility on the beach where Maersk Wyoming is being dismantled. All four yards comply with the Hong Kong Convention and have been certified by classification companies but it is far from certain that the EU will include them on its approved list.
Maersk is working to get many of the world's large container carriers to take its lead and support the decision to utilize the Hong Kong-certified yards in India. One of its major competitors, the world's fourth-largest container carrier, Hapag-Lloyd, is of the opposite opinion, however, and plans to comply with the EU's upcoming regulations, the carrier told ShippingWatch this Monday.
Taking responsibility
In Danish daily Politiken Tuesday, Maersk explains that the company will handle the scrapping of vessels itself if these ships are no longer profitable to operate, in order to make sure that vessels sold for scrap are dismantled responsibly. The company has furthermore presented a document to Politiken stating that recycling will only be done according to Maersk's own recycling rules, which set a series of requirements in terms of ensuring responsible scrapping.
"We are actively working directly with shipbreaking facilities in Alang in India in an effort to improve conditions there and to influence the industry. It is therefore of course disappointing that we, in spite of these initiatives, see examples of having pushed parties in the opposite direction of our own policy. Going forward, we will ensure that there is a very strong incentive for responsible recycling in our sales contracts," Chairman Michael Pram Rasmussen tells Politiken.
ShippingWatch asked the two other major shareholders, PFA and ATP, for a comment yesterday on Maersk's rejection of EU regulations, but they have not yet responded.
Hapag-Lloyd will only recycle ships at EU-approved yards
Maersk was warned about pollution risks in Alang