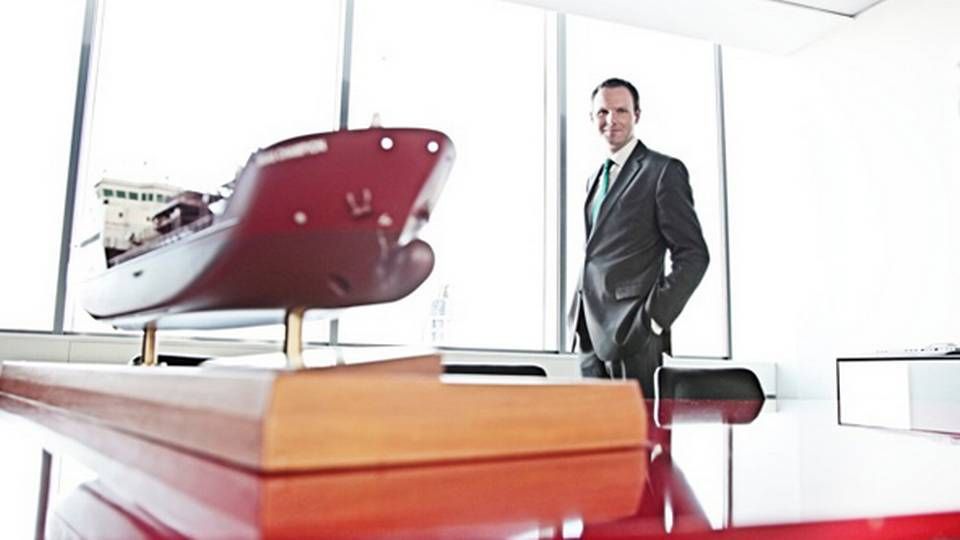 The world's biggest owner of gas vessels, BW LPG, has found its new CEO at Evergas. Martin Ackermann will take over as new chief executive of BW LPG, which is listed on the Oslo Stock Exchange and based in Singapore. He replaces Nicolas Gleeson, who will return to his previous position as CFO of BW Group.
Martin Ackermann will join BW LPG once he has arranged his departure from Evergas, where he has served as CEO since 2008, with the carrier's board of directors, he tells ShippingWatch in an interview after the new appointment was announced.
Do you want to stay up to date on the latest developments in International shipping? Subscribe to our newsletter – the first 40 days are free
"This is a very exciting challenge that I'm facing. First of all because this is a carrier that I find very impressive, and which stands at the forefront of the industry. BW LPG has a clear strategy for quality and sustainability, which is important to me and which was part of the reason I accepted this job," says Martin Ackermann, adding:
"To be honest, I wasn't at all looking for new challenges, but I was of course interested in switching to a company that has a strong and modern fleet with a market leading position and a strong global history. I hope that my management style can help propel the company even further and develop both the existing business as well as creating new business. I have a very customer-focused approach to business, and I plan to bring this with me to BW LPG."
Historical carrier
Martin Ackermann describes BW LPG as a carrier with a strong constellation, due to factors such as the leadership with chairman Andreas Sohmen-Pao, sound BW Group founder Helmuth Sohmen.
In a statement, Andreas Sohmen-Pao has the following comment on the appointment of Martin Ackermann:
"We are very grateful to Nick for his sterling efforts taking BW LPG to the stock market and in the period thereafter, and are pleased to have his continued contributions as CFO of BW Group. We are delighted to be welcoming Martin as CEO of BW LPG. As the world's largest LPG shipping company, we look forward to his leadership in developing the company's strong platform of assets and capabilities."
Find the complete BW LPG statement here
BW LPG publishes its annual report for 2014 a few weeks ago, which showed that the carrier had doubled its profits.
The net results after taxes of USD 255.7 million, compared to USD 12.7 million in the previous year, an increase of 103 percent. Revenue grew by 66 percent and came to USD 747.7 million, according to the annual report.
"It's important for BW LPG in the years to come that we maintain our position as market leader, and that we draw on the solid experience base we have at this traditional carrier. Furthermore, it's important to have a strong focus on sustainable shipping, and we need to get this message out to customers and ensure that they always feel that they are getting a solution that's right for them and still cost efficient and driven by quality," Martin Ackermann tells ShippingWatch, though he declines to go into further details about the company's strategy before has stepped in as CEO.
Do you want to stay up to date on the latest developments in International shipping? Subscribe to our newsletter – the first 40 days are free
The carrier's major competitors Dorian LPG and Avance Gas will take delivery of numerous newbuildings, which means that both carriers fleets will surpass BW LPG's on size.
Long career in gas shipping
Before serving as CEO of Evergas, Martin Ackermann was Managing Director of B-Gas for a brief period of four months, and before that he served as Managing Director at Norwegian Eitzen Gas. His previous jobs have all been in gas shipping, at companies such as Lauritzen Kosan, since he entered shipping as a trainee in 1998.
Do you want to stay up to date on the latest developments in International shipping? Subscribe to our newsletter – the first 40 days are free
"I have solid past experience with gas ships, especially from Eitzen, and I also have experience from there in terms of being at a company that is listed on the Oslo Stock Exchange. I'm very humble about this opportunity I've been given, and I'm proud that BW has come to Evergas and to Denmark to find a candidate to take their company to the next step," he says.
When Martin Ackermann takes up his new job he will be based in Singapore, though there will still be many stints in Oslo due to the listing, and in Europe in general as numerous of the world's biggest oil companies are headquartered there.
BW LPG doubles profits in 2014
BW LPG secures financing for seven newbuildings