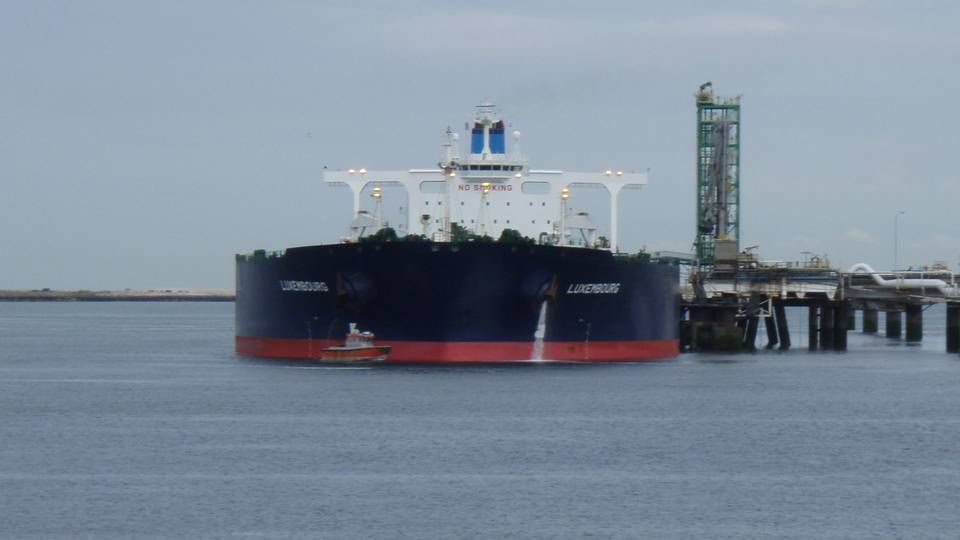 Belgian Euronav, which last year took over the entire Maersk Tankers VLCC fleet of 15 supertankers for almost USD 1 billion, could surpass most analysts´ profit projections in the booming tanker market when the company this Thursday presents the interim report for the first three months of 2015.
Deutsche Bank expects an increase in Euronav's operating result (EBITDA) of a total of 70 percent to USD 145 million or eight percent over the consensus among shipping analysts.
The spot rates for the large crude oil tankers increased in the first three months of the year to about USD 50,000 on average per day compared to USD 32,000 in the most recent and final quarter of 2014.
Meanwhile, the development for all of 2015 looks to be solid for Euronav. Since the end of March, the spot rates for VLCCs have accelerated further to about USD 70,000 a day in contrast to an otherwise historically weak second quarter in the tanker market.
Euronav looks like analysts' tanker favorite in 2015
Deutsche Bank has a target price of USD 18 on the Euronav share at the end of the year. Currently the share is trading at USD 12.7, but the target is within reach due to the company's dividend policy and the upward adjustment of earnings, notes the bank's shipping analyst Amit Mehrotra in an update.
Euronav was listed on the stock exchange in New York as the first tanker in 2015 earlier this year and has enjoyed the recent months of recovery in the tanker market, which Euronav - in relation to the 2014 annual report published around a month ago - predicted to continue:
"The fundamental drivers for the tanker market, supply and demand for seaborne transport, are constructive and support the view of a robust market in both the short and medium term. Management believes that Euronav is well positioned for this market structure having expanded with the support of the capital markets during 2014 to become the largest, independent pureplay crude tanker platform in the world."
The orderbook in tanker is at its lowest level since 1997 and the supply is expected to stay limited over the next two years.
In a press release Monday, Euronav warned however, that it could affect earnings as well as the tanker market negatively if shipowners begin to pick up speed and hereby break with the widespread practice of slow steaming, which in tanker became widespread when the oil price was about twice as high as it is today.
VLCC rates now exceeding USD 60,000 per day
Morgan Stanley: Iran deal could send tanker rates soaring