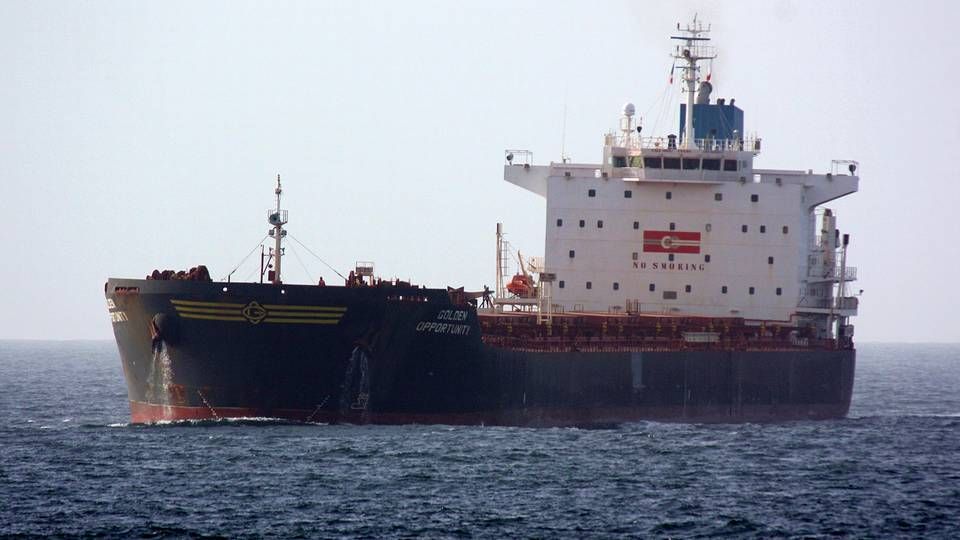 OSLO: It would not be an exaggeration to say that dry bulk is a challenge - maybe even life threatening - to shipowners operating in the market. It's been like that for many years and it's still very much the case, says Herman Billung, CEO of the Norwegian Fredriksen-owned bulk shipping company, to ShippingWatch at the Nor-Shipping convention in Oslo.
Do you want to be kept up to date with the latest developments in Danish and International shipping? Subscribe to our newsletter – first 40 days are free
But that doesn't keep him from "being quite optimistic about the future," as he says in an interview with ShippingWatch. The shipping company's ambitions include, among other things, building a large cash reserve in the coming years.
One reason for the bright future is that the shipping company has managed to make money in a market plagued by overcapacity. Golden Ocean made USD 6.8 million in the first quarter of 2013, a small decline compared to the previous quarter, but still a very satisfying result to Herman Billung:
"In the current market, you have to pleased if you're making money. Not many bulk companies are making money right now. We have a solid, basic operation, with an EBITDA of more than USD 20 million and a generally positive cash flow," he says, adding:
"And we expect quite stable results in the coming quarters."
Saved by restructuring
The key to succes happened several years ago, says Herman Billun, when the shipping company performed a major restructuring back in 2009. Even though the company made several hundred million dollars the year before, most of the money disappeared as shareholder returns. Combined with the collapse of Lehman Brothers and the subsequent financial crisis, which resulted in a series of bankruptcies, the only option left was to perform a restructuring. A process that several other shipping companies have also been forced to perform, such as Torm, for instance.
"We a have a healthy balance in many ways, and I'm very pleased with that, as it means that we won't have to stand in line with all the other companies being restructured now. We completed the process early on and we're benefiting from it now," says Herman Billung.
He doesn't believe it gives the company a competitive edge compared to the others. There are some who might believe that bank support is crucial. And it does mean something, says Herman Billung:
"We have an advantage in relation to the banks and access to good financing. We have the opportunity to begin new projects, where many companies are currently using their energy and resources on something else, on surviving. We can move on and make investments, like we we've been doing recently."
More newbuildings underway
The company's investments include a newbuilding contract for two supramax ships, to be delivered in the first quarter 2015 from Japan Marine United Corporation, the purchase of two ice class panamax ships, and the acquisition of a capesize ship. Everything delivered in recent months. And the investments are not likely to stop there. Golden Ocean recently signed a contract with Chinese shipyard Jinhaiwan, where Golden Ocean ordered ships in 2010. The ships were so delayed the shipping company cancelled five of the orders. The case was supposed to go through arbitration, but the parties reached a settlement before that. Four ships more ships from the yard will most likely be cancelled within the next three to six months. The cancellations will release a minimum of USD 130 million in funds that might be invested in new ships, says Herman Billung.
"If everything goes the way we think it will, the we'll have a very large cash reserve before the end of next year. And nothing happens if we just put the money in the bank, so we'll probably see some investments. That would include newbuildings as well as modern second hand. We'll buy when we see a good ship at a good price. Golden Ocean will continue to be strictly bulk. We won't be looking at anything else," he stresses, adding:
"I think it's an advantage and that it makes sense to stick to a single philosophy, and that's ours."
As mentioned above, the future is looking bright. Disregarding the previous quarter, Golden Ocean has performed voluntary impairments on its fleet, which according to Herman Billung has also contributed to the shipping company's fortunate position:
"A lot of shipping companies have been forced to ask for postponements, because they haven't been able to. And that's resulted in huge debts. But our debt is realistic and reflects the current market value. And we have a solid contract coverage on our fleet in 2013, so we're quite optimistic about the future."
Golden Ocean has 65 percent of its fleet covered for 2013. However, the bright spots for Golden Ocean don't change the fact this year is far from easy and will continue to require a lot of hard work from the shipowners.
"I think 2013 will be very difficult, but that we'll see a small improvement by the end of the year, and improvement that will continue through 2014, and which could become very strong by 2015, if the economy behaves the way it should," he says.
Do you want to be kept up to date with the latest developments in Danish and International shipping? Subscribe to our newsletter – first 40 days are free
Golden Ocean sees three good years ahead for bulk
Danske Markets: Golden Ocean overrated