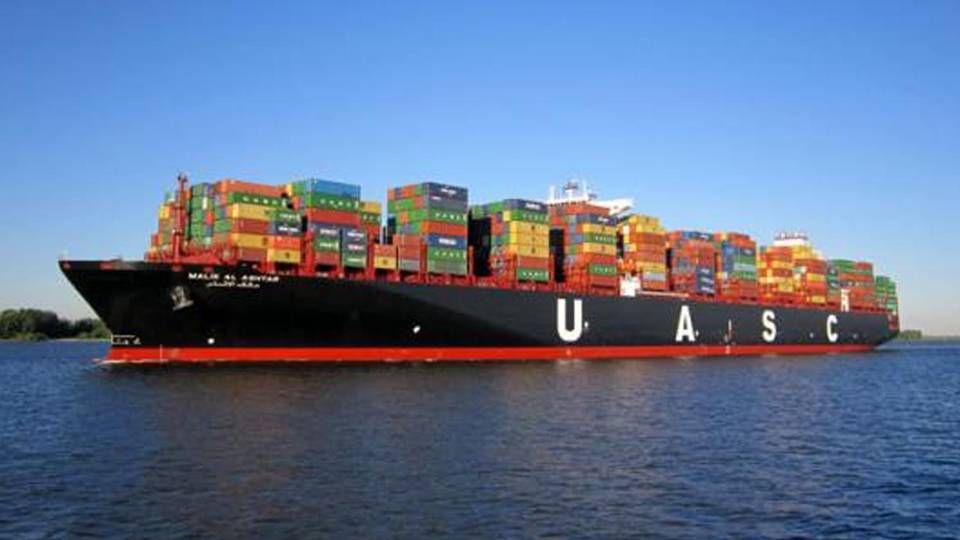 Dubai-based United Arab Shipping Co (UASC), which is among the world's 20 largest container carriers and employs several former Maersk executives, is nearing finalization of a massive order for 10 giant container ships. According to Reuters, Korean shipyard Hyundai Heavy Industries looks set to secure the order for the ten ships, at a total price of USD 1.4 billion.
Do you want to be kept up to date with the latest developments in Danish and International shipping? Subscribe to our newsletter – first 40 days are free
ShippingWatch has learned that the UASC order is expected to be confirmed shortly.
Several of the world's container carriers have ordered bigger ships since Maersk introduced its Triple-E. And according to a source close to the proceedings, when United Arab takes delivery of its ten container ships, five of them will be at 18,800 teu, surpassing Maersk's Triple-E by approximately 500 teu. The five remaining ships will be at 14,500 teu.
Massive newbuilding program
Alphaliner previously looked at the Arabian carrier's newbuilding program, writing in June that the program far surpasses the company's current market needs and that the newbuildings will double the Middle Eastern carrier's capacity, starting in 2016. In spite of moderate growth expectations on the east-west markets, UASC's fleet expansion will increase the current overcapacity in the total container fleet, noted Alphaliner.
The expansion is closely tied to the fact that several countries in the Middle East are busy investing their oil profits in other sectors, such as real estate and construction, infrastructure, aviation, and shipping.
United Arab Shipping Company has a Danish CEO in Jørn Hinge, who has a background in former Danish shipping company ØK. Jørn Hinge has served as CEO of UASC for the past 15 years.
Lars Christiansen and Uffe Østergaard, both of whom spent more than 20 years with Maersk Line, were recently promoted to chief trade officer and chief commercial officer, respectively, thus joining the senior ranks at UASC.
Lars Christiansen has been with UASC for seven years, responsible for the carrier's activities in Asia prior to his promotion. Uffe Østergaard recently joined the carrier, with a background in strategy, sales, marketing, and business development.
The company announced in April that it plans to move its European headquarters from London to Hamburg in order to be closer to its customers.
Do you want to be kept up to date with the latest developments in Danish and International shipping? Subscribe to our newsletter – first 40 days are free
Danish-led Arabian carrier challenges Maersk Line
Former Maersk executives in top positions at Arabian carrier