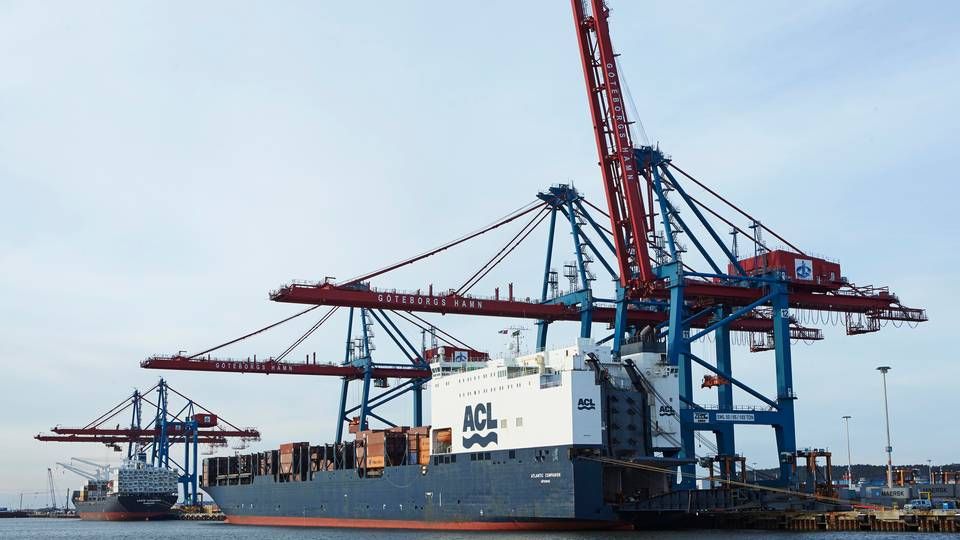 Even more dry bulk ships will have to be scrapped or taken off the market, for the dry bulk industry to have any chance of creating a somewhat reasonable position for the greatly pressured dry bulk carriers. Scrapping was moderate last year, but there are signs, that the extremely weak freight markets, especially during the end of the fourth quarter last year, have caused commotion with shipowners. Bimco has compiled an analysis that illustrates this fact.
Under any circumstance, the first months of this year have seen the scrapping of 68 dry bulk vessels for a total capacity of five million dwt, half of which are young Capesize vessels with an average age of 21 years. The other ships were, among others, Handysize ships with an average age of 27. The youngest vessel to be scrapped in this period was a Panamax from 1998 followed by five Capesize from 1996.
Do you want to stay up to date on the latest developments in International shipping? Subscribe to our newsletter – the first 40 days are free
The end of the fourth quarter in particular was a nightmare for several carriers, with daily rates for Capesize vessels below USD 5,000 in the middle of December. The incredibly low earnings have, according to Bimco, contributed to pushing more ships out of the market.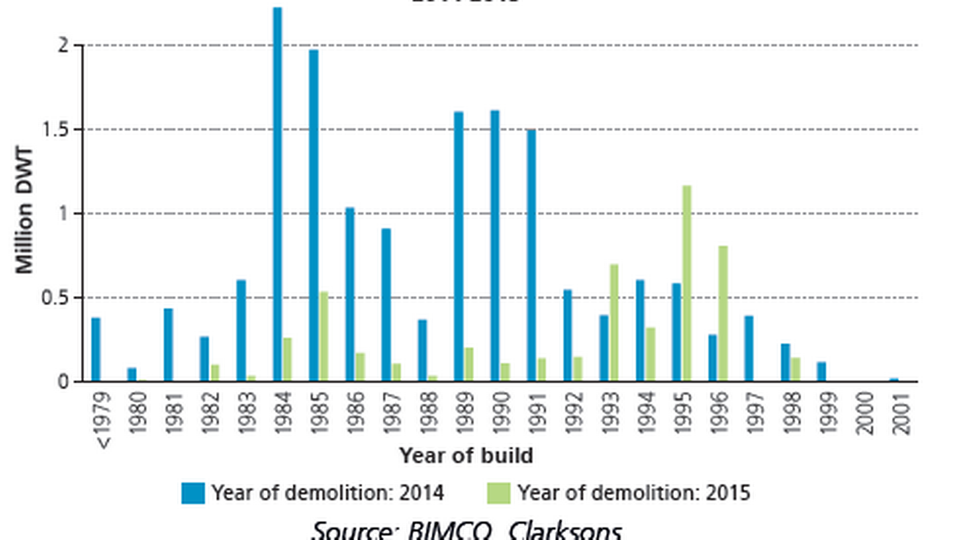 Source: Bimco
According to brokers, an even larger amount of big Capesize vessels could be on their way to the scrapyards during this year.
"We have already had over 25 sold so far this year and that is in two months so I think, potentially, we could hit 100 Capesize vessels this year,"Clarksons demolition specialist Darren Lepper told delegates at a conference in Singapore, according to Tradewinds.
The breaking point
The analyst agency Platou Markets recently calculated, when owners of the large Capesize vessels, would seriously begin to anchor up the ships, and wait for better days to come - something which more and more information from the market is indicating to have already begun.
The breaking point for owners is at about USD 5,000 a day over a longer period of time, which was characteristic of the ending of December 2014. According to Platou Markets, the theoretical point for laying up ships is reached when the rates are lower than the sum of Opex and the cost of idling.
This latter cost allegedly amounts to about USD 1,500 a day for a Capesize.
Danish Ship Finance warns against another newbuilding wave
Capesize vessels are the stars of the dry bulk sector, and the average Capesize rates this year have been around USD 6,500 a day, which barely covers the operating costs for a ship and is far from a cash break-even of at least USD 15,000 a day for newer ships, according to Platou.
Although several dry bulk ships have left the market during the first two months of the year, the problem is far from solved. During the same two months, 11 million new dwt entered the dry bulk market, and many more will be arriving this year.
Do you want to stay up to date on the latest developments in International shipping? Subscribe to our newsletter – the first 40 days are free
According to Bimco, the rates for Capesize ships from March to the end of May will be at a level of between USD 3,000 and 9,000, while Panamax rates will remain between USD 5,000 and 9,000 a day. Supramax and Handysize will be between 6,000-9,000 teu and USD 5,000-7,500 each.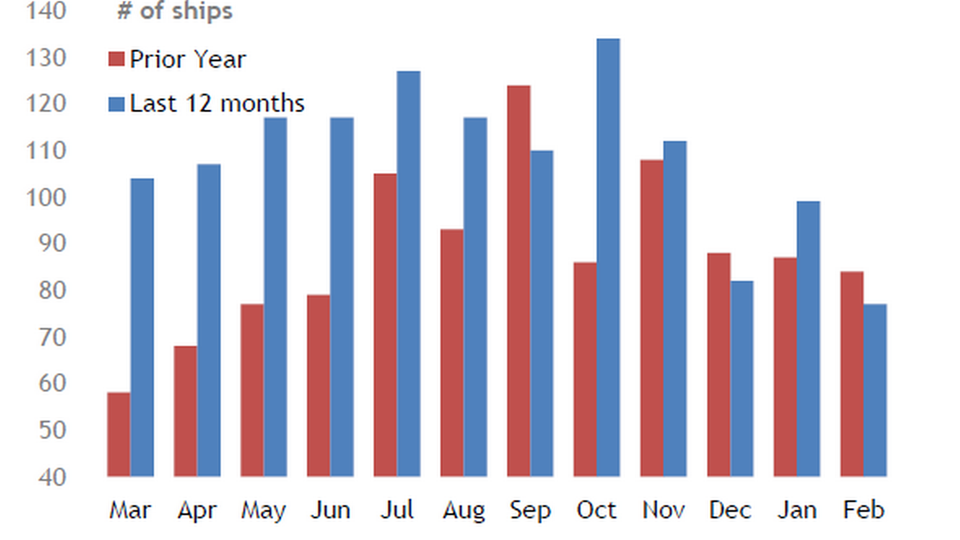 Source: Morgan Stanley
So far, there are no signs, that the dry bulk market will improve noticeably in 2015. And as long as yard capacity in Asia is as big as it is now, there is a potential risk of a newbuilding wave, which the Danish Ship Finance warned against recently.
Do you want to stay up to date on the latest developments in International shipping? Subscribe to our newsletter – the first 40 days are free
"As long as shipyard capacity in Asia is as significant as it is right now, we're fundamentally concerned, because the massive shipbuilding capacity makes it fairly easy for the carriers to order ships that can be delivered within a foreseeable period of time. And we also see a risk that shipowners, spurred by brief spikes in the market, might place orders for ships too soon," said CEO, Erik I. Lassen to ShippingWatch.
Newbuilding prices are currently still 10-15 percent over the most recent low in 2012-2013, and according to Bimco, this is not viewed as particularly appealing.
Major bulk carrier falters on the stock exchange
Klaveness turns a profit in all-time low dry bulk market