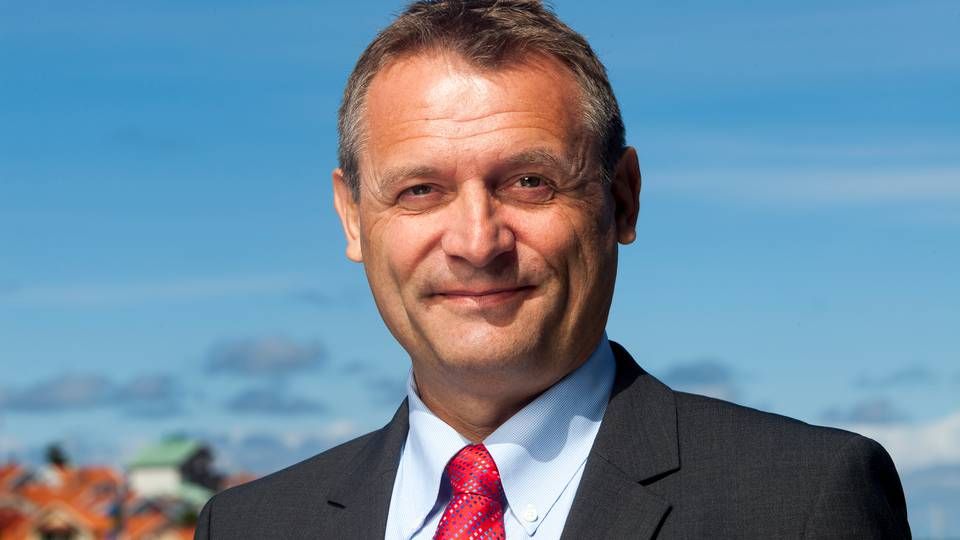 MARSTRAND, SWEDEN
The tragic ferry incident in South Korea in 2014, where more than 300 people lost their lives on board the ferry Sewol, has helped generate new work for Stena RoRo, Stena AB's RoRo and RoPax carrier.
CEO Per Westling elaborates on this in comments to ShippingWatch.
"To a certain extent, we are seeing a shift of our market following the horrible incident and other accidents in Asia. The Asian market has previously been very limited for players like us, but the rules of the game have changed after the incident and we are experiencing that the Asian shipowners are searching worldwide for others to offer a security upgrade of their fleets," he says.
Try a free 40-day trial subscription to ShippingWatch
Stena RoRo has seven RoRo and 11 RoPax vessels of its own in the fleet, and also works with redesign, reconstruction and management of ferries. Deployment of Stena's own vessels as well as upgrading the Asian shipowners' vessels could be topical for Stena RoRo in the future.
Opened office in Shanghai
"We definitely believe in a future market in Asia. There is however still a high standard of entry into the Asian market, so we have opened an office in Shanghai with three people, a Korean, A Chinese employee and a Swede this year. This office has already received the task of chartering a vessel to the Chinese ferry carrier Bohai Ferries. Our goal is now to increase the activity in the market by chartering, but also by starting operations of our own. It would be very natural for us to begin on the charter market," says Per Westling.
Stena RoRo's main market is traditionally North Europe for RoRo vessels, in the North Sea as well as the Baltic, while for RoPax it is the Mediterranean. The carrier also has some work in Canada as well as a few jobs in New Zealand. Per Westling expects that the Asian market could become very important for Stena RoRo when new customers step onto the field. According to the company's own perception, there are not a lot of competitors when considering that there are only a few companies in the world which offer exactly the same combination of services as Stena RoRo, if any. Italian Grimaldi and Danish DFDS are the two companies that come the closest to being able to do what Stena RoRo does. The customers include DFDS, CMA CGM, Brittany Ferries and the Dutch RoRo carrier Transfennica, apart from the sister company, the ferry carrier Stena Line.
Fundamental changes in the market
Until this year, the RoRo and RoPax market has put pressure on Stena RoRo, which in 2014 had a revenue of USD 71 million, but now the market is improving.
"We are experiencing that two important and fundamental things have recently begun to change in a positive way for us as a supplier of tonnage. The first thing is that the relationship between supply and demand is shifting towards lower supply and higher demand on the RoPax market. There are just a few newbuildings on their way - only for very special ships in our segment. And on the other hand, plenty are still being scrapped," says Per Westling and continues:
"The other important thing which will be particularly important for the RoRo market is that costs for operators have been significantly reduced due to the oil price. This provides more room to pay charter rates and it will definitely have an impact for our result this year."
The decline of the oil price has also meant that the effects of the new sulfur requirements have not affected Stena RoRo and other operators in the sulfur zones as hard as they had feared.
"I still think that there is a problem with implementing regional requirements but it definitely has not been as bad as expected, having extra expenses for low sulfur fuel with the oil price having dropped so steeply," says Per Westling.
Ready for divestments
Stena RoRo's current fleet of 18 vessels will presumably be reduced in upcoming years because the market is on its way up.
"Our strategy is to be asset players, and during the period of 2012 to 2015 we have bought nine vessels in a very rough market. We have already sold three vessels and we are prepared to sell more if the price is right. We will also consider acquisitions if the opportunity arises to buy a particularly interesting ship," says Per Westling and continues:
"Going forward, we would like to maintain a fleet size of between 15 and 20 ships which is what we view as optimal for being able to deliver the tonnage that our customers demand."
He emphasizes that the number of divestments strongly depends on how the tonnage situation develops. If the blooming optimism in the RoRo and RoPax markets is reflected in larger orderbooks, then this could change the outlook.
Stena RoRo is part of the segment Shipping, Drilling and Ferries under Stena AB. The segment includes, besides Stena RoRo, the ferry carrier Stena Line, the drilling company Stena Drilling, and the two tanker carriers Stena Bulk and Concordia Maritime. Carl-Johan Hagman is the CEO of the entire division.
Stena in big profit after Helsingor-Helsingborg sale
Media: Stena Bulk declines IPO