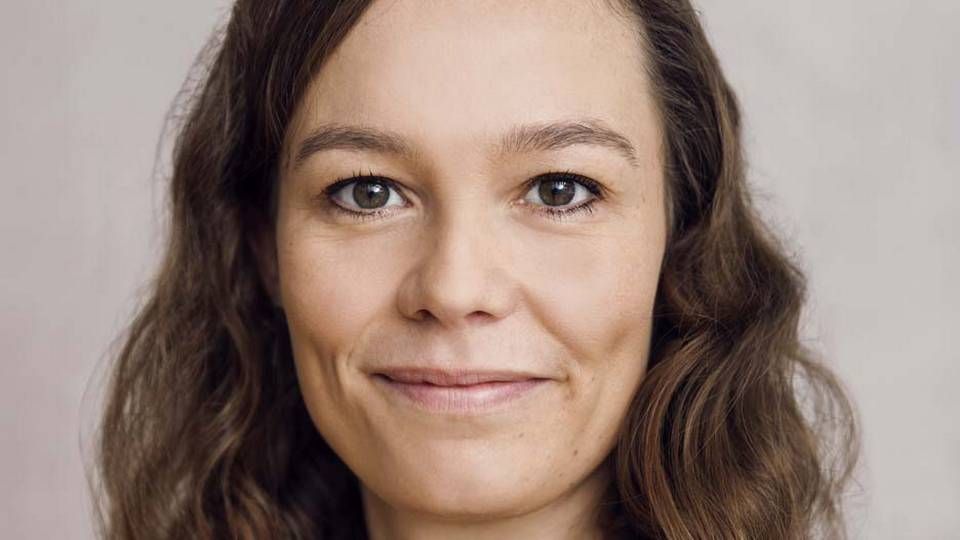 Approximately one month ago, 35-year-old Dea Forchhammer participated in a panel debate at the European Parliament in Brussels. At the same table sat German Michael Cramer, head of the Parliament's Transport and Tourism Committee, and Thomas Verheye of DG Environment, the EU Commission's environmental department. The debate's agenda featured the new regulations concerning sulfur emissions from ships, which came into force in January in the Baltic Sea and the North Sea.
And not least the coming global regulations, set to come into force in 2020 or 2025. The most noteworthy aspect of the debate was that all three participants agreed, Dea Forchhammer tells ShippingWatch.
She was hired as lobbyist at Maersk in August, where she is focused solely on one case - the sulfur regulations, which have caused serious concerns at the Maersk Group. The conglomerate has on numerous occasions raised doubts about whether all market players are complying with the rules.
Cooperating with NGO
The matter is so important to the Maersk Group that the conglomerate has brought in a lobbyist to open the right doors. The meeting in Brussels was arranged by the NGO Transport & Environment, which Maersk agrees with entirely in terms of the sulfur regulations. The cooperation with one of the EU's top NGOs on sulfur is one of the new practices Dea Forchhammer brought with her to the Maersk Group headquarters in Copenhagen.
"It's important that Maersk stands next to a green organization in terms of sulfur and says, 'We agree. We're on the same side here.' It's good to find mutual interests. There are plenty of other things that we don't agree on, but, first of all, that's not my area, so I'm completely clean when I stand with them, and we might as well work together on matters where we have common interests. Then we can discuss the matters we don't agree on over here," she says, throwing her hand to the side.
"I get to emphasize to them the importance of solving the challenges we face before we find ourselves i 2020-2025. It's far too dangerous for us to wait until we get to that date before solving this matter. We want to solve it now, so that we can just roll into 2020-2025 and have the system up and running. If we don't start finding solutions before that time, it will be too late."
A bigger arena
Dea Forchhammer has worked as a professional lobbyist for the past six or seven years, most recently at PR firm Geelmuyden Kiese, where she served as head of of healthcare. After graduating from Political Science at the University of Copenhagen in 2010, she started working in the energy policy department at the Denmark's Competition and Consumer Authority (Forbrugerrådet).
With the position at Maersk, Dea Forchhammer has entered a new arena. The scale has been expanded, as she says. Lobbying in Denmark works in the same way as in Brussels or other places around the world, but the sulfur agenda lies with the EU and in the UN's International Maritime Organization, IMO. There is a reason that nine out of ten of her meetings take place outside of Denmark, as she says:
"So everything is bigger, there are bigger interests at play. But the company are also bigger. I have a giant company backing me," she says.
Trident Alliance appoints new chairwoman
And this represents a clear advantage:
"There's no one who won't talk to you. It's not a challenge for me to set up a meeting with anyone, because I represent Maersk. And that's much more fun. There's a much bigger effect because we're such a massive company, and it's great to represent a company of this scale that actually has a cause on which we agrees with authorities. We agree that everyone must comply with these regulations, we just need to find the best way to do this."
Dea Forchhammer herself describes her role as building bridges between the industry and the decision-makers. She does not have previous experience with the shipping industry, which means she has to get familiar with the "shipping language" as well as work on her English skills to take it to the next level.
"It's a very nerdy sphere. There are many immensely skilled and specialized people here, and I need to take this know-how and apply it and bring it into play with people who do not have the same deep familiarity with the business, who need to use this know-how to make a political decision. So there's a great deal of translation and bridge-building going on," she says.
In 2015, Maersk will spend around USD 200 million on additional fuel costs in order to comply with sulfur regulations in the SECA zones. Complying with the regulations represents a significant expense, and numerous carriers have in recent years warned that if competitors opt to cheat and breach the rules the competitive conditions will be distorted. Today there are several examples of ships failing to comply with the increased requirements in the emission control areas, and Danish authorities have a case in process against a carrier which has been reported to the police for. Dea Forchhammer does not try to hide that, for Maersk, it is a financial matter for the carrier to bet big on the sulfur issue.
"We don't know if other companies are complying with the regulations, but our experience from the industry says that if there's money involved, there's a tendency for people to tamper with things and cheat. Thereby not saying that they're doing it, but this uncertainty alone, considering how much money this costs us annually, is worth the effort," says Dea Forchhammer.
Building bridges
As such, her job is to prepare decision-makers as best possible with knowledge about the industry, to help prevent the introduction of legislation on a uninformed basis:
"They need to understand the business so well that they're able to legislate in a smart manner, so that we ensure that people cannot dodge the regulations. Of course we have a financial interest in this, whereas the authorities interest is the public healt. When we happen to be able to merge these interests, we can work together in much more efficient manner. It's clear that 2020-2025 is our focus right now. What's the solution here? We're looking at various methods. We're testing some on-board monitoring systems to see whether this could be a solution. We're working with a Swedish company that's developing a big data solution in which one can combine the data and perhaps determine if a vessel has been non-compliant all the way across the Atlantic."
Furthermore, Maersk has had a company working to look for solutions that can help monitor and catch potential sulfur violators once the regulations are implemented globally. But Dea Forchhammer explains that the right key to solve this problem still remains to be found, and that she therefore has a significant task ahead of her. Still, she is optimistic when looking a year ahead:
"In one year there will hopefully be no doubt that everyone is complying with the SECA sulfur regulations. And they'll be far along in the efforts to find a way to monitor and enforce the rules once the regulations come into force globally in 2020-2025. Hopefully we'll have contributed solid know-how to this process," she says.
Global sulfur requirements are now on the agenda
Sulfur-sniffing drones could fly out of Hamburg by 2016
Romania could be fined for sulfur hesitancy