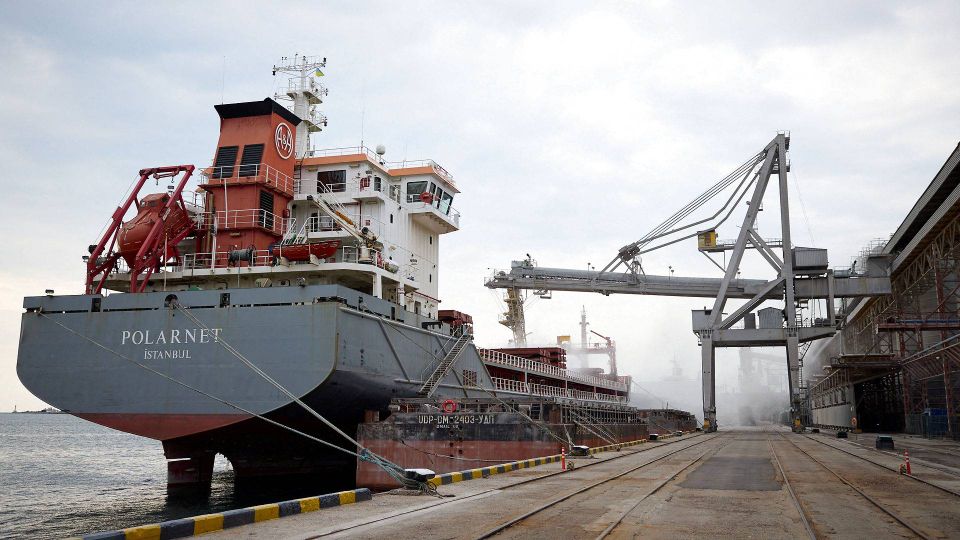 The first vessel loaded with Ukrainian grain has been permitted to continue its voyage after setting out from Odesa on Monday.
Inspection of vessel Razoni with the Ukrainian grain shipment on board has thus been completed, and relevant authorities from Russia, Ukraine, Türkiye as well as representatives from the UN have allowed the ship to resume its voyage.
The ship will therefore soon enter the Bosporus Strait and continue its journey toward Lebanon.
This is evident from a statement by the Turkish foreign ministry issued just before noon CET, according to news agency Reuters.
The inspection went on for roughly an hour.
The ship left Ukrainian port city Odesa on Monday. The vessel is the first carrying grain to leave the Ukrainian port since Russia's invasion on Feb. 24.
Since the invasion, Russia has blocked exports of grain from Ukraine. But a deal between Russia and Ukraine from July 22, agreed on with help from Türkiye and the UN, has made it possible for Ukraine to resume its exports of grain to the rest of the world.
Ukraine is normally one of the biggest global exporters of grain.
A part of the deal entails that ships will have to be inspected by authorities representing different parties.
These will ensure that exports occur in accordance with the deal.
For the purpose, the authorities have established a joint center in Istanbul, Türkiye, for coordination of exports.
The center is placed in Istanbul as the Bosporus Strait, which ships have to pass through in order to get from the Black Sea to the other world oceans, cuts right through the major city.
The UN deal ensures safe passage for vessels carrying grain from three southern Ukrainian ports. These are Odesa, Chornomorsk, and Pivdennyi.
English edit: Kristoffer Grønbæk
First grains ship leaves Ukraine for Lebanon in key milestone
Traders doubt Ukraine deal: No guarantee of export
Ships hauling Ukrainian grain may be insured for up to USD 50m