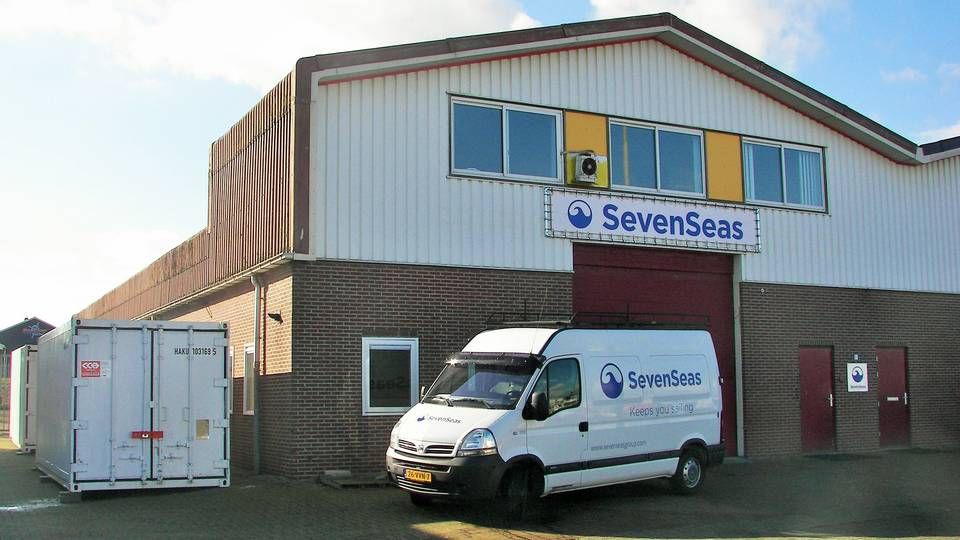 Updated on Jan. 15, 2019, at 09:30 am CET
Supreme Group, the owner of Norwegian ship supply company Seven Seas Group, which is a major competitor of Wrist Ship Supply, has been in the market looking for a buyer for the company, ShippingWatch has learned from a number of sources.
According to those sources, the sales process has been going on for quite some time and has been put in the hands of investment bank Rothschild in New York. It is unknown whether the sales process is still ongoing.
An obvious suitor for the Seven Seas Group would be Wrist Ship Supply, the market leader. According to information ShippingWatch has obtained, Wrist Supply has been in talks about Seven Seas, but the sources say Wrist Ship Supply is not interested. It has not been possible to get a comment from Wrist about the information.
Wrist Ship Supply has also announced that it has a strategy to make one or two acquisitions by 2021.
It has only been four years since Supreme Group acquired the Seven Seas Group, which was then known as EMS Seven Seas, and back then the company had been listed on the stock exchange in Oslo by former owner Eitzen Marine. Already at that time, the prospect of a new owner made the company's employees fear major changes. Since then, a number of employees have chosen to leave the company, according to ShippingWatch's sources.
In a written response, Seven Seas CEO, Ole Gulsvik, denies that the company is up for sale.
"We are not in a sales process. Other than that I have no further comment," Gulsvik writes.
Rothschild says the bank has no comments.
Major changes in the sector
The "for sale" sign on the Seven Seas Group bodes major changes for the ownership structure in the market for ship supply companies.
Most recently, Singapore-based ship supply company Sinwa was sold. The company was bought by Swiss investment manager Syz Capital and investor Thomas Zimmerhaechel, who has a long history at equity fund Blackstone. Together the two paid a total of USD 54.7 million for Sinwa.
Wrist Ship Supply could also face a change in ownership in the near future. In early November, ShippingWatch reported that the owner of Wrist Ship Supply, equity fund Altor, eyes an end to its ownership of Wrist, which was part of OW Bunker for more than 11 years before it was spun off. However, the equity fund expects to sell the company within the next couple of years.
"Is it likely that we'll still be the owners in 2021? Probably not," Altor partner Søren Johansen told ShippingWatch.
Meanwhile, Altor also said that it had no concrete plans to sell Wrist Ship Supply, nor has the equity fund appointed an adviser.
Lots of changes in management
When Supreme Group acquired Seven Seas Group in 2014 and then de-listed it from the Oslo Stock Exchange, the goal was to become a market leader in ship supply within three years as well as buying up. The company has not completed that mission.
The first person in charge following the ownership change was Lars Rosenkrads. However, he left the company after a year and a half and was replaced by transitional CEO Theo Reichert, who served as CEO of Supreme Group at the time. In mid-2016, the company's current CEO Ole Gulsvik took over following several years as CFO in the company.
In an interview with ShippingWatch shortly after his appointment, Gulsvik said his task was to bring calm to the company so that it could focus on fulfilling the owners' growth ambitions to become market leader.
"There's no doubt that chief executive replacements can result in a company being forced to postpone its long-term plans. The process may have taken a bit longer than one would desire," Gulsvik told ShippingWatch.
At the time, he explained that the Norwegian company's strategy had three legs: Focus on the core business ship supply, acquisitions and ethics.
The latter focus was the result of a case Supreme Group had been involved in. Supreme once supplied food to the US military in Afghanistan, but found itself involved in a case which resulted in the company paying a fine of USD 389 million for over-charging.
Supreme Group is owned by the US billionaires Stephen Orenstein and Michael Gans, who have, among other things, earned their wealth on supplying fuel and food to US – and also British – troops in countries such as Liberia, Mali, Sudan and Afghanistan.
Updated on Jan. 15, 2019 at 09:30 am CET. A previous version noted that equity fund Blackstone and Swiss capital manager Syz Capital had acquired Sinwa. But it was not correct that Blackstone is among the buyers. Rather, private investor Thomas Zimmerhaeckel, who has a long history at Blackstone, bought Sinwa together with Syz Capital.
English Edit: Ida Jacobsen
Private equity firm Altor eyes end of Wrist ownership
Wrist Ship Supply will buy more companies ahead of 2021