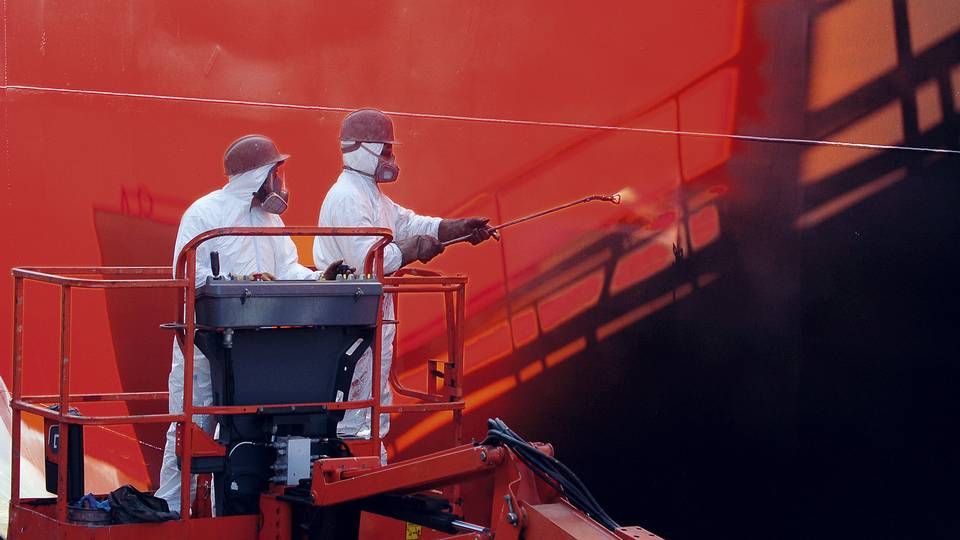 The major container ships can save up to eight percent on fuel by opting to convert to the latest Hempel product, which will be presented on Tuesday during the London Shipping Week. And bunker ships coated with the new so-called Hempaguard anitfouling will be able to lie idle for as long as 120 days without becoming overgrown, according to the fact sheet supplied by Hempel, the first company to offer a satisfaction guarantee on its new product.
Do you want to stay up to date on the latest developments in Danish and International shipping? Subscribe to our newsletter – first 40 days are free
The Danish supplier has spent five years developing the new anitfouling paint which, according to Claes Skat-Roerdam, Fouling Control Marketing Manager at Hempel, is significantly better than anything currently in the market.
"Actually, we really don't need any other products in our portfolio besides this one. It's beaten everything, performance-wise, and we haven't found anything that can match this product," he says.
New technology behind the savings
Depending somewhat on hull design, VLCCs will typically be the ones that can make the biggest savings. According to hempel, the ships can save as much as eight percent compared to the most fuel economic products available today, while the hull shape of cruise ships reduce the effect somewhat, so that Hempel expects savings of approximately six percent for this segment.
According to Claes Skat-Roerdam, the technology is a fusion between silicone hydrogel technology and biocid-based antifoulings. In the development process, the company has managed to significantly reduce the environmentally straining biocid-part, and Hempel boasts that the new antifouling paint contains 95 percent less biocid than regular antifouling. In a single coat of paint the silicone hydrogel allows for a diffusion with the biocids that keeps them from seeping into the water. The result is less friction and thus a reduced fuel consumption.
In addition to reduced fuel consumption, the two Hempaguard products are also aimed at shipowners whose ships spend longer og shorter periods idle at anchor. Hempel has experienced a demand for antifouling paint that can withstand idleness, and the top product X7 can stand to lie idle for as long 120 days without the ship's bottom becoming overgrown. After that period of time, the ship can sail around a bit, and the paint will then be good for another 120 days idle without impacting the fuel consumption once the ship is operating again. The other product, Hempaguard X5, can stand to be idle for 60 days.
Positive reception
So far, the Hempaguard concept has been applied to 42 ships, though Hempel declines to comment on how many orders the company has secured for the new product, but the company confirms being in contact with new customers that are interested in cutting fuel costs.
"We have already supplied this product to customers whom we haven't previously dealt much with. We're not surprised by this, but it does confirm that this is an amazing product. We've spoken to some customer who are reporting solid fuel savings, but when we've asked them if they want to tell other customers about their savings, they've replied that they don't want to divulge their savings to the competition," says Claes Skat-Roerdam.
Last week, the company's competitor International announced that it has received a surge of orders for its new Intersleek 1100 SR antifouling paint. This biocid-four antifouling has been applied to 52 ships so far, while the manufacturer has signed 45 contracts for another 45 ships, while 27 ships are being negotiated.
Complete satisfiction or a total refund
Hempel is so certain of the new Hempaguard series' success that the company is the first in the market to offer a satisfaction guarantee when customers order the new antifouling paint. If, after a certain period of time, the carrier still hasn't achieved the promised fuel savings, and wants to convert back its former antifouling coat, Hempel will pay for it.
"If you tell us that you're not satisfied, we'll remove it at the next docking. We'll take care of the washing and sanding, and make sure that the old anti-korrosive system is brought up to date and leave the ship with regular antifouling paint," says Claes Skat-Roerdam.
The price per square meter, in spite of the satisfaction guarantee, won't be much higher than other antifouling products on the market, and Claes Skat-Roerdam explains that the company is fairly confident that it won't have to pay for too many conversions.
Hempaguard X7 and Hempaguard X5 will be launched at 1pm Tuesday at London Shipping Week.
Do you want to stay up to date on the latest developments in Danish and International shipping? Subscribe to our newsletter – first 40 days are free
How to become part of the next major Maersk project
Hempel benefits from new antifouling requirements