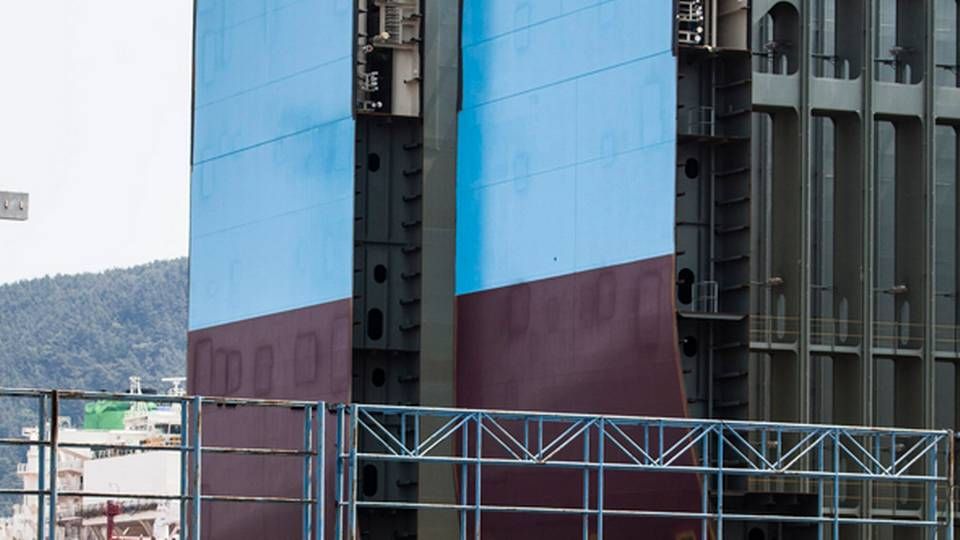 Korean Daewoo Shipbuilding & Marine Engineering (DSME), which is set to build, among other projects, 11 new ultra-large vessels for Maersk Line, has allegedly fallen out of favor with one of two biggest lenders and creditors, the Export-Import Bank of Korea (Korea EXIM).
News media IHS Maritime reports that EXIM is withholding prepayments to Daewoo for the Maersk Line vessels after it was revealed that the shipbuilder has admitted to failing to disclose information that it had lost USD 2.5 billion on offshore contracts. Daewoo's total debt stands at USD 12.54 billion.
The Danish container carrier Maersk Line informs that it has no part in the dispute.
"This case does not concern us. This must be a matter between the two parties," Press Officer Michael Storgaard, Maersk Line, tells ShippingWatch.
The withholding of prepayments for Maersk Line's newbuildings was revealed in relation to financing of the ships, ordered in June this year for a combined contract value of USD 1.8 billion.
According to IHS Maritime, the Korea Development bank has provided a repayment guarantee for five of the vessels, while EXIM has issued a similar guarantee for the remaining six vessels. These guarantees protect Maersk Line financially in case the ships are not completed.
Korea EXIM has allegedly withheld USD 75.3 million, though the bank has stated that it will pay the funds when construction begins on the Maersk vessels in 2016. The bank further explains that it is withholding the funds due to the fact that the Daewoo shipyard's credit rating has decreased.
Threat of mass strike in South Korea's shipyards
DSME ready with big plan for restructuring
Maersk Line orders new ships for USD 1.1 billion