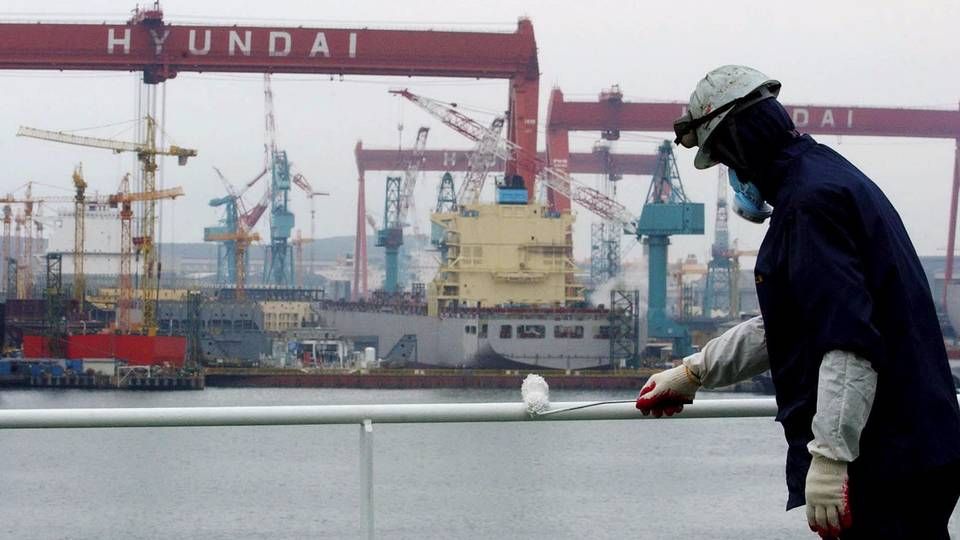 Hyundai Heavy Industries Co., Samsung Heavy Industries Co. og Daewoo Shipbuilding & Marine Engineering Co. - South Korea's top three shipyard groups and three of the by far biggest players in the global shipbuilding industry - area headed toward a combined loss of more than 8 trillion won, around USD 6.7 billion, in 2015, reports Korean news agency Yonhap.
If this development holds true, it would be the first time that all three shipbuilders suffer simultaneous deficits, adds the news agency.
Daewoo Shipbuilding & Marine Engineering's (DSME) operating loss is projected to land at around 5 trillion won, while Hyundai Heavy Industries - the world's biggest shipbuilder - and Samsung Heavy are expected to book deficits of 1.5 trillion won and 1.7 trillion won, respectively.
Samsung Heavy is the only one of the three which is expected to exit the fourth quarter 2015 with a positive result.
"It is the first time ever that the shipbuilding industry has chalked up such a dismal result. The situation in 2015 was worse than during the country's foreign exchange crisis in the late 1990s," one market observer tells the Korean news agency.
The shipbuilding sector is a key industrial pillar in South Korea, alongside electronics and automobiles, and the development thus comes as bad news to the country and could hamper the country's economy going forward.
In spite of the major losses, DSME has been steadily and diligently paying its bond loan installments in 2015, stressed the company - the world's top yard measured on order volume - in a statement published in December.
DSME paid around USD 257 million to a bond loan on November 30th, as well as USD 170 million on another loan in July, informed the company.
And the yard ensures that upwards of 80 percent of the current offshore facility orderbook will be closed next year, and the company expects that these proceeds will help DSME meet its payments next year.
Sector in crisis
Where DSME is diligently paying its loans and hanging on with tooth and nail, Hyundai's senior management team decided at a meeting in November to launch more drastic and person-oriented cost reduction measures. All CEOs of the group's subsidiaries will hand over their entire salaries, while senior executives will return up to 50 percent of their salaries depending on their position.
Managers at Hyundai Heavy Industries will take a 10 percent pay cut as part of the comprehensive cost reduction measures, which also mean that all activities deemed non-essential - for instance several training courses and the like - will be canceled until the company returns to profitability.
And beyond the Top 3, major Korean yard group STX Offshore & Building is also hit hard by the crisis in the offshore sector, in particular. The company plans to lay off 800 employees, corresponding to around 30 percent of then workforce, in a last-ditch attempt to avoid entering receivership in the first half of 2016.
The yard's primary lender, Korea Development Bank, is pushing hard for the shipbuilder to cut its fixed costs by 50 percent, and the bank has made it clear that receivership is inevitable if the company does not manage to deliver the necessary cost reductions.
"Maintaining the current management system will lead to the firm's collapse within the first half of 2016," wrote CEO Lee Byung-mo in a recent email to employees, according to Korea Herald.
Bleak 2016 for Asian yards
On Monday this week, Bloomberg reported that 2016 looks set to be even worse than 2015 for the Asian shipbuilders across the board.
A slide in orders for offshore projects has emerged following the low oil price, while the slowdown in China's growth have helped halt the order of new vessels, and these factors now seem to be spreading to Korea's rivals in Japan, China and Singapore, where several yards are now warning of deficits.
Customers are postponing deliveries of ordered vessels, or are choosing to actually cancel orders, and this trend looks set to continue in 2016, a Singapore-based analyst tells Bloomberg.
Sembcorp Marine in Singapore - a major player in the oil rig segment - now projects a fourth quarter deficit, its first since 2003. And China's Cosco Corp. Singapore is also projecting a major deficit in the fourth quarter, which has yet to be published.
Asian yards prepare for fresh beating in 2016
STX Offshore to slash 30 percent of its workforce
Hyundai shipyard unloads shares to boost financial padding