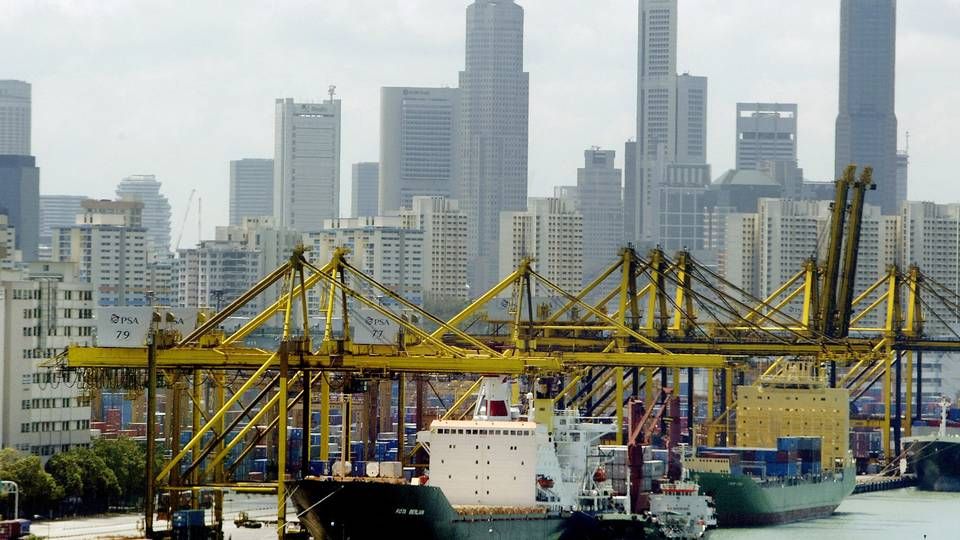 Robin Meech is an experienced figure in the international bunker industry – an industry where irregular practices, cheating, is an not an unexpected element of the business. And this needs to be eliminated or at least reduced, he says in an interview with ShippingWatch about a month after taking over as Chairman on the International Bunker Industry Association, IBIA.
In the coming years, the industry will likely see a new trend emerge, says Robin Meech when ShippingWatch meets him at a bunker conference in Copenhagen and just shortly before one of the key decisions is expected in the legal aftermath of the OW Bunker bankruptcy.
"We will see more cases involving whistleblowers, and I would like to encourage this. Suppliers need to be exposed, and perhaps this is something that IBIA should take up," says Robin Meech.
"More cases need to be brought forth, but it's very difficult to prove this type of fraud. Ultimately, one can't completely change human nature, but we have to develop some better instruments."
MPA got clear warnings about Dennis Tan before OW collapse
Robin Meech has been in the industry for decades as head of independent consulting firm Marine and Energy Consulting, which works with the transport sector and the bunker industry in particular. Among other things, he and others have played a part as consultants in relation to the sale of Danish and Singapore based companies. Major oil companies, the largest ship operators and the testing companies are also included in the consultant's client portfolio.
A little over a month ago he took over as the new Chairman of the International Bunker Industry Association, IBIA. Robin Meech succeeded Denmark's Jens Maul, who works at Oldendorff and who has spent the past two years fighting for, among other things, increased bunker quality.
Ethical problems
There is no doubt that the bunker industry is facing an ethics problem, says Robin Meech. A fact that was further illustrated by a recent survey among the association's members, as 94 percent of the members stated that ethical behavior and standards have become a top priority. Robin Meech elaborates:
"We know that some of the biggest shipowners budget with having up to two percent less fuel delivered. If they are to take delivery of 100 ton, they get 98 ton. So how do you improve ethics? We can't ignore the industry's poor reputation any longer. Cheating is acceptable as a way to remain competitive," he says, pointing to the tiny margins in the bunker industry.
Under-delivery is even systematized. Robin Meech points to a company at which the CEO, according to him, openly talked about the company's policies, which stated that it was not allowed to under-deliver more than one fourth of a percentage. According to Meech some might consider this an ethical company.
"And this does not just apply to volumes. It concerns quality as well. For instance, one can dilute the bunker with water and remain within spec. So, yes, we need to change that."
Some players in the sector are in effect trying to change these ethics, or the lack thereof, by introducing the use of mass flow meters. This technology measures how much fuel is transferred from the bunker barge to the receiving vessel. But this does not alter the attitude of certain employees in the sector, it just makes it more difficult to cheat, explains Robin Meech.
"I believe we have to curb this through elements such as training and education. It's the long road, but it's important to create professionalism and a career path in our industry where there is a constant need for management," he says, stressing that IBIA does not only represent suppliers in the bunker industry but offers a balanced viewpoint.
Trust suffered a setback
Following OW Bunker's surprise bankruptcy, the sector became more well-known in the common sphere beyond just the shipping industry. The aftermath continues in all parts of the world through court cases aimed at determining who can claim what, not least in terms of fuel delivered from OW Bunker.
Even though bunker volume fraud has been known for years, trust in the sector suffered a major setback after the collapse of OW Bunker, says Robin Meech. The many incidents have increased the distrust between buyer and seller, an element that was less pronounced before. On Wednesday, the UK Supreme Court will issue a verdict in one of the key cases in the OW Bunker legal aftermath.
Now comes the OW verdict all carriers are waiting for
May will also see the beginning of another case in the bunker sector, namely against a Danish bunker supplier accused of severe fraud, with criminal charges filed against the company and several of its senior executives. The already challenged trust could suffer another setback following this case should the company be found to be guilty, says Meech.
The sulfur issue
The bunker industry's spotted reputation is not the only topic on the agenda. Environmental efforts also constitute a big focus area for the association. Especially the biggest question these days, namely the global rules for a 0.50 percent limit on ships' sulfur emissions around the globe.
IBIA recently joined forces with the Trident Alliance, an environmental collaboration including more than 20 renowned carriers working to secure improved enforcement of the already existing regulations in Northern Europe and Americas for the coming global regulations but not least how to prevent noncompliance going forward.
The industry is currently awaiting a report from the UN's International Maritime Organization, IMO, which will determine whether there is sufficient low sulfur fuel available to implement the 0.50 percent sulfur global cap in 2020. The availability report will be published this summer, after which it will be decided at the IMO's Marine Environment Protection Committee whether the regulations will come into force in 2020 or 2025.
Robin Meech represents IBIA on the IMO steering committee which will advise MEPC on whether the implementation in 2020 is feasible.
Starting in January 2015, ships sailing in the ECA-zones in Northern Europe and off the coast of America have been required to consume 0.10 percent fuel sulfur limit. But according to Meech, not everyone is complying with these regulations today:
"I've spoken to shipowners who do not hold off on switching from 0.10 percent fuel till they've left the ECA. Compliance checks are mainly performed in port regions, not further out even though the authorities are experimenting with the use of drone and planes with emission sensors."
And the matter becomes entirely different in terms of enforcing vessels sailing on the high seas, which will be the case with the new global regulations.
Ports should do the job
Today the flag states are responsible for enforcing these regulations. IBIA has proposed an amendment to the Marpol Annex VI convention, which, among other elements, regulates sulfur emissions. With the proposal IBIA, with others, is calling for ports to perform fuel checks, rather than flag states. And that ships must be able to document that they have sufficient fuel to reach their next port complying on the whole voyage whether this is using 0.50% fuel, a scrubber system or blending on route.
"If you cannot demonstrate that you can reach your next port compliantly, you can't leave the port," he says, adding:
"If this is implemented and not complied with, IMO's authority would be further diminished. This is a major concern. IMO has not experienced good press after COP21 with respect to greenhouse gasses. Implementing the ballast water convention is taking an inordinately amount of time. So we have to work closer together if we want to ensure consistent enforcement. Without this, it won't improve the environment."
As such, another goal for IBIA is to grow its membership. Especially in Asia, which will become even more dominate with the new global sulfur regulations. The supply balance in Asia will shift once lower sulphur fuels are mandated globally.
The current Ibia team is as follows:
Robin Meech (Chair), Marine & Energy Consulting Ltd
Michael Green (Vice Chair), Lintec/Intertec , Shipcare
Eugenia Benavides, Organizacion Terpel SA
Patrick Holloway, Webber Wentzel,
Peter Hall, CEO IBIA
Unni Einemo, Platts
Lim Teck Cheng, Hong Lam
John Stirling, World Fuel Services
Mustafa Muhtaroglu, Energy Petrol
Nigel Draffin, Consultant and Author
Bob Sanguinetti, Gibraltar Port Authority
Henrik Zederkof, Dan Bunkering
Singapore revokes license from two bunker suppliers
Now comes the legal battle about systematic fraud at Danish bunker supplier
MPA declines to comment on whistleblower