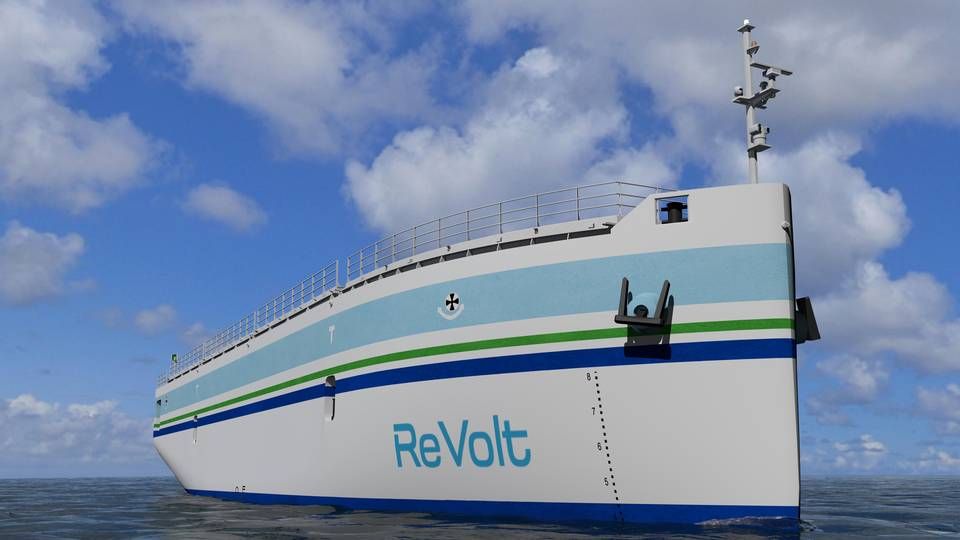 Small feeder vessels running on battery with no crew could potentially make their entry into commercial use in the foreseeable future, Øystein Engelhardtsen, Senior Researcher Maritime Transport at DNV GL tells ShippingWatch.
"If you really work together to pool experiences, you can get far in five to ten years," he says, stressing that this would be a best-case scenario.
DNV GL is now one year into a three-year testing phase which will bring the future concept Revolt closer to reality. Revolt is a 60-meter container feeder with a capacity of 100 teu and a range of 100 nautical miles solely on battery power. According to Øystein Engelhardtsen, it would bring considerable advantages that, because of the battery operation, there are no movable mechanical parts inboard, and during its life cycle of 30 years, Revolt should provide a financial reward of up to USD 34 million compared to a manned and diesel-driven vessel.
Try a free 14-day trial subscription to ShippingWatch
Lack robustness
Before DNV GL and the industry get that far, however, there are significant obstacles to overcome. One element is legislation, which does not currently allow for ships of this size to sail around without a crew (so-called autonomous sailing). Another thing is the technical aspect of autonomous sailing, where DNV GL along with the Norwegian University of Science and Technology (NTNU) and Kognsberg Maritime is currently testing the sensors, cameras, and radars which will monitor the surroundings and thus prevent collisions.
"In particular, when it comes to robustness, there is still a need for overall development. The technology has to work for days and weeks on end without any type of maintenance in both good and bad weather, something for which today's systems are not designed," says Øystein Engelhardtsen.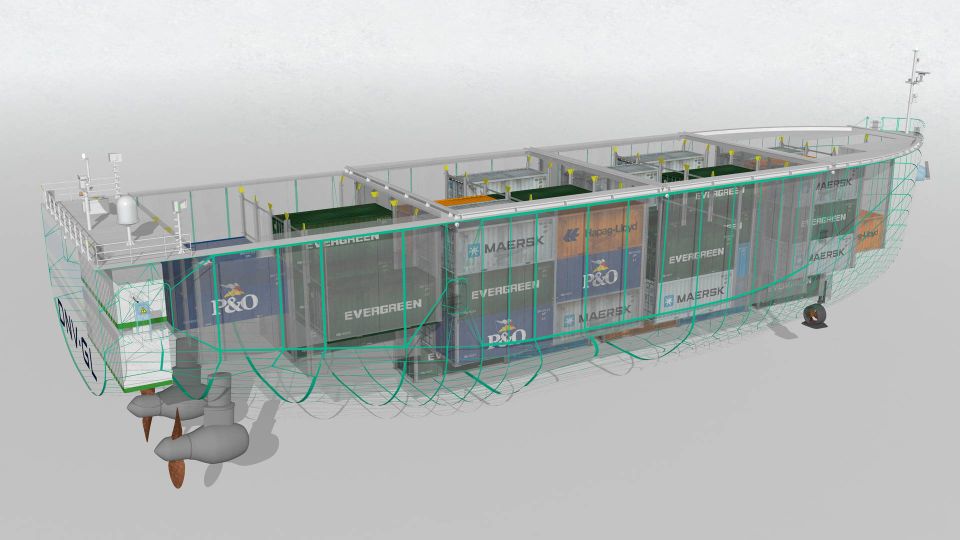 Cross cut of the Revolt project's cargo hold. The batteries are located far aft. Illustration: DNV GL
Furthermore, the experiences concerning how the autonomous technology would react to different conditions are still minimal in a maritime setting. Øystein Engelhardtsen compares this to the development of driverless cars, where Google has driven over two million test kilometers in recent years, thus working hard to build a sufficient foundation to release the technology.
The maritime world is lagging behind, according to Øystein Engelhardtsen. Besides the Revolt project, Rolls-Royce has equipped one ferry in Finland with sensors in order to gain knowledge about how sensors and the rest of the technology react in various situations, but it will take much more than this.
"It's a start, but we need more of these projects to get the necessary amount of data," he says.
Legislation blocking the path
Even if the technology was complete, the legislation would still be an obstacle hindering Revolt from hitting the waters. Legislation, Engelhardtsen explains, is also the reason why a vessel such as Revolt will only be allowed to operate in specific flag states at first, as sailings in international waters will require a change in IMO rules, and these processes tend to take years.
Similarly in Norway, where a Revolt model in the scale 1:20 is currently located, vessels are not allowed to sail unmanned. With its three meters in length, however, the Revolt model is not classified as a vessel and therefore enjoys an exception.
"We see that some flag-states, Norway and Finland in particular, have shown a positive attitude towards this, so it is likely that the first autonomous sailings will be permitted by individual flag-states under special circumstances," says Øystein Engelhardtsen.
Small victories
Now it seems that the industry will first and foremost benefit from the small victories which, according to Øystein Engelhardtsen, will occur along the way. He eyes the most potential in a system which can warn the navigator of possible collisions, suggest options to avoid the collision. With the help of sensors, this type of system would be able to avoid yachts and kayaks which are otherwise not detected by the radars or AIS-based systems onboard vessels today.
"This type of system could maybe hit the market already next year," he says, adding that it depends on the effort that manufacturers of these systems put into the development.
In the longer term, a system such as this would also be able to take control of the vessel if the crew fails to react to the warnings, as has been the case in aviation for years now and, increasingly, in cars. But this would also require a change in IMO regulations, and as such, this will likely not happen in the near future. And the technology also still needs to be developed a bit further.
"It's a requirement that the system only interferes when it has to. In that aspect, the technology is not mature yet," Øystein Engelhardtsen
Wärtsilä presents its visions for the future of shipping
DNV GL: Three things to drive innovation in the future of shipping
DNV testing new unmanned battery-powered ship