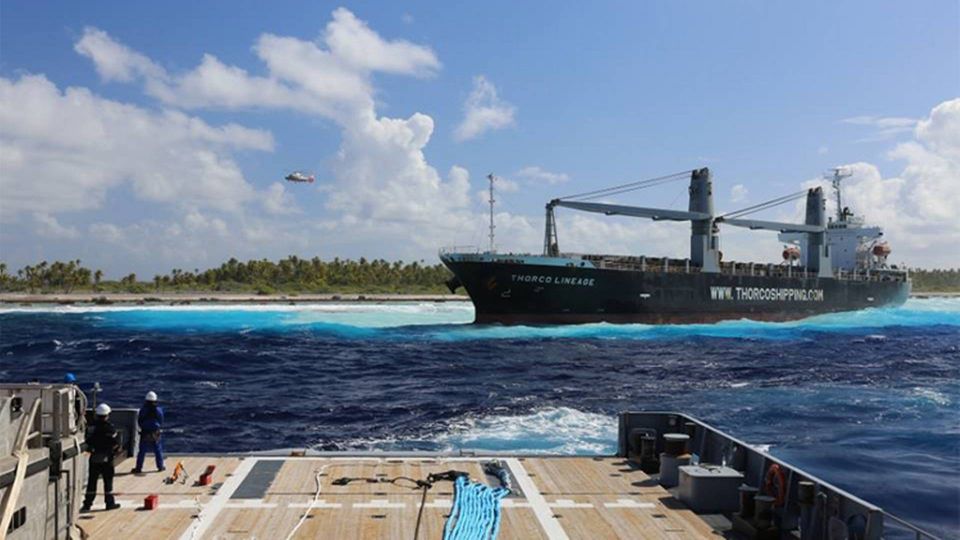 Contaminated bunker may have caused a grounding of a Thorco ship in the southern Pacific this summer.
Thorco Lineage ran aground in French Polynesia in late June this year, as the ship was sailing from the US to Australia. The ship was towed and refloated by the French Navy, which was worried that an oil leakage could lead to an "ecological catastrophe" in the area.
While the cause of the accident has not yet been established, it is clear that problems with contaminated bunker, which have troubled key ports since the spring, are among the possible explanations for the incident.
The cause remains unknown at this moment, and investigations are still underway
A new complaint submitted by a well-known bunker company to a US court last week shows that Thorco, shortly after the incident, pointed to bad bunker as the cause of the vessel's engine failure.
If this turns out to be the case, it would be yet another example of a growing problem with contaminated bunker fuel, which has hit key ports such as Houston, Singapore and Panama and has involved several shipping companies in costly legal cases.
Upon being asked directly, Thorco declines to confirm that bad bunker led to the grounding.
"As previously mentioned, one of our chartered ships has been involved in an accident. The cause remains unknown at this moment, and investigations are still underway," says Thorco Head of Communications and Marketing Kiki Randrup to ShippingWatch.
Bunker bought in Panama
Global bunker group World Fuel Services filed the case in the US.
The company says in the filing that Thorco has asserted an unspecified claim, alleging that contaminated marine fuel triggered Thorco Lineage's engine failure – information the carrier declines to confirm.
According to the legal document, Thorco purchased fuel from World Fuel Services in the beginning of June. The bunker was delivered a few days after by German bunker supplier Bomin in the port of Cristobal in Panama.
When the ship began to burn the bunker oil later in June, the engine failed in less than 24 hours, the ship then ran aground on a small atoll, Raroia, in French Polynesia.
"The same day, on June 24, 2018, the charterers of the Thorco Lineage, through TKK (Thorco, ed.), notified TRANS-TEC (World Fuel Services, ed.) of the vessel grounding and engine failure, asserting a claim allegedly due to improper marine fuel supplied by TRANS-TEC in Cristobal, Panama that was of poor quality and/or of the wrong fuel specifications agreed to by the parties," writes World Fuel Service's litigation, which also complains that Thorco would not allow the carrier's inspector aboard Thorco Lineage in order to test the bunker.
If the contaminated bunker is determined to have cause the accdient, World Fuel Services will attempt to forward the claim to Bomin. However, the legal fallout is expected to be long and complicated.
It has not been possible to get a comment from World Fuel Services prior to the editorial deadline, while Bomin declines to comment.
Several shipping companies hit
Legal spats over poor fuel quality is no new phenomenon.
However, the frequency of such cases has increased significantly since April, and more than 100 incidences have been registered this year, claiming that poor bunker quality has caused problems for ship engines. According to tanker organization Intertanko, the extent of the problem has grown so large that it is comparable to an epidemic.
When a ship is refueled with poor quality fuel, it usually leads to lost revenue and repair costs.
Last week, ShippingWatch reported that two bulk operators, Integrity Bulk and Norvic Shipping, have become involved in claims after having purchased contaminated bunker in Panama in June.
The cause of such large volumes of contaminated bunker being in circulation remains unknown. Until this point, tests have shown that the bunker typically contains shale oil, which can cause serious damage to engines. Meanwhile, it is also clear that standard tests used to ensure fuel quality are incapable of detecting the contamination in question.
English Edit: Daniel Frank Christensen
Intertanko fears "global epidemic" of bad bunker
Canadian bulk operator Norvic hit by bad bunker in Panama