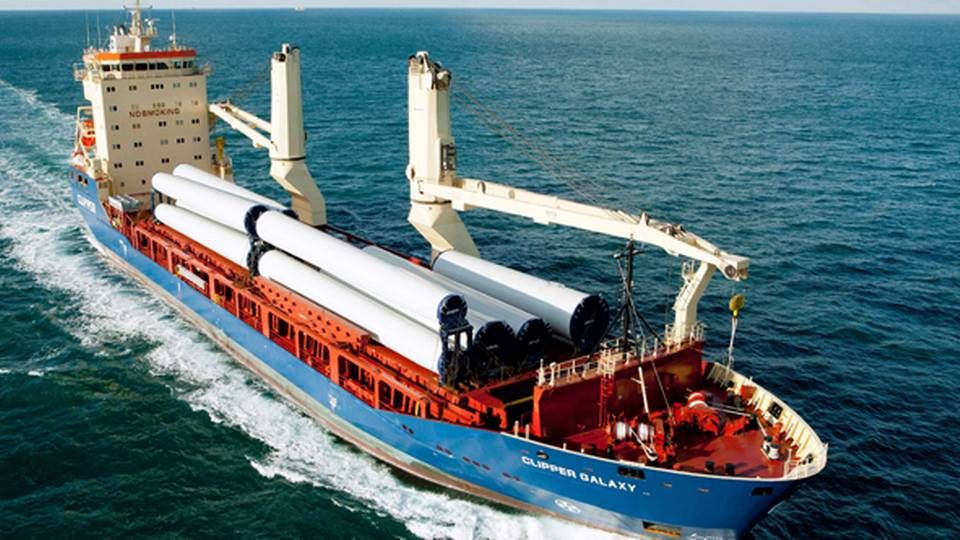 Clipper Group A/S (the Danish subsidiary of Clipper Group Ltd.) published its annual report 2012 today. The report showed a net revenue of USD 291 million, which is basically the same as the company's revenue in 2011. The year resulted in a USD 70 million deficit, a 38 percent improvement compared to the year before.
The shipping company had USD 195 million in equities, and a capital share of 33 percent on December 31st 2012.
The key activities for the Danish subsidiary are ferry operations in Denmark, ro-ro activities in Ireland, tank ships, as well as management services for Clipper Group Ltd.
The Clipper Group A/S results do not include Clipper Bulk, Clipper Projects, and other activities located outside of Denmark.
Satisfactory improvement
"We are very pleased that we managed to reduce the deficit by half on our Danish-owned activities compared to 2011," says Flemming Steen, who was recently appointed as CFO at Clipper Group.
"It's what we expected, and it's great news. That being said, a deficit of this size is still unsatisfactory, and we look forward to next year where we expect an even better result, primarily due to improvements in our ro-ro operations and smaller losses from our tank activities."
"Our capital share, at 33 percent, remained practically unchanged in the past year, and we consider that to be a good sign of our financial stability and strength. It's also worth noting that this year's result includes impairments for USD 20 million," he adds.
Turnaround in ferries
Two of Clipper Group A/S's key activities are ferry company Danske Færger A/S, where Clipper owns 50 percent, and Seatruck Ferries Ltd., a 100 percent owned subsidiary that operates ro-ro ships on the Irish Sea. Both companies continued their positive developments from 2011, says Flemming Steen.
"Danske Færger recently pubslished its annuan report for 2012, which shows a positive result of USD 5.2 million, compared to a USD 10.4 million deficit in 2011. That's an incredibly impressive performance and a clear result of the turnaround started 2011 by the company's new management team."
"Seatruck's operational result remained negative in 2012, but the loss was significantly smaller than in 2011, and several new initiatives were introduced in 2012. We've closed two loss-producing ferry routes in the Irish Sea, so we're now sailing with five ships on three routes. And of the seven remaining ships, we managed to employ six of them on charter at other shipping companies in 2012. All in all, this means that we expect a positive result for Seatruck in 2013," says Flemming Steen.
Positive developments in 2013
The tank activities, chemical tankers in particular, are responsible for more than half of Clipper Group A/S's total losses. The tank rates have been under a lot of pressure for many years now, and Clipper's dedicated strategy includes outphasing ïts investments in this segment, in order to focus on its core business.
Overall, Clipper Group A/S still expects a negative result for 2013, primarily due to the difficult market conditions