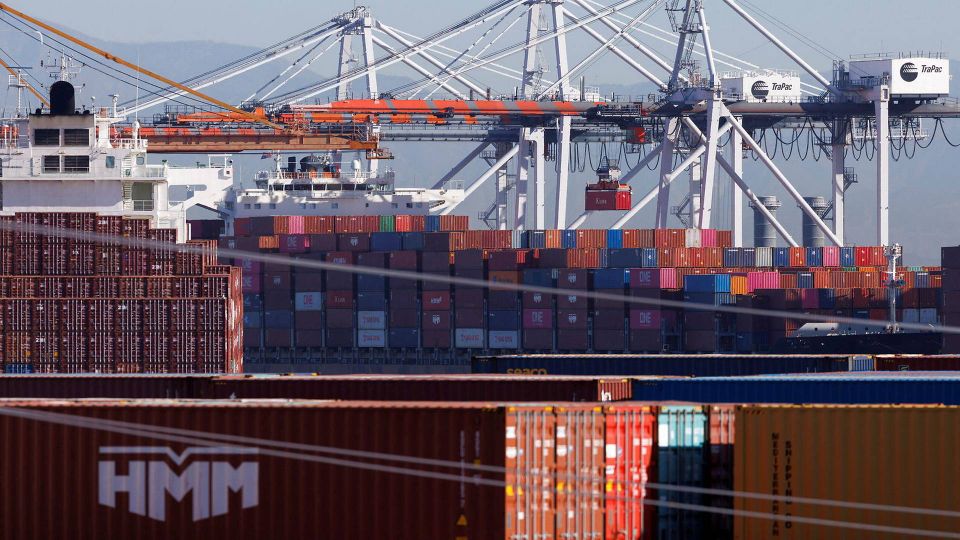 For the first time in two months, the Port of Los Angeles expects inbound container volumes will exceed year-earlier levels.
That's according to estimates as of early Tuesday from LA's Wabtec Port Optimizer showing 26 vessels with about 127,000 20-foot containers are scheduled to be offloaded this week, which is a 0.4% increase from the same week in 2021. Next week, the number increases to 27 ships loaded with 137,000 TEU, up 15.1% from a year earlier.
The port's tracking data are fluid and revised almost daily, so it's too soon to say whether this is a blip or the start of a bigger wave of goods from Asia now that China is loosening Covid restrictions.
But these numbers will be closely watched as the busiest US turnstile for trade edges closer to crunch time – with peak shipping season expected to start earlier than usual this summer and contract talks heating up between West Coast dockworkers and their employers.
At the neighboring Port of Long Beach, projections for incoming cargo are also on the rise. Twenty-five container vessels are planning to arrive during the week of July 3, up from 15 expected in the next week, according to its latest forecasts. Long Beach's weekly import volumes are projected to total about 424,000 TEU from this week through early July, compared with 357,000 handled in June 2021.
Observers are divided on how much freight will be unleashed toward US shores as China reopens. CNBC says US and European ports should brace for a rush of shipments. Lloyd's List says there won't likely be a sudden surge of cargo as Chinese manufacturing restarts.
East Coast Logjams
Either way, there's not much of a safety valve elsewhere in the US to relieve any added pressure on Southern California. On the East Coast, port officials from New York to Savannah, Georgia, are seeing congestion rise as shippers try to avoid potential snarls out West.
Meanwhile, large US retailers and manufacturers say they've padded inventories and some see consumer demand waning.
"Inventory levels are unseasonably high, packing warehouses to the gills and driving costs up for both inventory and warehousing," according to the US Logistics Managers' Index released Tuesday.
At European ports the situation isn't improving either. "International trade is again suffering more from the congestion and delays in container shipping, which have now also reached the North Sea," Vincent Stamer, head of the Kiel Trade Indicator, said in a statement today.
US ports once again postpone container dwell fee
West coast port chief Cordero doesn't see labor deal by July 1