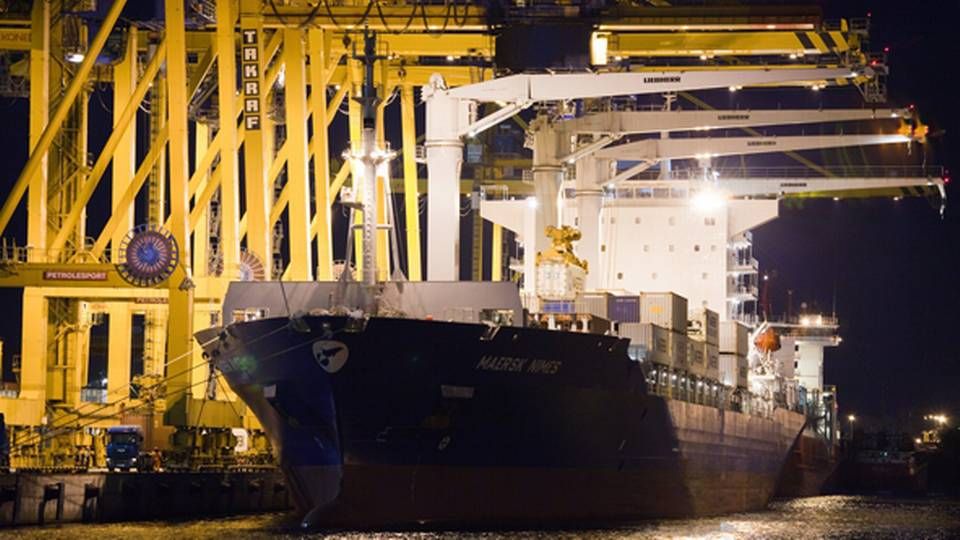 The conflict in Ukraine and the sanctions aimed at Russia from the outside world are now starting to impact the country's dominant port company, Global Ports, of which APM Terminals owns close to one third.
First off, the major analyst companies are starting to lose faith in the growth forecasts that played a significant part when the Maersk Group's port company invested around USD 900 million in Global Ports two years ago.
In late June, Global Ports gave a presentation for several Russian and foreign investors and brokerage firms in which the company presented its developments in the first five months of 2014, and this presentation revealed that several factors are not developing as the management had hoped for.
Bigger decrease than expected
Things look worst for oil terminal Vopak EOS (VEOS) in Estonia, of which Global Ports owns 50 percent in a joint venture with Royal Vopak. Here volumes have dropped 27 percent up to and including May, compared to the same period last year. According to an analysis of Global Ports performed by Morgan Stanley in July following the presentation, it was, on the one hand, expected that the oil terminal would face challenges. But as Morgan Stanley adds:
Do you want to stay up to date on the latest developments in International shipping? Subscribe to our newsletter – the first 40 days are free
"However, the size of the volume decline (based on the latest update) is significantly worse than we would have expected."
The key container port in St. Petersburg has also seen disappointing developments, according to Morgan Stanley:
"2014 will be a difficult year, as volume growth will likely be negative, thanks to low market growth and some market share loss. We estimate -2 percent year-on-year volume growth for Global Ports in 2014," says Morgan Stanley.
Tensions in Ukraine
ShippingWatch has reviewed the material from Global Ports' presentation on developments in the first five months, where the management points to challenges from lower growth, though it does not specifically mention the conflict in Ukraine and its impact on the Russian economy.
But the situation in Ukraine is a direct contributing factor in Morgan Stanley's decision to cut some of the value of Global Ports - value that analysts have so far estimated that the company possessed in relation to other similar companies:
New Russian sanctions could hit carriers and ports
"We now use a -5 percent discount to global container port peers, to reflect the higher risk associated with Russia, following the tension with the Ukraine. (...) For VEOS, we continue to use a -30 percent discount to reflect the structural pressure on the Russian fuel oil export market," says the report.
Major downgrades
This means that Morgan Stanley has cut significant figures from its expectations for Global Ports' results this year and next year:
2014 revenue from USD 825 million to USD 599 million (down 27 percent)
2014 net profit from USD 224 million to USD 74 million (down 66 percent)
2015 revenue from USD 908 million to USD 648 million (down 29 percent)
2015 net profit from USD 224 million to USD 15 million (down 49 percent)
Global Ports' presentation material informs that the management has started work to improve the economy of VEOS. As part of these efforts, the number of employees has been cut by more than 10 percent in 2014.
Do you want to stay up to date on the latest developments in International shipping? Subscribe to our newsletter – the first 40 days are free
Global Ports, which in December last year acquired its major Russian rival NCC, also believes that there is still a significant unused potential for container transport in the country.
In January this year ShippingWatch interviewed Global Ports CCO Roy Cummins, who - among other things - hinted at an expansion of the company's port portfolio. As part of the deal with NCC, Global Ports had secured a three-year option to acquire half of Illichevsk Container Terminal in Ukraine.
The conflict between Russia and Ukraine erupted a few weeks later.
ShippingWatch has tried to get a comment from Global Ports, but without success so far.
Russian shipyard giant hit by sanctions
Ukraine to shut down Crimea's ports next week