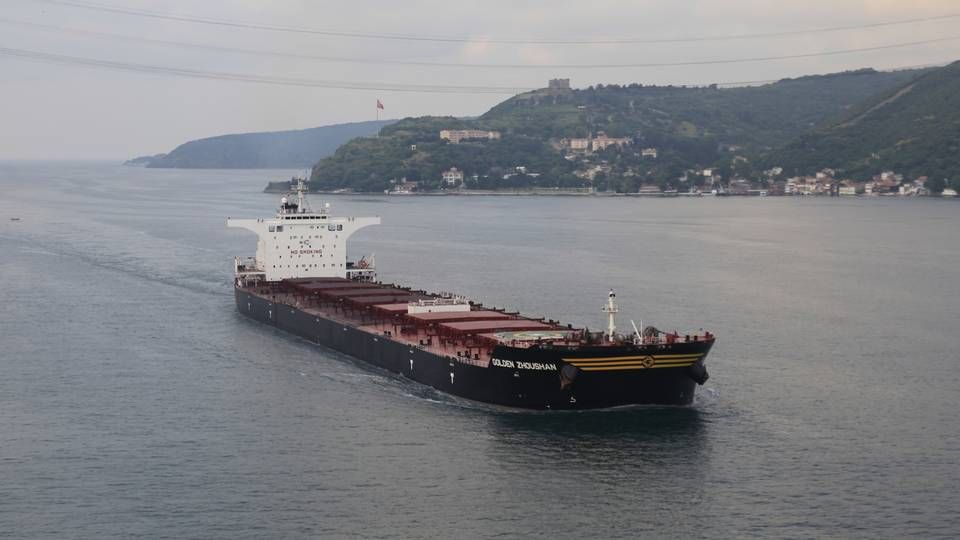 Golden Ocean is now divesting vessels from its fleet of major Capesize ships. The carrier has entered sales agreements for 14 ships in total which are either under construction at yards or already part of the current fleet, says the Fredriksen-owned carrier that was recently merged with Knightsbridge and is estimated to become one of the biggest players active in the Capesize segment.
The deals come shortly after analyst agencies in the industry have pointed out that the massive Capesize newbuilding program at now-former Knightsbridge could become a challenge in terms of finances.
Do you want to stay up to date on the latest developments in International shipping? Subscribe to our newsletter – the first 40 days are free
One of the deals relates to another Fredriksen-owned company, Ship Finance International. The company is listed in New York and owns 64 ships active in dry bulk, tanker and offshore and has acquired eight Capesize vessels that Golden Ocean has ordered at yards in Korea and Chine in the period from 2009 to 2013, for a total of USD 272 million, or an average of USD 34 million per ship.
The ships will subsequently be leased back to a subsidiary under Golden Ocean for a ten-year period, at a rate of USD 17,600 for the first seven years and USD 14,900 for the last three years. After the ten years, Golden Ocean has an option to buy back the ships for USD 112 million, according to the statement.
Bulk carriers will be drained of capital in 2015
Furthermore, the carrier will sell four Capesize vessels, currently under construction at a Chinese yard, to a third party, from which Golden Ocean will charter three of the ships back for a 6 to 12 months period. According to Golden Ocean, the "sales price is in line with the original contract price." Another two ships have also been sold and will be delivered to the new owner in June this year.
The dry bulk market has been under massive pressure for the past year, and judging by the bulk carriers' projections for the coming year, things are not looking too bright. As such, Golden Ocean has also entered agreements with the carrier's yards:
Do you want to stay up to date on the latest developments in International shipping? Subscribe to our newsletter – the first 40 days are free
"Golden Ocean has also reached agreements with several of its yards to delay the construction of the newbuilding contracts with about 75 months on aggregate basis. This will postpone capital expenditure and possible cash burn on sailing vessels as the market is currently below cash break even."
Asset values in free fall
Following the many agreements, Golden Ocean will take delivery of six vessels in 2015, 15 ships in 2016 and four in 2017. Once the fleet has been adjusted, it will consist of a total 40 Capesize vessels, both owned and on long-term charter contracts.
"These various initiatives are taken in order to strengthen the cash position and balance sheet of the company in the current weak market. Golden Ocean is not abandoning its strategy to be a much needed consolidator within the industry, but is rather positioning itself for interesting opportunities which are expected to be available over the coming months," says Golden Ocean in the statement.
In addition to the Capesize vessels, Golden Ocean has ten ice-class Panamax vessels, one Panamax, nine Kamsarmax vessels and ten Supramaxes. Of the total fleet, 17 Capesizes and four Supramaxes are newbuildings set for delivery in the coming years.
Do you want to stay up to date on the latest developments in International shipping? Subscribe to our newsletter – the first 40 days are free
It counts as an overall positive factor that Golden Ocean is able to reach these kinds of agreements, notes Pareto Securities, which recently pointed to a significant risk that dry bulk carriers such as Golden Ocean and equity fund-owned Star Bulk would be forced to tap the capital markets or to issue new bonds, which would have a negative impact on the already diluted share prices. The analyst agency said the following about Golden Ocean at the time:
"Dry bulk values are in free fall, and many owners will struggle with balance sheets going forward. Golden Ocean is no exception, though a strong majority owner provides comfort fundingwise. Yet, the current above NAV-valuation on falling asset values is not sustainable in our view."
Today the agency's view has changed as follows:
"This is all positive for Golden Ocean, removing the need for additional equity for the time being and demonstrating how the company has funding options that their competitors do not," notes Pareto Securities.
Fredriksen's dry bulk merger settled
Analysts: This is the strongest dry bulk carrier
Shipping and oil struggle on Oslo Stock Exchange