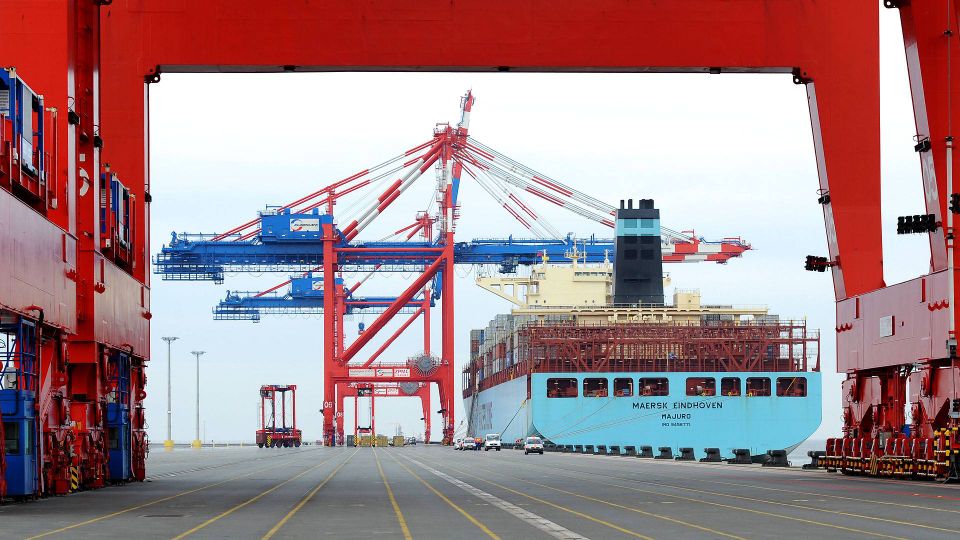 Last year, Maersk ships lost 962 containers to the ocean due to tough weather during transportation.
That is by far the largest number of dropped containers from Maersk vessels in the past ten years, according to the company's recent corporate sustainability report.
The container losses have made several customers take legal action, demanding compensation. Furthermore, marine insurance companies, which cover potential losses for carriers, have given signs of impending premium raises due to, among other factors, lost containers.
On average, Maersk ships have lost 30 containers annually for the last ten years. Primarily due to hard weather conditions during sailings, reads the report.
However, in January and February 2021, 727 containers fell overboard from vessel Maersk Essen as well as 235 containers from Maersk Eindhoven.
These were exceptional losses far above the norm
"These were exceptional losses far above the norm. In the past decade, the only other exceptional year was 2014, where 553 containers were lost," informs Maersk in the report.
During the other years, Maersk ships have lost 0-110 containers, or 30 containers on average.
Customers have sued Maersk
As reported recently by Danish business media Finans, customers with cargo on board Maersk Essen have sued Maersk in the US, aiming for compensation.
On Jan. 16, 2021, Maersk Essen was hit by a storm on the Pacific Ocean on a voyage from Xiamen, China, to Los Angeles, California, and dropped 727 containers, according to Maersk. The ship sails under Danish flag and is part of Maersk's collaboration with competitor MSC in which the two carriers share space on each other's vessels.
According to Finans, US legal claims of roughly DKK 20m (USD 3.1m) target Maersk, MSC and the ship's Chinese owner that leases the ship to Maersk. The claims are divided between ten cases.
Among others, the claims come from freight forwarders, but also insurance companies that represent US importers, which lost shoes, kitchen cabinets and furniture, for instance, when the containers fell into the sea.
The legal actions are not a surprise, states Maersk to ShippingWatch.
"In general, we can say that in relation to lost containers, lawsuits are a very common tool in the maritime sector," writes Maersk's press office in an email to ShippingWatch.
"It doesn't spring from a conflict but is usually done to invoke a claim for compensation within a time limit, which is a year after the incident, typically. Primarily, these lawsuits come from insurance companies and so-called recovery agents," adds Maersk.
Maersk risks raised premiums
Customer lawsuits constitute one issue, another comes from the possibility of increased insurance premiums in the wake of the dropped containers.
Insurance companies make increased demands of Maersk and other carriers after several thousands of containers for the last year and a half have been lost at sea or damaged in relation to bad weather during transportation.
Insurance companies want to limit the number of boxes on container carriers
In general, we can say that in relation to lost containers, lawsuits are a very common tool in the maritime sector
In the winter 2020/2021, losses were particularly critical as roughly 3,000 containers were dropped in the Pacific Ocean from November to March – damage amounting to more than EUR 100m for insurers.
However, similar incidents have already occurred this winter.
"We have to stop this development. The loss of containers endangers the crew and the ship, is highly costly and pollutes the oceans," stated German insurance sector interest group Gesamtverband der Deutschen Versicherungswirtschaft (GDV) last month, according to German media Versicherungsmonitor.
New partnership to reduce number of lost containers
Maersk neither confirms nor denies that it's met by increased insurance premiums due to, for instance, lost containers.
"We do not comment on our insurance premiums, just like we do not comment on specific claims for compensation or lawsuits," writes Maersk in an email to ShippingWatch.
According to Maersk's corporate sustainability report, the carrier has joined the international collaboration, Top Tier Joint Industry Project, which was established by the Maritime Research Institute of the Netherlands (MARIN) in May last year.
"Maersk is committed to avoiding lost containers and we are working hard to play an active role in the prevention of these losses," reads the report.
The purpose of the three-year partnership "is to drastically reduce the number of containers lost overboard by large container vessels," states MARIN's website.
Carriers such as Maersk, insurance companies, port terminals, interest groups as well as relevant producers of equipment and software are partakers in the project and collaborate with major classification companies as well as a number of flag states.
English edit: Kristoffer Grønbæk
Ship fires and lost containers to raise carriers' insurance premiums
Maersk drops 750 boxes in ocean, customers seek damages