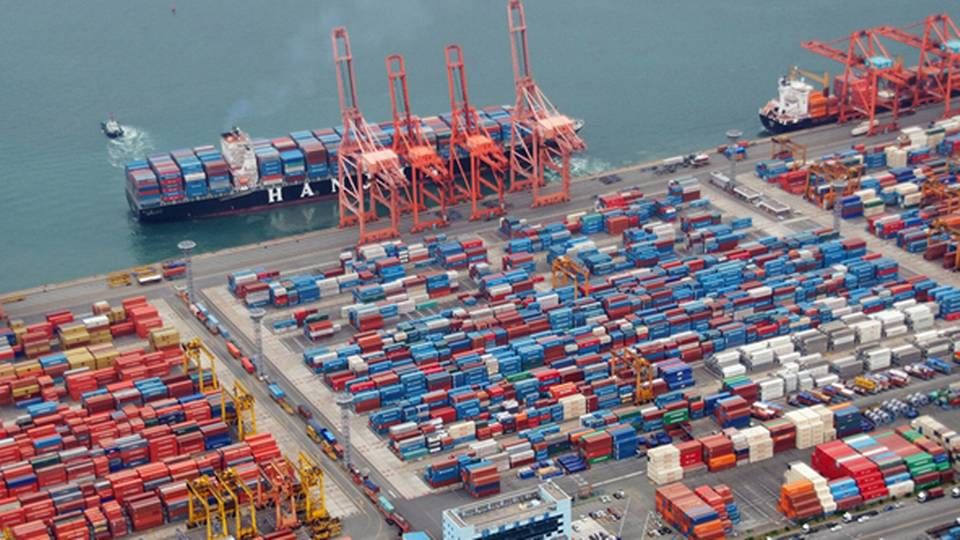 The impact of the miserable container market is fully coming to light with the announcement Friday that market conditions caused Maersk Group to downgrade its 2015 profit expectations for its container branch Maersk Line to USD 1.6 billion, USD 600 million lower than previously expected. The adjustment comes just two weeks before the publication of the third quarter's statements.
Maersk Line is likely just the first in a row of global container carriers due to release their third quarterly statements who may end up taking a hit from market developments, SeaIntelligence Consulting analyst Lars Jensen tells ShippingWatch.
Several analysts have already expressed surprise at the downgrade Friday morning, even though the last few weeks have seen speculation about whether Maersk would be forced to adjust expectations. Consequently, Lars Jensen is not shocked by the downgrade, but he is surprised that Maersk did not make the move in connection with the release of its interim report.
"I expect that the issues Maersk has exposed are also affecting other carriers. Without knowing exactly what the USD 600 million is based on, others will succumb to the same problems posed by the market conditions and the lack of high season. It's difficult to see how they could avoid it," he says.
"I doubt that Maersk Line would have performed worse than the competition. That would be really suprising."
No inviting routes
The downgrade means that Maersk Group expects an underlying profit of USD 3.4 billion in 2015. The Group had probably been too optimistic with regard to the high season in the container industry, says Jensen:
"And you could say that it hasn't worked out favourably. In particular, the Asia-Europe route has seen a 6-7 percent volume decrease in comparison with last year, which was not expected from anyone. The whole industry has tried to adjust by taking capacity out and keeping capacity relatively neutral when compared with last year. Even that wasn't enough. And then the freight rate misery has basically spread itself across all the routes in the world," he says and continues:
"Players can't save themselves by saying that they'll go after emerging markets, because they are better. Those markets are performing no better on either volume growth or rate development than the major routes. There are no more places to hide."
At present, rate levels for spot trading between Asia and Europe sit at a paltry USD 200 per container. It's idiotically low, says Jensen, and it's a price development which is tough to fight your way out of.
"Given the market and how bad it is, it's impressive that Maersk Line actually earns as much money as they do. I find it hard to see it as a huge sign of weakness that they announce this downgrade. That they still make money to this degree, shows that within the industry they're strong in comparison with competitors," says Jensen.
Removing ships
In recent months, Maersk Line has been trying to stimulate progress by adapting the capacity of its network and merging services. That's also what competitor and partner MSC recently did by dropping a direct service from Asia to the Black Sea with nine ships. So far, no container carriers have managed to lift rates back to a sufficient level, although there have been almost monthly attempts across the spectrum. But the low spot levels do not necessarily mean that it has bottomed out, says Jensen.
It's overcapacity and the oversupply of ships in the container industry which pose the fundamental problem. It's emerged as a major issue since the financial crisis began and prompted freight volumes to fall globally.
"Carriers will need to adapt capacity to an even greater extent than now, which means there's going to be a lot of surplus ships," he says.
The problem is not so much the new containers with capacity of 18,000-19,000 teus, but rather the smaller vessels which will be pushed into other routes to make way for the larger ships.
"What about the other ships, the 5000-8000 teus segment, where will they go? Some will face a very difficult future. It's not necessarily just container companies, but also the companies that own ships and survive by chartering them out."
"Everyone was a little optimistic in the first quarter, and for some of the second, because everyone seemed to be making more money. However part of that effect was caused by the drop in oil price, which meant there was a time lag between the oil price drop and the freight rate drop, which produced a positive effect on the results across carrier lines. However the period we've entered into now sees the low oil price passed on to customers. Now we are back to where we were last year, where the problem is structural overcapacity," says Jensen.
In connection with Friday's announcement, Maersk said that it does not expect to see any improvement in freight rates for container shipping for the rest of the year.
Maersk downgrades 2015 expectations
Maersk downplays statement from Indonesian minister
Maersk Line merges two services, freeing nine ships