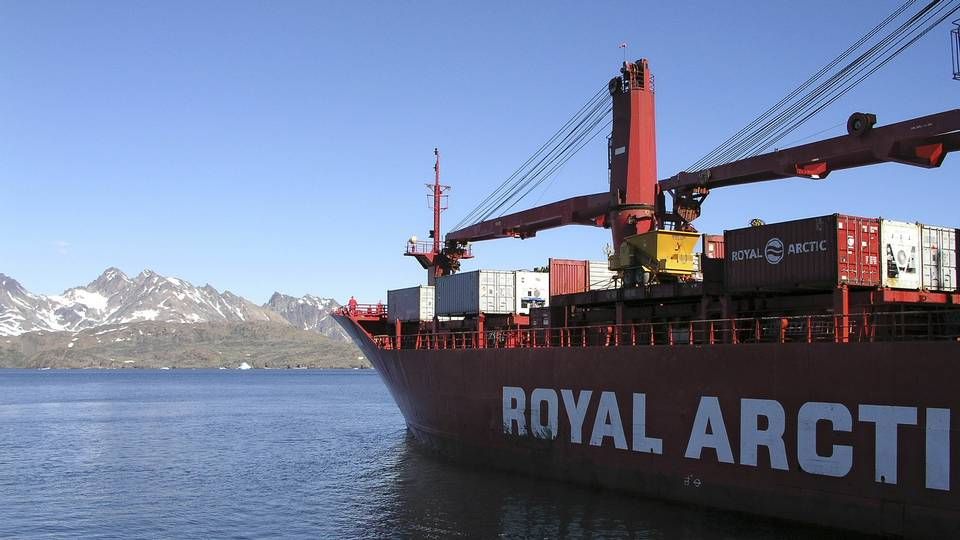 Royal Arctic Line (RAL) is prepared to give up its longtime monopoly on all seafreight to and from Greenland, says the carrier's CEO, Verner Hammeken, in an interview with ShippingWatch.
Greenland-owned Royal Arctic Line's concession and exclusive right to all seafreight to and from Greenland and between the Greenland settlements and towns are at play when the carrier begins its announced cooperation with Icelandic carrier Eimskip on long international routes.
And Verner Hammeken is not daunted at the prospects of the carrier's monopoly potentially being lifted. Rather, increased competition will benefit the carrier and, in particular, Greenland's society if the transport costs are reduced, Verner Hammeken tells ShippingWatch.
Our only criteria of success as a state-owned company is that we must contribute to reducing the costs of transportation to and from Greenland"
"It would be healthy for anyone performing a function in infrastructure to ask oneself whether one can do a better job. We need to ask this of ourselves every day. I come from a commercial environment, and it's not very interesting to not have competition. The crucial factor is whether we can establish an infrastructure to and from Greenland which is the most cost efficient and transparent one imaginable," he says:
"Our only criteria of success as a state-owned company is that we must contribute to reducing the costs of transportation to and from Greenland, and in this light one might ask if it's even necessary to have a concession," explains Verner Hammeken, who took over as CEO of Royal Arctic Line in August 2015 after working many years for the Maersk Group.
Collaboration agreement
Royal Arctic Line and Eimskip signed a declaration of intent back in May of this year to add Greenland to Eimskip's international routes on the Atlantic through a shared capacity arrangement which will link Greenland to the rest of the world. The two carriers together will invest in and operate three new and bigger container vessels than the ones RAL is currently sailing with to and from Greenland.
The final agreement between Royal Arctic Line and Eimskip is subject to approval by the owners of the two companies, in Royal Arctic Line's case, this is the autonomous government of Greenland, as well as the Icelandic and EU competition authorities. The use of fewer and bigger ships of 2,000 teu, which will also be more fuel efficient, will according to the two companies provide improved efficiency and reduced cost.
We're opening up for Eimskip to service Greenland. And we hope that other carrier's will be interested in sending their containers to Greenland"
In the new collaboration, Eimskip will transport two thirds of the combined cargo volumes.
At first glance, it could look like Royal Arctic Line going forward will share its most lucrative routes with Eimskip?
"You can't look at it like that. You have to view it as a combined supply service to Greenland with a single-string price scheme. If you distance yourself from this, you can't say that one leg is better than the other. You might as well say that the services to the settlements (Royal Arctic Bygdeservice, -ed.) is producing the income. We're operating with a combined money pool, and this is more a matter of costs than profits."
"The easiest thing for us would be to raise prices and thus raise profits, but that would leave Greenland as the loser. The partnership with Eimskip, in addition to lowering costs, is also aimed at increasing the possibilities of exporting from Greenland in proper ways, and to thus be part of the growth engine which Greenland needs," says Verner Hammeken:
Opening up for Eimskip
"We'll be sharing the costs, but we won't be sharing the earnings as such. It will still be a Royal Arctic Line service sailing to Greenland. That we'll then make a stop in Iceland along the way is less important, as it's an operational collaboration in which we share a capacity. As it looks now, we won't be offering Iceland to our customers. But we're opening up for Eimskip to service Greenland. And we hope that other carrier's will be interested in sending their containers to Greenland," says Verner Hammeken.
Will the collaboration with Eimskip also mean that the three ships will be cheaper to operate in terms of crew and other costs?
"Of course the daily figure for the three new vessels will be a key criteria for success, and the same applies to the experience we believe we need to have on board the ships in the waters in which they'll be sailing. But the daily figure is quite important in terms of design, crewing and other operations which make it possible to reduce costs, which is the purpose of all this."
The three new ships, of an expected 2,000 teu apiece, set for delivery in 2019 at the earliest, will replace the weekly Atlantic service from Aalborg, Denmark to Greenland which Royal Arctic Line is currently servicing with three 600-700 teu vessels.
Listed Eimskip also eyes opportunities in the collaboration with Royal Arctic Line:
"Planned port developments in Nuuk, Reykjavik and Tórshavn are enabling larger vessel sizes in the market area. Pooling Eimskip's volumes with Royal Arctic Line by using fewer and larger vessels facilitates efficiency gains. The cooperation is an important step of Eimskip's renewal and development of the vessel fleet and expands Eimskip's coverage of the North Atlantic," said Gylfi Sigfússon, President and CEO of Eimskip, when the two carriers announced their new collaboration back in May this year.
The Port of Aalborg is no longer part of Royal Arctic Line's long-term strategy to facilitate trade with Greenland. Since taking over as CEO in 2015, Verner Hammeken has sold off three companies in Aalborg and reduced the number of employees at the carrier significantly.
Royal Arctic Line and Eimskip enter partnership
Increasing cargo volumes boost Royal Arctic Line
Royal Arctic Line to be stripped back to core business